I am so glad it is the weekend. This week has been so tough for us- both kids had the horrendous stomach flu and then my husband got sick. Thankfully, everyone is on the mend.
I love reading all your top five laughs so please be sure to link up and check out mine:) Please do not link up, if you do not have a funny/cute/top 5 laugh post, as it is not fair to others, who follow this hop. The link up can be found directly under my top five laughs. I hope you enjoy and have a great weekend!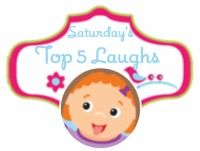 Zane has been sick all week. Three nights back, he woke up and was vomiting up a storm. I instantly went in and saw that vomit landed in his hair (I have no idea how that happened) and his hair formed a complete mohawk. Sorry if I just disgusted you, but can you imagine one huge spike of hair. It went up a few inches at least.
4. Hayley also has been vomiting. When she was sick, she called to me, "Mommy, my mouth hurts. Please fix me." I really didn't understand what she meant by her mouth hurt, until I got all the contents of her dinner spewed on me. Sorry to disgust you again. I suppose her idea of getting sick is for her mouth to hurt.
3. We got Hayley a new princess night light because she is so afraid of the dark. I thought it would work if she had her own night light. Well guess what- she told me yesterday that she is not afraid of the dark anymore because the princesses will watch over her!
2. I was bathing both of them last night when I went to take Zane out. I hear Hayley tell me that he has soap all over his hair. Low and behold, I completely forgot to wash the shampoo out. Can you tell I haven't gotten much sleep this week!
1. I hear Hayley tell me, "Mommy, You need to get Zane off of me because he spilled his water on me." I go to check her pants and I see what I thought was water on her pants. Nope!! Zane ended up having a blown out explosion (think tons of poop) and he spread it to Hayley when he leaned against her. I had two kids covered in Z poop! I had to laugh!