The last top 5 laughs for the New Year! In a few more hours, we will be welcoming in 2012. I wish for you all to have a blessed, happy, and healthy 2012. I am so grateful to have "met" some awesome bloggers and I wish for our friendships to continue in the New Year.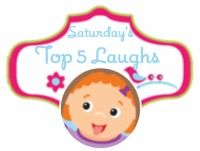 As usual, this is the Saturday Top Five Laugh Blog Hop. You can link up a top five laugh post or any funny post. Please do not link up if you don't have one of these posts. I really enjoy reading your laughs and I hope you enjoy mine this week.
5. I asked Hayley what state she lives in and she tells me, Rhode Island. I then ask her where her Mimi (grandmother) lives and she says New Jersey. She then proceeds to tell me, "Isn't it funny that me and Mimi both live in states?" Pretty sure she doesn't get the concept of geography yet.
4. Hayley's mimi was visiting this week and Hayley asked her, "Mimi, Are you going to come with us to Hawaii?" She tells Hayley she doesn't have a ticket to come to Hawaii. Hayley tells Mimi, "Don't worry, we can share a ticket." I only wish Hayley… I only wish! It would make it so much easier bringing Mimi with us.
3. Zane is obsessed with baths. Seriously obsessed. He will sit forever in his tub and splash. He splashes so hard that I get soaking wet every time I bathe him. Then when I take him out, he starts pouting which inevitably ends with hysterics. I am glad he loves water so much- we had so much trouble with Hayley and baths.
2. We are taking Hayley to see Mickey and Minnie on Ice this Sunday. She is so excited. She turns to me and says, " I can't wait to Sunday to see it. We go tonight." I tell her our tickets are for Sunday and she tells me, " Don't worry Mommy- we can go both times. I will buy the tickets". Thanks Hayley- can you also buy me tickets for all the shows I want to see, lol.
1.Yesterday Hayley was in a foul mood and she told me she didn't like me. Today, I told her I bought her a small gift after work today. I told her that she can have it but she doesn't like me. She tells me, "Mommy, I didn't like you yesterday, but today, I like you." You think someone wanted the gift!
An extra funny: We went to the movies today to see The Chipmunks. Hayley again yells in the middle of the theatre, "Mommy, this is the best movie!" Everything is dead quiet and then Hayley jumps in saying this. The girl makes me laugh!!
HAPPY NEW YEAR!