Is tomorrow really Christmas Eve? I can't believe it. My house is starting to look like Toys' R Us with all the Hanukkah presents the kids have opened. Couple that with Christmas gifts and we have a giant toy factory. The kids are having so much fun with Hanukkah and tonight we celebrating night #4.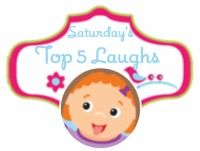 I will not be writing a post till Monday (taking tomorrow and Sunday off) to spend with family but I wanted to wish each of you a VERY HAPPY HOLIDAY! I will be checking back to read your laughs though and to check comments! These are always my favorite posts to read all week so I make it a point to check out everyone that has linked up, even if it is the holidays tomorrow. I hope you all support each other as well and read each other laughs! If you know someone who would enjoy linking up, tell them about my blog and our Saturday laughs! Laughing is fun so spread the word!! *Please only link up a funny/cute post or a top 5 laugh post*
As usual my giveaways are posted on my right side of my blog page. I had 2 winners this week for the Stampin' Up giveaway and SodaStream giveaway. Both have been emailed and confirmed. If you didn't win, no worries- check the right side of the page for more giveaways and enter. MANY more giveaways coming in 2012!
So here are my top 5 laughs:
5. Hayley gets a little confused that we celebrate both Hanukkah and Christmas. I think this is the first year she really understands that she is going to be getting gifts. On the first night of Hanukkah, I asked her to pick out one present from the dining room table (where we keep all our gifts.) She picks out one and says to me, " Did Hanukkah Santa bring this?"
4. I really didn't buy many presents for Zane. He is only 8.5 months and too young to really appreciate presents yet. I did buy him 2 but he will open those on Christmas. One of the other reasons I didn't buy him too many is his favorites "presents" are boxes and paper. When Hayley opens up her gift, Zane laughs hysterically playing with the wrapping paper. This is can go on for about a half hour- not really sure what is funny about wrapping paper but he sure does! We leave it till his "dog-like" mode kicks in and he starts chewing on the paper.
3. On the second day of Hanukkah, I told Hayley we were going to light the menorah. She told me she didn't want any more Hanukkah presents, only Christmas presents. I was very confused and ask her, "Why not?" She tells me that she is afraid to light the menorah candles- she is super afraid of fire. She looks at me and says, "We can skip Hanukkah and go to Christmas- there is no candles in Christmas." I really want her to enjoy Hanukah so instead we now do the lightening of the menorah with fake candles. We do "pretend" lightening of the menorah. Now, she is back to being excited for Hanukkah.
2. We recently booked our trip to Hawaii- we are going on a cruise in May and staying at the new Disney resort, Aulani. When we told Hayley that we are going to meet Mickey, she got all sad. I asked her what was wrong and she said, "We can't meet Mickey without Minnie. They are a team". I almost peed my pants. That girl cracks me up!
1. My funniest one this week is Hayley had a playdate with her friend this week. Both of them were in rare form and started crying over just about anything. I kept asking Hayley what is wrong and she says, "I don't want to watch Beauty and the Beast- I want Aladdin." The next reason was, "I don't like the underwear I am wearing." It was one thing after the other. This kept going on with different reasons why she was crying. The last time she cried I asked her what is wrong and she responds hysterically, "I don't know why I am crying-why am I crying?" Good question!
And on that note, have fun linking up and HAVE A GREAT HOLIDAY for whatever holiday you celebrate! Enjoy!