Hi everyone! Another weekend is here and only 3 more weekends to Christmas. Have you finished your shopping? I have not but I tend to be a last minute shopper.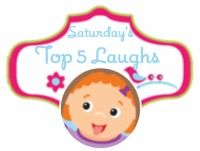 I am really excited about all the response from this blog hop. I originally created the idea because I think it is a great way to document things about my kids in the future. On the weekends, I also love to laugh! So, I figured why not combine the idea. I ABSOLUTELY love reading all your laughs. Thank you for linking up.
Please remember this link up is ONLY for a funny post. You don't need to necessarily write a Saturday top five laugh post (although I love reading these), it really just have to be cute/funny. Please do not link up if you don't have a laugh post. I would appreciate that! Simply link up after my top 5 laughs! I hope you enjoy mine. Have a great weekend.
5. Zane is starting to get really fast with his crawling. Yesterday, I left him for a minute to go to the bathroom and he managed to get to the complete other side of the room and proceed to chew all of Hayley's books. Hayley was not happy to say the least, when her books ripped. Now, we have all her books on a high shelf.
4. Hayley is obsessed with opening the door when the doorbell rings. If the doorbell rings and she doesn't answer it. she will throw a bloody temper tantrum till we let her do it. This morning the sitter came at her regular time of 8 AM. Hayley is a late sleeper ( see #3) so being up at 8 AM, voluntarily never happens. This morning she rises from a sound sleep and starts crying hysterically. I asked her what happened and she tells me, that she wanted to open the door. So, I had to take her out of her crib and let her re-open the door. Then I put her right back in her crib, and she fell instantly back to sleep.
3. I think nap time is going to need to end soon. Hayley is in a cycle where she sleeps 3 hours during the day but then when we put her in at 9 PM, she will stay awake till midnight. Last night, I was watching TV and then went to bed late-around 12:30 AM. I hear her call to me from her crib, "Mommy, you want to play". Girlfriend, it is 12:30 at night- as Samuel L. Jackson says, "Go the F to Sleep".
2. I took Hayley to go to see the Muppets last weekend. It was truly fantastic. As she does in most movies we go to, she yelled during the movie, "This movie is so fun. Mommy, do you love it"? People around us were hysterical that she was enjoying herself so much. She must get the love of movies from her mom.
1. I had a somewhat stressful week of work and I asked my husband to help me out by bringing some of Zane's toys upstairs. I asked my husband twice and then Hayley blurts out, "Mommy, please be patient and stop asking Daddy". I was hysterical!