Here is Prize pack #4 for my big 12 days of Gift Galore going live tomorrow! I have over 400 dollars in prizes to give out. I decided to split it into 4 winners each receiving 100 dollars in fabulous prizes. You will have your choice in the rafflecopter tomorrow, to select which prize pack (4 prize packs in total) you would like to choice. All week I have been giving you the various prize packs. I will recap them tomorrow as well.
Prize pack #4: 1 I see me personalized kids book, $25 Gift Card to Sweet Stellas, and Ripley's Believe it or Not Strinkingly True massive book
1. I see me personalized kids books:
Brooke Shields, Courtney Cox, and Jessica Alba have all brought I see me personalized kids books for their kids. Each page of these adorable books are personalized with the name of your child you would like in the book. We decided to get Zane the book, Zane's Merry Christmas. As you can see below, every page has Zane in the dialogue. How cool is that!
The I see me books are the number 1 sellers in personalized kids books. If you are looking for an ideal book to transfer your kids imagination to written words, look no further than I see books. You can create a storybook with your child as the lead character. Imagine the delight of your little ones, when you read their name to them as it is expressed in story on each page. They also have books for practically every occasion including but not limited to: new baby, Christmas, Hanukkah, 1st Christmas, Baptism, New big sister/brother, Communion, Preschool Graduation, and Adoption. The choices are really endless. On their site, you can also do a personalized book tour to see how your book will look before purchasing it.
On their site besides the vast selection of unique books, you can also purchase personalized floor puzzles and gift packages. Look no further than I see books, for all your holiday needs. On their page, I see me, you can read all the incredible media press these books have received. They were written up in stellar magazines such as Parent magazine, Marie Claire, New York family, Real Simple, People, In touch, US weekly, and many more.
To purchase your own I see me book, please check out their page: I see me. I see me books can be seen on Facebook at http://www.facebook.com/ISeeMeBooks. I see me books has generously offered my readers their choice of a personalized book.
2. Sweet Stellas: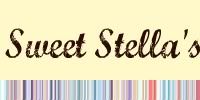 Imagine owning the stationary that was used at the Emmy's! Sweet Stellas was featured as a gift set for the GBK suite at the 63rd Primetime Emmys.
I first found out about Sweet Stellas through the blogging world. I joined her wonderful blog at http://sweetstellas.blogspot.com/ and we instantly became friends. Before I knew Shannon had a shop, I become e-friends with her and she is one of the sweetest and loving people you will ever meet. When we later came to talking and she told me she had a shop, I was so excited. I went to check it out and I am mesmerized with her talent. What she can create for the consumer, is truly remarkable.
So what does she sell, you might ask? She sells everything from your basic party needs to elaborate handcrafted masks. In terms of party planning, she sells banners for a special birthday/shower, favour tags, personalized hanging decorations, and signs for your party needs. In terms of wedding planning, she makes adorable cake toppers and pinwheels.
You can also order personalized gift products such as adorable piggie banks and board books. For your holiday needs, she is now selling incredible Christmas ornaments and handcrafted masks. Of course, let us not forget her amazing stationary and thank you cards.
She works with all your personalized needs and promptly responds to all requests. On her blog, http://sweetstellas.blogspot.com/, she talks about holiday decorations and gives her readers some adorable ideas. For your holiday and Christmas shopping look no further than: Sweet Stellas etsy shop. She can also be found on Facebook: http://www.facebook.com/SweetStellas and on twitter at: http://twitter.com/#!/sweetstellas. Sweet Stellas has generously offered my readers a $25 gift card to her store.
3. Ripley's Believe it or Not:
From the makers of the Ripley's Believe It or Not franchise comes the new, just released Ripley's Believe It or Not-Strikingly True hardcover book. This book is over 250 pages and is a thick cased book of the strangest submissions around the world. Ripley's Strikingly True provides mind boggling stories, the most bizarre facts, interviews, and features all in one. It is the biggest compilation of the most awe-inspiring stories seen around the world.
I was beyond excited to receive this book as was my husband. We both love to read these stories and this book certainly did not disappoint. We loved it so much that we are thinking of buying it for my father-in law for Christmas. The bright red encasing of the book was the first impression we got of the book. WOW! It is really a beautiful book- reminds me of a thick yearbook you get at graduation time. When you open the book up, it is indexed according to genre. Just to name the first few of the many topics covered: bizarre facts about the world, animals, transport, feats, mysteries, food, science, and arts.
Ripleys was there every step of the way? Want to learn about the man who chews molten lead? What about the cat that can predict death? How about the vending machine that dispenses live crabs? Or the artist who paints portraits with burger grease? These are just about .1% of the many more tidbits seen in Ripley's Believe it or Not -Strikingly True! This book can be purchased on Amazon for $28.95. They also have a Facebook page seen here: =Ripley's. Ripley's is generously offering one reader their own book.
*Please check back for the big giveaway running November 25-December 6 (midnight).