I absolutely LOVE scary movies to my core. I have not had a chance to see The Boogeyman yet but I am so excited to go next weekend. My daughter saw it with her friends though this weekend and remarked that it was the best scary movie they have seen! They were SO SCARED and that is saying a lot! Oh I can not wait to see it!!

ABOUT THE BOOGEYMAN:
From the mind of best-selling author Stephen King comes "The Boogeyman." High school student Sadie Harper and her younger sister Sawyer are reeling from the recent death of their mother and aren't getting much support from their father, Will, a therapist who is dealing with his own pain. When a desperate patient unexpectedly shows up at their home seeking help, he leaves behind a terrifying supernatural entity that preys on families and feeds on the suffering of its victims. "The Boogeyman," directed by Rob Savage ("Host") with a screenplay by Scott Beck & Bryan Woods ("A Quiet Place") and Mark Heyman ("Black Swan") and a screen story by Scott Beck & Bryan Woods based upon the short story by Stephen King, stars Sophie Thatcher ("Yellowjackets"), Chris Messina ("Air"), Vivien Lyra Blair ("Obi-Wan Kenobi"), Marin Ireland ("The Umbrella Academy"), Madison Hu ("Bizaardvark"), LisaGay Hamilton ("Vice"), and David Dastmalchian ("Boston Strangler"). The producers are Shawn Levy ("Stranger Things"), Dan Levine ("Arrival"), and Dan Cohen ("The Adam Project"), with John H. Starke ("Sicario"), Emily Morris ("Rosaline"), Scott Beck, Bryan Woods, Ryan Cunningham, Adam Kolbrenner ("The Tomorrow War"), and Robyn Meisinger serving as executive producers.
Last week I had the chance to attend the press junket for The Boogeyman. Attending this junket was Chris Messina ("Will Harper"), Sophie Thatcher ("Sadie Harper"), Vivien Lyra Blair ("Sawyer Harper"), David Dastmalchian ("Lester Billings") and Rob Savage (Director). I hope you enjoy learning about The Boogeyman!
Rob, I wanted to start with you because this is a really great opportunity to play into the universal nature of what The Boogeyman is.  And the fact that everybody knows The Boogeyman or has a vision of it in their own head.  So, can you tell us one thing about the universal nature of that legend that you wanted to play into?  But then, I also want something that made your Boogeyman one of a kind, and like, nothing we've ever seen before.
Rob says he did not want people leaving the cinema thinking who the Boogeyman is.  At the end they needed to fight The Boogeyman so they needed to show him. He said they had to create a creature that left room for everyone's personal interpretation.  For the design they wanted to create something that you could glimpse in the shadows. For most of the movie, they allow it to fester in the audience's head. Then when you finally see the creature, they came up with a weird and messed up design, to have dimensions beyond what the audience sees.
2. I find myself especially impressed by PG-13 rated movies that can deliver R-rated scares, but still adhere to the restrictions that that rating comes with.  So, can you both talk us through deciding on that rating, and also, figuring out how far you could push it with it?
Dan said they always thought of it was level R although it had a PG-13 rating.   Yeah, it's interesting because we always thought of this as R, but we knew we had a PG-13 rating. He felt like it is a rated R movie.  My daughter and her friend were also quite surprised it was PG-13 but they liked that it was.   They said doing this as a PG-13 movie was a level of achievement.
3. Is there any particular thing, non-spoiler of course, that we see in the movie that you're especially surprised to have gotten away with?
Rob said the opening of the movie and they all agreed!
4. Do you have a favorite memory, Vivien,?  A favorite thing you all did together?
Vivien said she thought the aquarium trip was really awesome and fun.
5. Sophie, I wanted to come your way with a question from a quote that I read in the production notes. You had emphasized the importance of establishing character and starting an arc before the scares begin.  So, can you kind of walk us through some of your top priorities in terms of qualities of hers that you wanted to emphasize in those earlier scenes before things get dark and intense?
Sophie said for horror it is really important to build empathy for the character or else you are not going to want to follow them on their journey. For Sadie just starting off with her, she's in such a distinct stage of grieving and just dealing with that and making it feel real and her relationship with her father feels tense and really complicated. Also how hard it is to take care of her younger sister. So you build an empathy for her early on.
6. Can you tell me about her greatest weakness in this fight against The Boogeyman: her fear of the dark? But then, I also want her greatest strength, something you think can help her defeat The Boogeyman. -asked to Vivien
Vivien says she thinks Sawyer is this really complex character because you start the movie seeing her as this little girl who's terrified of the dark and is just a little bit of a scaredy cat, to be honest.  And then, as you really get to see how her character grows, she's going through so much, and no one believes her about it.  And she has every right to be scared.  And you realize that once you start to see,  you actually start to see The Boogeyman.  She said she is one of her favorite characters she has ever played.
7. So, what is something you wanted to do to pay homage to the original short? But then I also want to know something you strove to do to craft that scene in a way that makes it serve this particular story, as well. – asked to David
David says there is an immense amount of pressure to bring this character to life from the imagination of the king.  But also, because the place that Lester's coming from is just one of those corners of the human experience that nobody really would care to ever spend time in.  And so, the challenge of even having the courage to be willing to go there was the first challenge for him.  He didn't feel like he had this capacity to embody Lester in a way that would do justice to the film that Rob was going to make.  And he has this long-time friendship with Dan who told him once they collaborated with Rob it would all come together. Rob is not only a brilliant and visionary filmmaker, he's got this heart that is just a really beautiful place. As soon as they all go together, beautiful magic happened.
8. Chris,  your career has spanned a great many genres throughout your career, from comedy to drama and everything in between.  But horror is a different beast.  What is it about this genre that appeals to you as an actor?
Chris said he was very lucky to work on different genres.  This genre was really fun because he never did it before.
9. This movie is terrifying.  Were there any times during filming where you got really scared? -Vivienne
She said not really. Everyone made the environment so comfortable. She joked that when the movie is scarier, the people on set are even nicer.  She loved doing this film. They also were able to improvise quite a bit.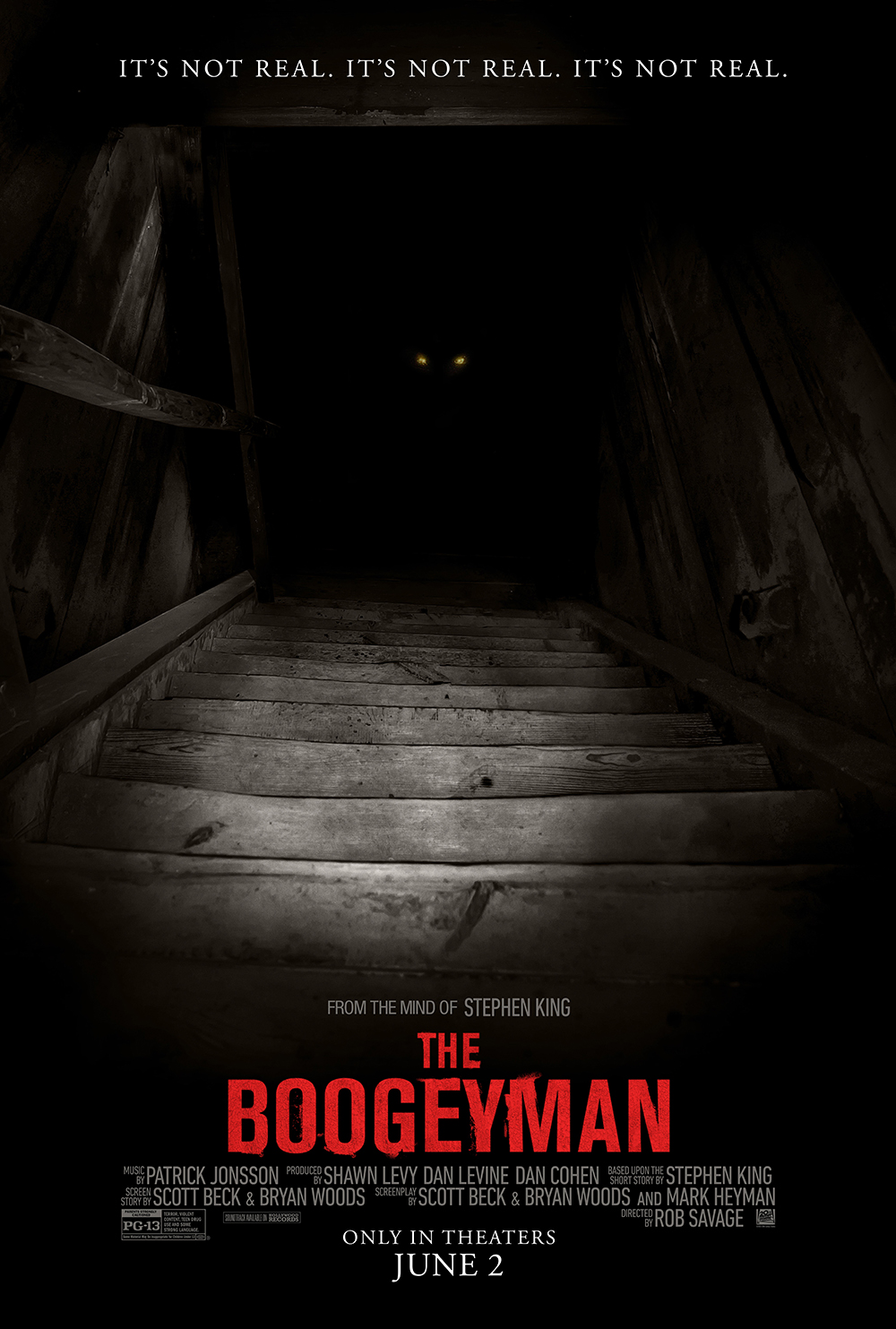 The Boogeyman is in theaters NOW!!