"Zootopia+" heads back to the fast-paced mammal metropolis of Zootopia in a short-form series that dives deeper into the lives of some of the Oscar®-winning feature film's most intriguing residents, including Fru Fru, the fashion-forward arctic shrew; ZPD dispatcher Clawhauser, the sweet-toothed cheetah; and Flash, the smiling sloth who's full of surprises. The series is directed by Josie Trinidad (Co-Head of Story, "Zootopia"; Head of Story, "Ralph Breaks the Internet") and Trent Correy (Director, "Once Upon a Snowman" and "Drop"), and produced by Nathan Curtis. "Zootopia+" marked its Disney+ premiere on November 9, 2022.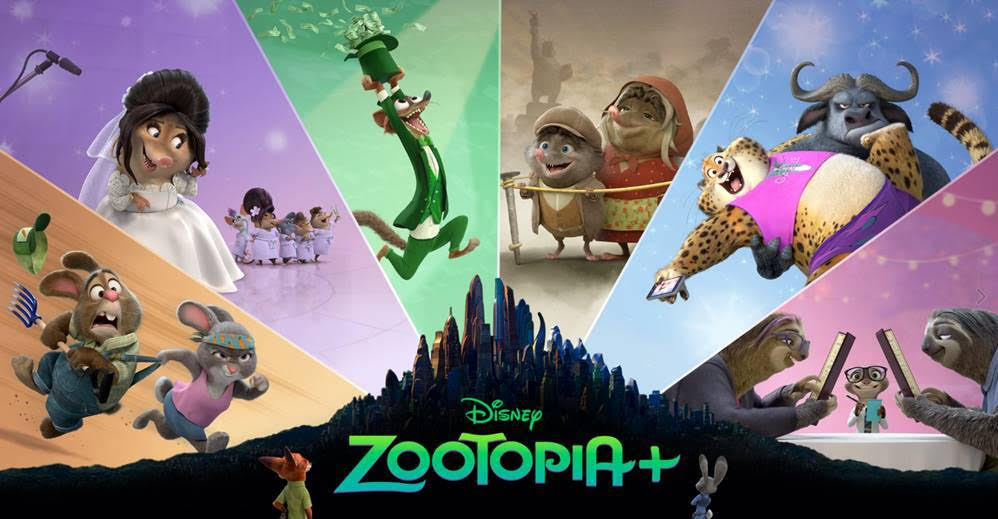 I had the chance to interview Bonnie Hunt / voice of Bonnie Hopps, "Hopp on Board", Don Lake / voice of Stu Hopps, "Hopp on Board", Josie Trinidad / Director, Trent Correy / Director, Nathan Curtis / Producer , Elyssa Samsel / Songwriter, "Big Time" ("Duke the Musical"), and Kate Anderson / Songwriter, "Big Time" ("Duke the Musical")
What inspired the idea for Zootopia+? Tell us how this all got started.  -asked to Trent
Trent said it has been awhile now. He pitched it to Disney as a blind submission. One of his favorites in the past was Zootopia. He was an animator and loved the sloth. So he wanted to go back to his roots and to all his favorite characters like Mr. Big and Duke Weaselton. In the movie you get little snippets of the characters and in this one you can delve much more into it.
How did you craft each episode to be unique. It's so cool how this series runs parallel to the film. Talk to us about that. – asked to Josie
Josie said she credits Trent Correy for the idea.  Because when he pitched, once the series got approved, he pitched it as being interwoven into the movie which she thought was brilliant. It is a king of choose your own adventure series.   Originally we had 10 ideas for shorts but then we narrowed it down to six episodes.  In terms of crafting it, they had help from the story supervisor, their production designers, layout and cinematography.
What was that transition like from the film into a series on Disney+ now? -asked to Josie
Josie said the film was harder. The shorts to them were bite size and really fun to make. They were contained and you can go to town with the characters.
How did you approach portraying Bonnie Hopps as an action hero? This is not what I was expecting, but I absolutely am all here for it. Talk to us about that. – asked to Bonnie
She said it was so fun because she worked with a great cast. She said they had a good story with good intentions and quality of characters. All parents will be able to relate to the humor as well.
What did you enjoy most about returning to the role of Stu Hopps? Sounds like a lot of fun. – asked to Don
Don said he loved being able to work with Bonnie again. They have known each other for so long and are such dear friends.  They were able to relay that on the big screen.
Duke: The Musical is inspired by classic movie musicals. But it has the tone all on its own with Big Time. Can you tell us about the process of creating this number? -asked to Elyssa and Kate
Elyssa said they had the privilege of cowriting the song,  Big Time, with Michael Giacchino.  When he called and said there was an opportunity to write a musical number for the characters, she was totally on board. This song works for this show.
Talk to us about this production process?- asked to Nathan
Nathan said that this production embraced the Studio of Walt Disney Animation Studios.  It gives a lot of opportunity to people who may be in other parts of the studio, who may not have opportunities. Many people returned from the original feature film but there was also a lot of new opportunities. They had so much fun on this series.
How were you able to select the characters to feature from the world of Zootopia?-asked to Trent
Trent said they had 10 different versions. A lot of the versions are the ones we have met prior. Each character is so fun and we had to bring light to them.
" We have to have Mr. Big.  We have to have Bonnie and Stu.  We have to have Duke Weaselton.  We have to have Tru Tru.  And of course, everyone's favorite sloth.  We just sort of had the top ones and we just went to town, really.  It was hard to narrow down, because you kind of discovered that there were other characters, that you, "Oh, what if we can add this character and that animal?"  But we had to pick and choose."- Trent

Zootopia + is now available on Disney + for streaming!
*Thanks for Disney for inviting me to the press conference. All opinions are my own and not swayed by outside sources.*