20TH CENTURY STUDIOS'  PRESENTS "ROSALINE," A FRESH, HILARIOUS TWIST ON "ROMEO & JULIET" STARRING KAITLYN DEVER!
Rosaline" is a fresh and comedic twist on Shakespeare's classic love story "Romeo & Juliet," told from the perspective of Juliet's cousin Rosaline (Dever), who also happens to be Romeo's recent love interest. Heartbroken when Romeo (Allen) meets Juliet (Merced) and begins to pursue her, Rosaline schemes to foil the famous romance and win back her guy.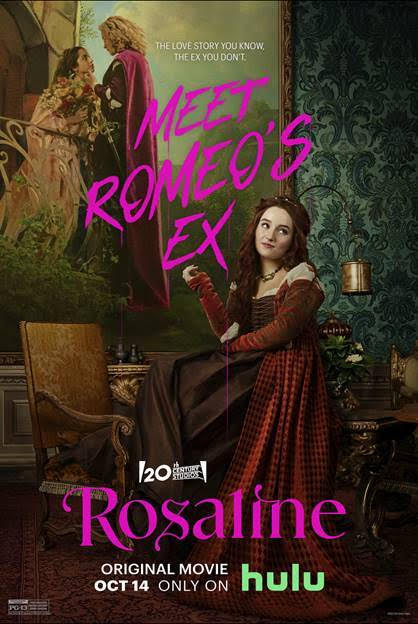 "Rosaline" was directed by Karen Maine from a screenplay by Scott Neustadter & Michael H. Weber, based on the novel "When You Were Mine" by Rebecca Serle. Shawn Levy, Dan Cohen and Dan Levine are the producers, with Kaitlin Dever, Scott Neustadter, Michael H. Weber, Whitney Brown, Emily Morris and Becca Edelman serving as executive producers.
INTERVIEW TIME:
In preparation for Rosaline coming to Hulu, I had the opportunity to interview Kaitlyn Dever ("Rosaline"), Kyle Allen ("Romeo"), Isabela Merced (Juliet"), Sean Teale ("Dario") , Minnie Driver ("Nurse Janet"), Bradley Whitford ("Adrian Capulet") and Karen Maine (Director).
1. Karen, how did you become part of this project? You're the perfect fit. I don't know how you marry a beautiful set, beautiful scenery, with the humor. The humor is so on point. And humor can be so unforgiving, but you absolutely nailed it every single performance. Incredible. How did you become a part of this project, and what was sort of your vision and your goal when you set out to make this movie?- asked to Karen
Karen said the script was sent to her and Kaitlyn was attached to the lead. She thinks Kaitlyn is amazing and wanted to work with her. The script she got was amazing written by Michael Webber and Scott Neustadter who she has been fans of for a long time. With it being a hilarious plot set in classic Renaissance time with modern language, she knew she wanted to sign on. The music is also excellent she tells us.
2. I think what we always thought about Romeo traditionally was that he met Juliet and she was the only person for him. We learn in this version of the story, he's a love bomber. Does he sort of fall in love with everybody he meets? Who is this Romeo that we meet in this film?- asked to Kyle
Kyle said Romeo would fall in love with a stick if you'd let him. He's completely obsessed with the concept and the idea of love. And other than that, that's pretty much the entirety of his personality. He doesn't have much else going on.
3. Can you talk about months in Italy and joining the cast and sort of being part of the Disney magic?- asked to Spencer
Spencer said getting to Italy was a whole journey. When he booked the role, he did not have a passport. He did it very last minute and it was his first time leaving the country. He was very excited about this. He got to spend two months there with lovely people and learned so much.
4. How did you choose the music for the film? -asked to Karen
Karen said the music was very fun to play around with. Whenever she make a film, she just does a deep dive into Spotify and makes a playlist.  And the final credits song is a song Kaitlyn introduced her to,  which she is obsessed with and is perfect for the end credits and where the characters end up.
5. With numerous adaptations of Romeo and Juliet, what did each of you bring to your character to differentiate your roles? Was there a specific performance that inspired you?- asked to all?
Karen said only two people sitting in the room played roles that were actually in the play. Kaitlyn said Rosaline existed in the original story but we don't know much about her. She got to create her own Rosaline. It was a heightened version of herself and sometimes a bit just outrageous and really passionate and determined. And she thinks playing with the comedy was the most exciting part about playing her and how sarcastic she is.
Sean said he thinks the movie is so well written and so well performed that you can get feelings out of it that you can place in so many other pictures. Isabella said she loves that Juliet and Romeo are side characters in a way. They are not the main event but we get to see them in scenes and settings that are outside the isolated relationship.
ROSALINE

 

is streaming exclusively on Hulu starting today, October 14th!
*Thanks to Disney for inviting me to this press conference. All opinions are my own and not swayed by outside sources.*