Are you ready for Blue's Clues & You: Rainbow Puppy Adventures? This DVD is now available in stores for purchase.
Blue's Clues & You! Rainbow Puppy Adventure Synopsis: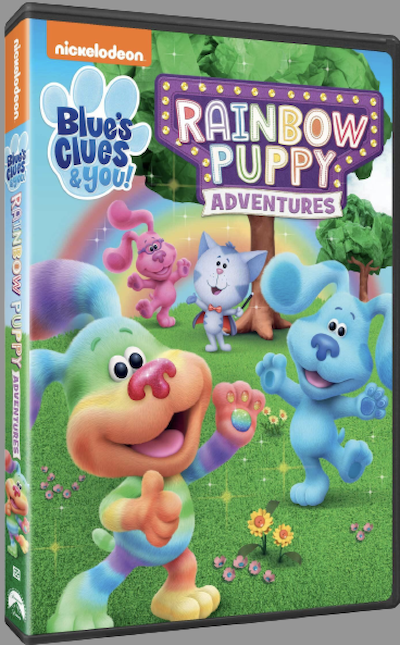 Rainbow Puppy is a charismatic and confident puppy that literally sparkles rainbow! While she grew up in our Blue's Clues world, she's made it Broadway BIG in New York City! With a vibrant personality to match her colorful fur, she has a song in her heart and is always singing and dancing, and is positively bubbling with talent! She can be found performing in musicals, skipping down red carpets and even appearing in music videos!
I had the chance to interview Brianna Bryan, voice of Rainbow Puppy. Brianna Bryan is the voice of Rainbow Puppy in Nickelodeon's Blue's Clues & You! Rainbow Puppy is a charismatic, confident puppy from the city with a vibrant personality to match her colorful fur. She loves to sing and dance, and can turn any ordinary day into an epic musical adventure. She exudes passion and positivity and spreads kindness through everything she does.
Bryan is a talented vocalist, actress and entrepreneur born in Hollywood, Calif.,to a family full of creatives. She began her journey inperforming arts as a baby, learning to sing from her father and dance with her mother before she could walk. Using her voice to evoke change in people's lives via the stage, screen and studio,became such a strong passion that Bryan continued to pursue her career in the industry while earning her degree in Business Administration.
Bryan has performed with the LA Opera and at the National High School Musical Theatre Awards(the JimmyAwards) at New York's Minskoff Theatre, and The Jerry Herman Awards at thePantagesTheatre in Los Angeles. She has also appeared in various award-winning shows such as ThisIs Us(NBC)andCraig of the Creek(Cartoon Network).Bryan currently resides in sunny Los Angeles and enjoys tackling creative projects during her freetime. From painting,to singing and writing songs, or starting a new DIY project,sheis always expressing herself in ways very similar to her animated counterpart, Rainbow Puppy. She also keeps busy on days off by studying digital design, developing new entrepreneurial ways to create social change and spending time with her dog Bea.
INTERVIEW TIME:
How do you relate to Rainbow Puppy and what do you acquire from her?
She loves to sing and aims to be as good as her. From her, she hopes to acquire her self confidence, both her outward and inwards confidence.
2. You have a theater background? When did you become involved with theater?
She got involved in theater in high school and learned a lot through that. She started her freshman year and it was a new experience from her since she was always involved with chorus. She took everything in from all the projects she was involved in.
3. What was the most unique part of working on this project?
She said it is being solo in the theater. With covid, she recorded alone and did all the sessions herself, which can be challenging. Sometimes, it is only sounds she can hear in the studio.
4. Any other difficult moments with voicing her?
It is bringing her qualities each and every time. Making sure she brings her to justice is very important for her. Being authentic to her.
5. What do you see for the future of Rainbow Puppy?
She said more performances and singing. And she joked more merch lol! Bringing her to life in the real world is important.
6. What do you hope everyone takes away?
It is the messages beyond seen and helping with the journey you are on. Learning the clues and seeing the reason for those sublimal messages.  It is important to encourage and help each other out.
7. What is your favorite episode?
Her favorite episode is Rainbow Puppy debut. You will have to stay tuned to see this!
Blue's Clues & You: Rainbow Puppy Adventures is Available on DVD Now!