I am so excited that Thor: Love and Thunder comes out this FRIDAY! YAH! I am so excited to see the next installment of Thor! Are you guys ready?
INTERVIEW TIME:
I had the chance to interview Chris Hemsworth 'Thor', Natalie Portman 'Jane Foster / The Mighty Thor', Tessa Thompson 'King Valkyrie', Christian Bale 'Gorr the God Butcher', Taika Waititi – Director / Writer/ 'Korg', and Kevin Feige – Producer. It was so great learning about Thor: Love and Thunder and it made me even more excited for this movie!
1. I feel like you and Thor have kind of grown up in life, in the MCU together.  What are the qualities in Thor that you relate to the most, that have guided you over these years?- asked to Chris
Chris said definitely more similar since Taika got involved.  He brought out the immature, young, adolescent quality that he embodies.  And so does Thor now, which he didn't in the original films, which was exciting and new and fresh.
"And that's the sort of North Star is about having fun.  Embodying this space as a child would and enjoying all of it and being caught up in the wonder and the fascination of all of it.  And not getting bogged down in the serious sort of nature that we can when making films.  Personally, with these kind of films, it's got to be fun, and that's what we've done.  That's what I've related to.  That's what Taika's insisted upon and it's been fun.
2. What do you think, Kevin?  What do you think is the reason Thor is the only character to have four solo films in his journey now.  What do you think it is that audiences really respond to about Thor?- asked to Kevin
Kevin says he thinks they respond to Chris Hemsworth and he think they respond to everything that he can do.  Kevin also said  Taika  brought another dimension that was always there within Chris.  The audiences can relate to Thor and connect to him that it was easy to do a part four.
3. Is that what it was Taika for you?  You saw those moments in the previous films?   Did you see those moments and go, "Yeah, that's it.  That's what this character should be."- asked to Taika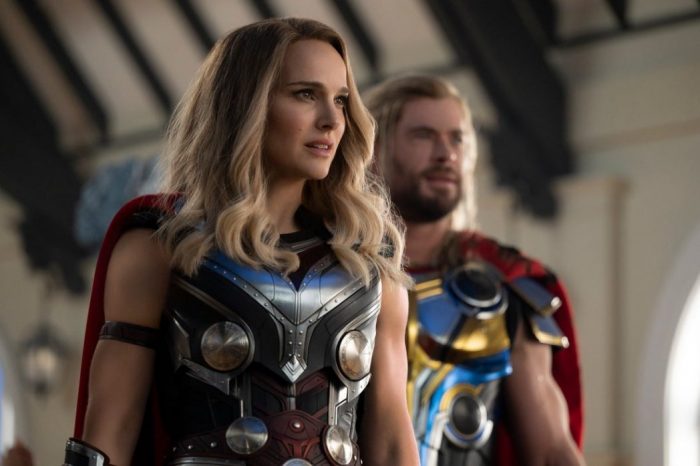 Taika said when you meet Chris, it is very hard to figure out how to make him relatable. That was the biggest challenge. Chris is a person who you want to go on an adventure with, the type of person you can trust. His personality and energy is someone who the audience can relate to. He is a real life hero. We wanted to tap into those qualities that he's got and sort of make Thor more Chris, really.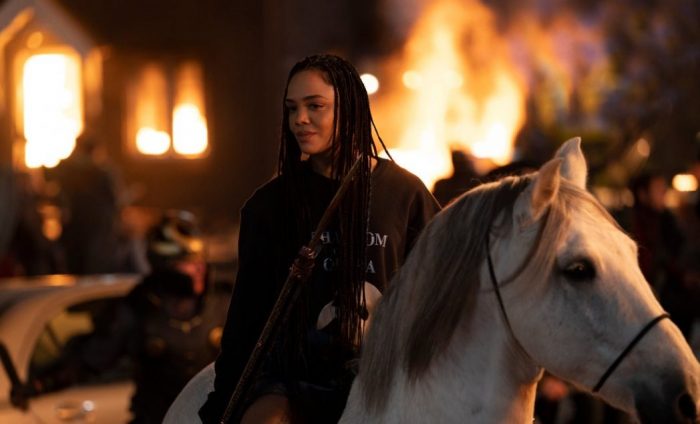 4. Let's talk about the music a little bit, because it's incredible music choices throughout the film.  What was the inspiration?- asked to Taika
Taika said they wanted to spend as much money as we possibly could on some songs.  The whole aesthetic around the film was always we wanted it to be this bombastic, loud, colorful palette, which kind of reflected spray painted panel vans in the eighties and rock album covers.  And, even the title treatment, for the film, it's the kind of thing he would've drawn on in his school book in class when he wasn't listening. He tapped into all the Metallica and Guns N' Roses that he grew up with.
5. For everybody, what is a day with Taika as the director like?  Walk me through, what is it?
Chris said it was different, chaotic, beautiful, and mad.  He says it is a journey of self-discovery and exploration and fun and wackiness.  There's music playing, and he's standing behind the camera kinda giggling and ruining most of the takes.  There is a lot of improvisation combined with a passion that is unrivaled.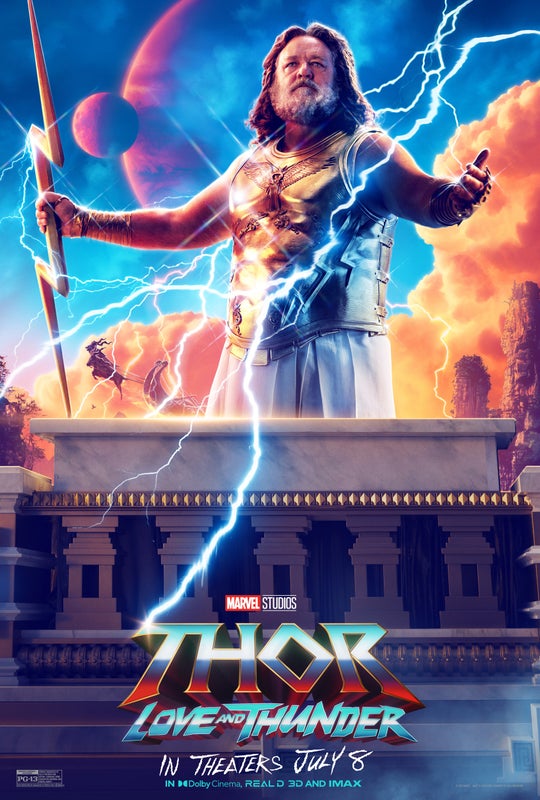 Chris also said there was an enthusiasm that is infectious among everybody, and he loves it.  He loves these stories.  He's loves these characters.  With Taika's films, you get  spontaneity and unpredictable nature.
6. Natalie, how has your vision of what a superhero is changed at all over the course of the years?-asked to Natalie
"Yes.  I feel like getting this opportunity, first of all with such an incredible way to explore a female superhero that could be quite vulnerable and weak and find strength in that, and be more like a human I could relate to personally.  And then also it gave me renewed respect for what Chris has been doing for over a decade, Tessa's been doing, because I see how much work goes into it that I don't think I was aware of this. I didn't see everything that went on behind the scenes, all of the choreography and the training and everything!
THOR: LOVE AND THUNDER available in theaters on July 8th! YOU DO NOT WANT TO MISS OUT ON WATCHING THIS ON THE BIG SCREEN!
*Thanks to Marvel for inviting me to this press conference. All opinions are my own and not swayed by outside sources.*