Turning Red is a new Disney movie that debuts on Disney + tomorrow. What I love best about Turning Red is it is a film that we can all relate to, young and old. It delves into what it is like to go through the young stages of puberty in a way that feels very real. So many things go into growing up and going through puberty, and this movie exemplifies it in such a telling way.

I had the chance to be invented to the Turning Red press conference with Disney and after talking to the actors, they all had one thing they agreed upon. All of their characters they related to at some time in their life and they (along with the audience watching) has gone through it at a stage of their life. Pixar did a wonderful job of talking about adolescence and didn't shy away from the good, bad, and the ugly.
During the interview, I talked to  Sandra Oh (voice of "Ming"), Rosalie Chiang (voice of "Mei Lee"), Ava Morse (voice of "Miriam"), Hyein Park (voice of "Abby"), and Maitreyi Ramakrishnan (voice of "Priya").
INTERVIEW FOR TURNING RED:
Voicing their characters:
MAITREYI:  I voice Priya.   Priya is pretty sarcastic and very deadpan.  She's really cool.  I think she's one cool cat.  And she is  always has a cool attitude.
HYEIN:  I am Abby. Abby is this this little ball of energy and very loving. She is very passionate.  But comes up a little too explosive at some times.
SANDRA:  I play Ming, Mei's mother, who is a hypervigilant, loving mother.  We go through a natural change relationship between mothers and daughters when daughters have to  become their own independent people.
ROSALIE:  I'm Rosalie Chang and I voice Meilin Lee. She is a 13-year-old Chinese Canadian who's confident, she's ambitious, and she's a little dorky and a bit of an overachiever.
Friendships and their characters:
SANDRA:  I'm in my mid-life.  I have relationships and friendships that are 40 years old.  What I love about this film through friendship, and also music, it's that precious time when you're starting to figure out who you are, when your friends become really, really important.  You know, for me, the girls that I grew up with in Nepean, Ontario, we're still all friends.
AVA:   I'm currently a high school student, and everybody is just growing and changing together.  And it can be very stressful and dark at times, because everyone is going through a lot, and not everyone knows how to handle that.  But at the same time, it's a beautiful thing because everybody's in that together and living their lives the best they can.  I think that's great.  All my friends mean so much to me and they're all very supportive no matter what.  I was really inspired by my own friends kind of putting them into Miriam because she is such a supportive and an amazing friend.  My friends are so supportive and always there for you no matter what.  It was awesome to give back this way.
Finding out you booked the role:
Rosalie said this was her first major role in voicing Mei. I mean, I kinda had two moments of finding that  I was voicing Mei.  It was a long track for her and a few years down the road that they brought her back in. They brought her back in the studio, loved her voice, and the rest was history.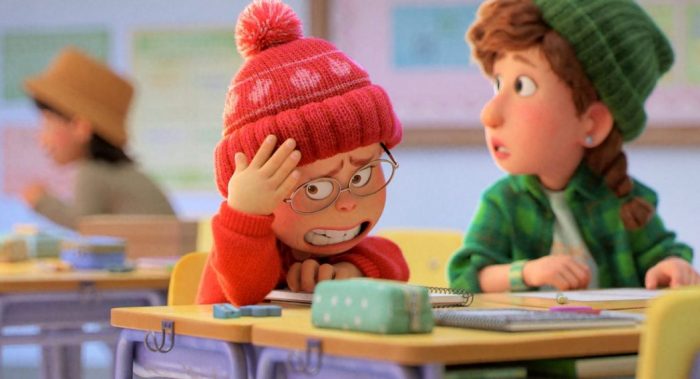 SYNOPSIS:
Disney and Pixar's "Turning Red" introduces Mei Lee (voice of Rosalie Chiang), a confident, dorky 13-year-old torn between staying her mother's dutiful daughter and the chaos of adolescence. Her protective, if not slightly overbearing mother, Ming (voice of Sandra Oh), is never far from her daughter—an unfortunate reality for the teenager. And as if changes to her interests, relationships and body weren't enough, whenever she gets too excited (which is practically ALWAYS), she "poofs" into a giant red panda! Directed by Academy Award® winner Domee Shi (Pixar short "Bao") and produced by Lindsey Collins "Turning Red" launches on Disney+ March 11, 2022. 
TURNING

 

RED

 is premiering exclusively on Disney+ March 11, 2022