Oklahoma is back and like nothing you have ever seen before! It is a newly re-imagined show like one we have never seen before.

The 2019 Tony-winning Best Revival of a Musical, visiting PPAC March 22-27, 2022, has been re-imagined by the visionary director Daniel Fish and reveals a distinctly modern subtext to the classic 1943 musical by Richard Rodgers and Oscar Hammerstein.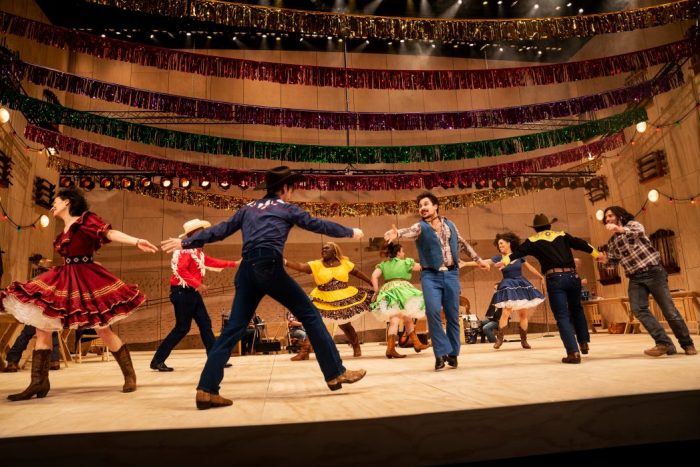 At its core, OKLAHOMA! has always been a story about a community coming together, and this production uses scenic and lighting design to evoke a sense of togetherness. Auditorium lights are left on for certain parts of the show, creating a shared experience among audiences and actors. There are also moments of total darkness, where all lights in the theatre are turned off, allowing audiences to focus intensely on dialogue on stage.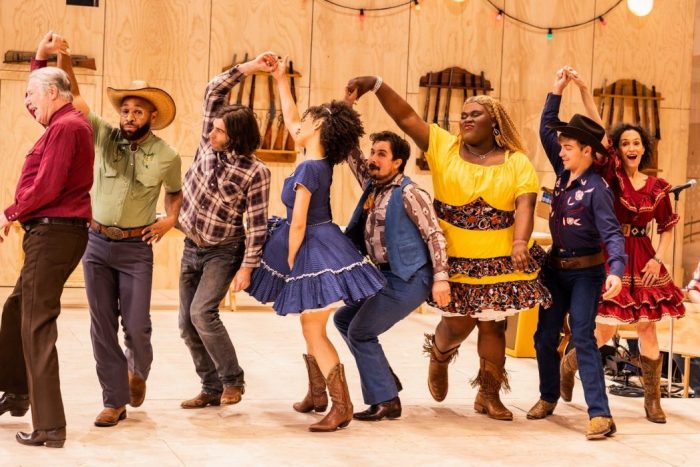 Upon entering the theatre, you're welcomed into a communal space that evokes life in a rural community. A sparse, plywood set is lit brightly, scattered with wooden tables and chairs and a faded wall mural of a farmscape projected on to the back wall. Colorful mylar fringe hangs at the top of the set. A band is visible center stage.
Perhaps most surprising to audiences will be gun racks on each of the side walls of the set, holding 114 guns.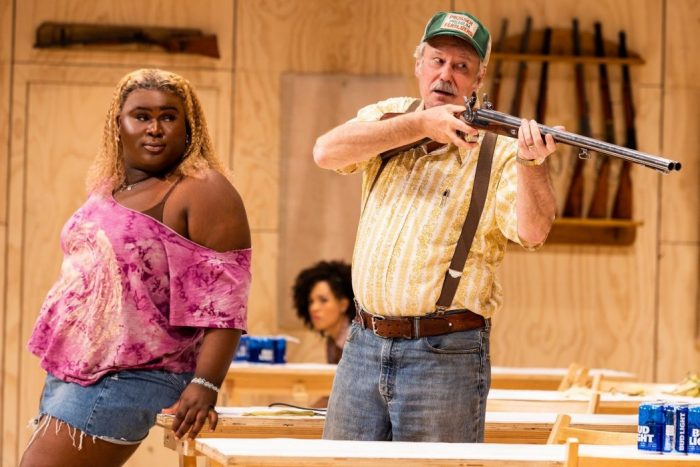 The cast is made up of actors of different races, backgrounds, sexualities, gender identities, religions in a company of storytellers reflecting the rich diversity of America. They are costumed in modern clothing—t-shirts, blue jeans, trucker hats—and accompanied by a seven-piece Bluegrass band, complete with banjo and steel drum.
The Grammy-nominated score re-orchestrates some of the most classic songs in American theatre history. The resulting sound is a refreshing, modern take on a score that remains full of earworms you'll be humming in the days to come.
TO PURCHASE TICKETS TO OKLAHOMA, PLEASE CLICK HERE: OKLAHOMA AT THE PPAC, RI.
*I am working with the PPAC on this show. All opinions are my own and not swayed by outside sources.*