My family sat down last month to watch American Underdog. If you have not seen it, do not miss out on this film.  My husband knew all about Kurt Warner and his story but the rest of us had no idea until we watched this movie. It was a truly inspirational movie that all families should watch.
American Underdog tells the inspirational true story of Kurt Warner (Zachary Levi), who went from a stockboy at a grocery store to a two-time NFL MVP, Super Bowl champion, and Hall of Fame quarterback. The film centers on Warner's unique story and years of challenges and setbacks that could have derailed his aspirations to become an NFL player – but just when his dreams seemed all but out of reach, it is only with the support of his wife, Brenda (Anna Paquin) and the encouragement of his family, coaches, and teammates that Warner perseveres and finds the strength to show the world the champion that he already is. American Underdog is an uplifting story that demonstrates that anything is possible when you have faith, family and determination.
<
Based on the Book "All Things Possible" by Kurt Warner with Michael Silver. Screenplay by Jon Erwin & David Aaron Cohen and Jon Gunn. Directed by The Erwin Brothers.
I had the chance to sit down with Hayden Zeller, who plays Zack in American Underdog.
About Hayden Zeller:
Hayden Zaller is a Chinese-born American actor who is also blind. His first major film was American Underdog, where he played Zack, the oldest son of Kurt and Brenda Warner. He hasperformed as a singer on stage at the Savannah Theatre in Savannah, Georgia where he lives with his parents and 3 siblings. He has also taken jiujitsu and enjoys video games andsuperhero films and tv shows. He enjoys trying new foods and watching cooking and bakingshows. He would like to someday make video games that are accessible for people who are blind, and possibly play a superhero in a movie.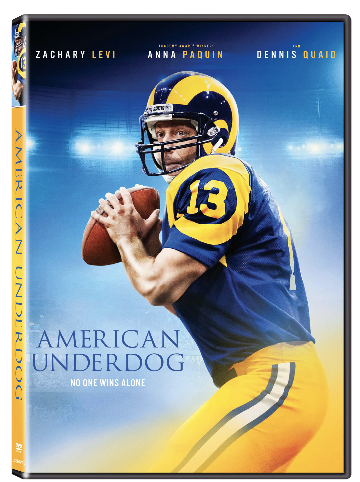 Interview with Hayden Zeller:
1. How was it getting the role?
He said it was very exciting to get the part but he had to miss a few of his friends birthdays.
2. How long did you film for?
He filmed January to March. So about 3 months he filmed for.
3. Where was it filmed at?
He said it was filmed at Oklahoma.
4. How was it working with their on set sister?
He said she was very sweet and he loved working with her.
5. What was your favorite part on being on set?
He said to talk to other actors and have a good time.
6. Do you have a favorite scene?
I love when Kurt Warner won the Superbowl.
7. Do you have anything that was hard for you?
He said it was hard for him to act like someone he was not. He said it was hard to shoot long scenes some days.
Be sure to watch American Underdog today!