This past weekend, Taylor and I sat down to watch Mr. Birthday which is now on Apple TV. This movie was endearing and so fun to watch, especially if you have children. The heartwarming comedy is available now on digital and cable platforms, including iTunes, Amazon Video, Vudu, Comcast, Spectrum, and Cox.
Mr

. 

Birthday

 
is anchored by a first-class cast, including Jason London (Dazed and Confused, The Man in the Moon, Wildfire) and Oscar nominee Eric Roberts (Runaway Train, The Dark Knight, The Expendables). The comedy also stars Anna Marie Dobbins, Charlotte Ciano, Fred Sullivan, Tanya Melendez Lynch, and Mike Messier.
Mr. Birthday was directed by Dan Hunter (Agent Toby Barks) and written by Matthew Luke Tucci (Broadcast, Sad in the Walls). Tom DeNucci, Paul Luba, Matthew Luke Tucci, and Chad A. Verdi Jr. produced. Executive producers include David Gere, Tanja Melendez Lynch, and Chelsea Vale.
My Thoughts:
Like I mentioned I watched with my daughter Tay who is 7 years old. Her two friends had a small role in the film so we were also excited to watch for this reason. This is a simply adorable 95 minute movie that had both of our attentions from start to finish. It is an innocent and simple movie without all the bells and whistles. I think this, in and of itself, is what made this movie so charming and delightful.
The story revolves around Barry( Jeremy London) who is in a non engaging job when he is offered a side hustle to become "Mr. Birthday" to provide kids fun birthdays to those who might have not had one.  From those kids who are lonely to those kids are a bit awkward, Mr. Birthday and his team provide the best birthdays though their team at the IBN (International Birthday Network).  This was a perfect job for him as his daughter (Charlotte Ciano ) had a birthday where only one person showed up as they were new in town. After the daughter feeling bad, Barry and his daughter provide dozens of family fun and birthday fun to those kids who need it most.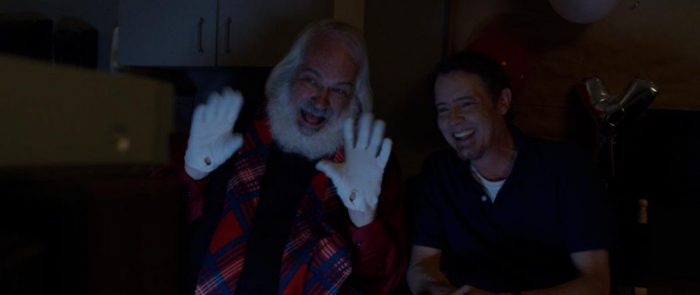 The sweet and innocence of this film is seen from beginning to end. Barry and daughter, Emily, are true models in every sense of the word. The main messages of kindness, working hard, and supporting each other are important themes that are seen throughout this movie.  Being a low budget film, it didn't have the big special effects that the big blockbusters do, but that is quite okay! It is a film that regardless of this, the family will love. Tay Tay watched it once and is already wanting to watch it again!
Tay Tay gives Mr. Birthday 4.5/5 stars and I give it 3.5/5 stars.  Happy watching!