Home Team is now officially streaming on Netflix.

CAST: Kevin James, Taylor Lautner, Rob Schneider, Jackie Sandler, Gary Valentine, Tait Blum, Maxwell Simkins, Jacob Perez, Bryant Tardy, Manny Magnus, Liam Kyle, Christopher Farrar, Merek Mastrov, Isaiah Mustafa, Christopher Titone, Ashley D. Kelley, Lavell Crawford, Allen Covert, Anthony L. Fernandez, Jared Sandler
SYNOPSIS: Two years after a Super Bowl win when NFL head coach Sean Payton is suspended, he goes back to his hometown and finds himself reconnecting with his 12 year old son by coaching his Pop Warner football team.
I had the chance to interview Kevin James who plays Sean Payton in this. I hope you enjoy my interview as much as I enjoyed interviewing him!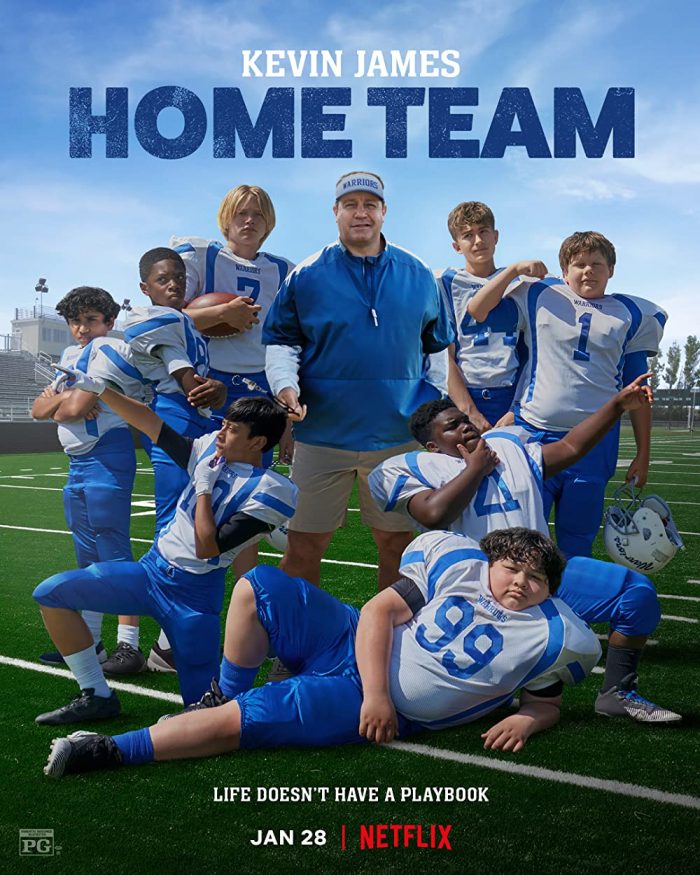 1. Were you able to spend a lot of time with Sean Payton and was that the actual trophy?
Kevin said he learned a lot from Sean and learning about the greatest season of coaching in his life. He took the Warriors to the end and even though they lost, it was a fantastic season. And yes it was the real trophy!
2. What was it like working with all the kids?
Kevin said the kids were amazing and fun! The kids were a very talented group and most of them were athletes as well and the ones that weren't learned on the set at a football camp. The ability to make it look real was incredible. The kids bonded right away so it made it easy.
3. How was it working with your brother?
Every time Kevin works with his brother, he likes to put him in weird costumes. He is wearing a big mustache in this film which gives him character. He loved how his character came out in the film.
4. Was this a hard role to jump into?
Kevin said he was never a coach before but he loves the sport so much. It was fun to dig into more about the sport of football and outside little league, he never coached kids before. Coaching kids vs coaching the NFL players was different but in some ways similar too.
5. In the movie, we saw Sean Payton spending more time with his kids. He learned a lot from his kids. What is it that your kids taught you?
Kevin said everyday he learns from his kids. He said he has to keep up with his kids for being so smart but they can be manipulative too. He learns from them all the time and he learned from this movie too.
6.  How was it working with Happy Madison productions?
With Adam Sandler, you know what you are going to get, pure awesomeness. He knows how to run a show and give people what they want so everyone feels valued. It is a family when you film.
7.  How was it working with Taylor Lautner?
Kevin says he is amazing and he has the uttermost respect for him. He is a great person who is totally awesome. Kevin has such praises about Taylor Lautner.
8. How do you approach the dramatic role?
Kevin says the stories dictate it.  Kevin says he can definitely be serious and press the gas on the comedy for a bit. He did get to do comedy with the kids but it is nice to switch gears between the emotional scenes and the comedy.
9.  The cast is packed with notoriously funny people. Did you get the chance to improvise?
He said he definitely did especially with Rob Schneider. Rob was fantastic as was his brother, Gary Valentine. The kids also provided the chance to improvise.
10. How was the casting process?
He said that was a question for Adam Sandler but once he put him in this role, he was able to do it beautifully. Once he was in, he went through the process of finding the kids and surrounding cast. They need to find kids that were athletes and also actors. These kids need to start out not being great in football and then grow into good athletes.
Come back this weekend to see my review of Home Team on Netflix!
*Thanks to Netflix for inviting me to this press junket. All opinions are my own and not swayed by outside sources.*