In my life summertime and health are synonymous. This is due, mostly, to all of the exciting outdoor activities that are available during the warm months of the year. While our family still enjoys a plethora of outdoor activities in the cold winter months as well, it's a much more active time during summer. The hiking trails come alive with greenery, animal activity, etc. Lakes are open to visitors, the perfect temperature to cool off in while burning energy. Even a few laps around our neighborhood in the early morning hours before work or after dinner has been cleared away; the summer weather is perfect to help maintain our goals to keep healthy.
Now that we're officially nearing Fall some of our summer activities will draw to a close, making way for the new season. That doesn't mean, however, that our efforts to nourish our bodies and keep them healthy have to come to a stop.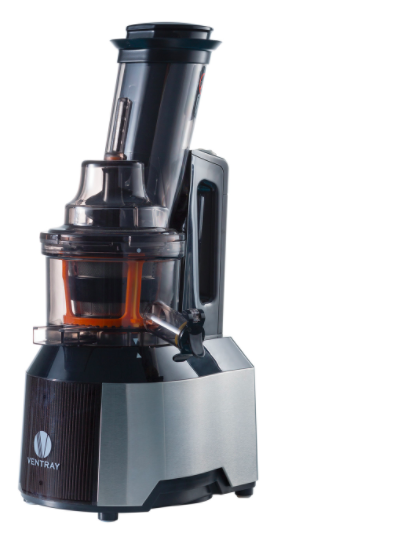 In fact, with help from the Ventray 809 Masticating Juicer, it's even easier to keep the momentum going. There is nothing that quite compares to the quality and taste of juicing right at home in your kitchen. I have no complaints about juice bars or the occasional bottles you find in grocery stores, but knowing exactly what is going into my family's juices (especially opting out of all the extra sugar companies like to put in theirs) gives this busy mama peace of mind. Plus, the superior taste and quality I just mentioned: you can't beat that with a stick!
In the past I've used juicers that did the job well-enough but in the end just weren't super user friendly. Ventray's 809 is a powerhouse juicer that has completely changed the game. In terms of looks, the Ventray Masticating Juicer is gorgeous with it's sleek looks, rounded edges and robust design. In terms of the job it was built for, it has far succeeded my expectations.
Thanks to its quality design the Ventray 809 Masticating Juicer is durable and long-lasting. The wide slated feeding chute makes it easier than ever before to process larger amounts of fruits and vegetables while also making it possible to reduce additional prep time. You can say goodbye to arm ache forever while enjoying your favorite juice/fruit combinations in a timely fashion, with no more long waits; all thanks to the wider feeding chute and included product pusher.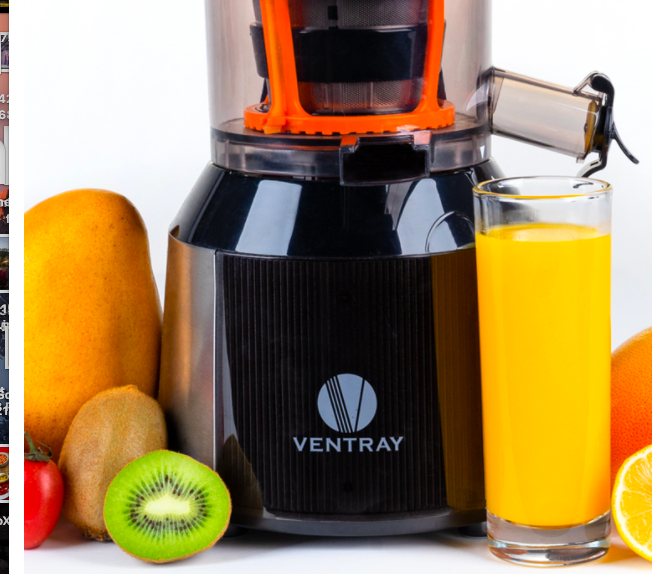 One thing that always drove me crazy about previous juicing machines is the amount of pulp and seeds that come through into the finished product. My family doesn't seem to mind it so much but for my money, I much prefer a smoother finish to my raw juices. So, the improved seed strainer and pulp separator have been a very appreciated update. It also comes with an included rubber stopper that lets you decide, based on personal preference, whether you want to go pulp free or not. Now, that is my kind of in-home service!
For those of you who are wondering about the more technical side of features that are included with the Ventray 809 Masticating Juicer, here are some useful specs to take into consideration if you're on the hunt for a new juicer:
Fresh non-oxidized juice. You'll be amazed at how this juicer tackles even the largest chunks of fruits and vegetables, at a speed of 65rpm to prevent oxidation.
Preserve Healthy Nutrients. Never lose on on important things like enzymes, vitamins and beneficial nutrients while keeping the taste and textures you love.
One-Button Operation. Pushing ever button to get to the setting you want is a thing of the past. With minimal cutting required for prep, this juicer is easy to use, easy to clean and it's wide feeding chute is large enough to insert an entire apple with ease.
BPA-Free Material so you never have to guess what might be leeching into your juice!
5 Year Motor Warranty that included 12 month original manufacturer warranty and a 60 month warranty of the motor. Just in case.
If you've recently found yourself in the position of needing a new juicer or are looking into juicing for the first time, I can't even begin to recommend this model enough. Not only does it bring immense health properties to your daily routine but it makes delicious juices that the whole family will enjoy, with no fuss or muss included.
To find out more you can visit Ventray online to take a look at this beastly product yourself or to browse other products that might be just what you're looking for!
*I worked with Ventray on this post. All opinions are my own and not swayed by outside sources.*