Summers in my neck of the woods can get downright miserable at their peak. I'm talking frizzy hair, clothing sticking to your back sweat, cranky behavior inducing heat. We share a love/hate relationship with the weather in my home state. In our hottest months, like just about everywhere else on the map, it's important to make sure we stay hydrated so we don't experience dehydration that can pose a host of different health issues. I don't know about my readers but I've experienced the effects of not getting enough fluid intake in the past and let me just say, it's not fun!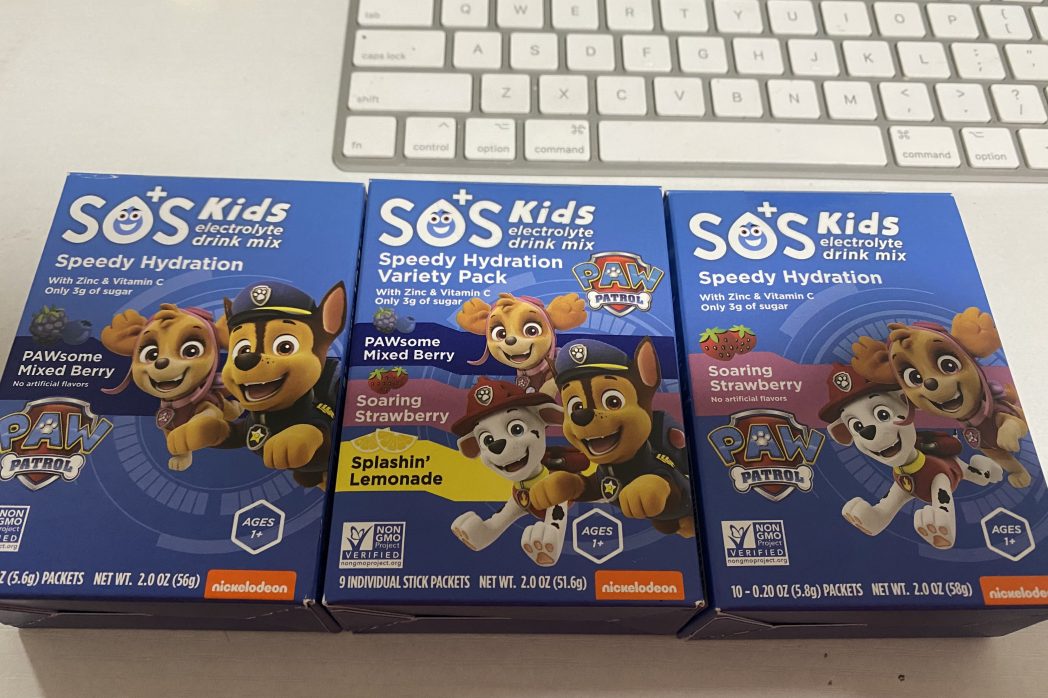 SOS Hydration and their team of experts know firsthand the risks associated with not meeting your daily fluid intake, thus making it their mission to help the masses combat and prevent this dreaded occurrence within the human body. Over the course of an average day, the human body loses about two liters of essential water just from sweating, bathroom breaks, and even breathing. For those who exercise, the numbers accelerate to two liters per hour.
While we sweat, especially in the summer when the weather is hottest, we lose essential electrolytes called sodium and chloride, setting the stage for dehydration and putting our bodies at risk for increased body temperature, cardiovascular strain as well as symptoms such as fatigue, headaches, etc. It's astonishing to learn how the body functions and to know that when we first start to recognize signs of thirst, we're already 2% dehydrated. I had no idea but can say that I'm thirsty quite often. Yikes!
With members of SOS Hydration's team being made up of a doctor, two former elite athletes, and a retired military doctor, they really know their stuff when it comes to the human body, its key functions and how something as simple as not getting the liquid intake it needs can have some very negative effects as we move through our day to day comings & goings.
This is why they've recently decided to launch their Family Hydration Challenge! With the launch of several new children's products, SOS Hydration is challenging us moms to swap out all of the sugary drinks we gravitate towards and replace them with their low-calorie, plant-based hydration drinks. With only 3 grams of sugar per serving and flavors like Splashin' Lemonade, PAWsome Mixed Berry, and Soaring Strawberry, ensuring we provide the best hydration possible is easier than ever.
During the course of the Family Hydration Challenge, Mama's just like you and me can connect with other like-minded families while creating new, healthy habits for the entire family. As an added bonus, upon signing up and purchasing the challenge bundle, there is an exclusive facebook group that can be utilized to participate in several challenges for moms and kids to participate in that include some awesome prizes, including those for just for Mom and Paw Patrol toys for the kiddos.
Upon joining the group you have the opportunity to gain daily motivation, make new friends, and enjoy the added perks of feeling more focused and energized while using SOS Hydration products. The challenge is available to families to correspond with the length of the Hydration Challenge product bundle, so if you choose to participate the next 30 days sound like they'll be a blast while enjoying the benefits of enjoying products that are fun, healthy and beneficial for the whole family!
Included in each SOS Hydration Challenge Bundle are the following products:
3x 12 pack cases of 

SOS

 Ready-to-drink beverages, in assorted flavors
3x 10 stick boxes of 

SOS

 Kids x Paw Patrol Electrolyte Drink Mix, assorted flavors
Access to mindset coaching with Michelle Smith (@recoveryisthenewblack)
Weekly Challenges for the entire family to enjoy (prizes too)
Tips to keep the kids wanting more!
When you line 
SOS
 products up with common favorites, such as chocolate milk, apple juice, sports drinks, etc. it's clear to see that 
SOS
 Hydration is the superior, more healthful pick to set your little ones (as well as yourself) up with healthier habits that encourage proper hydration habits.
The 
SOS
 Hydration Kids formula is also formulated to be:
3G carbs
Zinc
Vitamin C
Gluten-Free
No Artificial Flavors
No preservatives
No artificial sweeteners
GMO free
10 calories per serving
SOS
 Hydration isn't just for kids. Mom and dads can gain the same benefits with the line of 
hydration products
 specifically geared for them. So, if you're tired of the same run-of-the-mill drinks that are on the market, filled with yucky ingredients and not geared with the best healthful properties, I would recommend taking the plunge and joining the 
SOS
 Hydration Challenge along with me.
*This is a partnered post. All opinions are my own and not swayed by outside sources.*