My Little Pony: A New Generation debuts on Netflix this Friday!! It is so wicked cute. Now you can have some My Little Pony fun with Snip-Its kids hair salon. Snip-Its haircuts urges their customers to find your inner sparkle with some help of My Little Pony-A New Generation.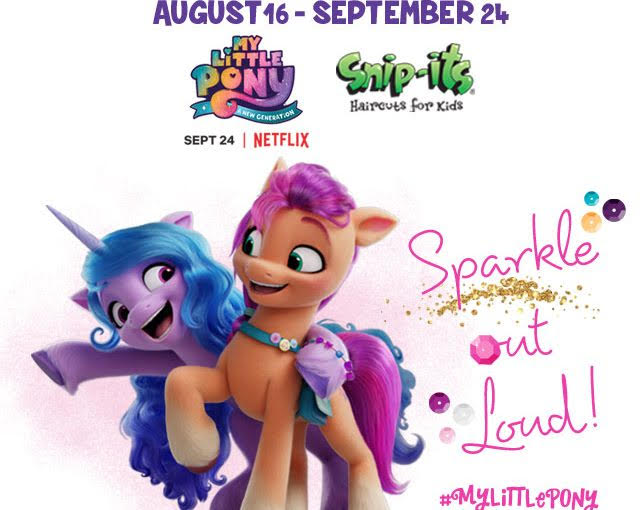 The launch of this new Snip-its service and retail marketing promotion, just in time for Back-to-School fresh new 'dos, will bring My Little Pony: A New Generation to life within its salons through co-branded, temporary color add-on services inspired by each of the Mane 5 and new best friends. The Snip-its Haircut Adventure will sparkle more and shine bright with add-ons, in-salon giveaways, exclusive video content and local and national social media sweepstakes. Girls and boys will enjoy My Little Pony content in the salon while expressing themselves with the pony-inspired add-on service of their choice – culminating in fun times together for kids and their parents.
To celebrate My Little Pony: A New Generation be sure to visit Snip-Its and get your kids a sparkling new cut with some fun attached to it. I plan to bring Tay Tay this weekend to get her ready for the movie!
ABOUT SNIP-ITS HAIRCUTS FOR KIDS:
Snip-its is a leading kids' salon franchise with locations throughout the United States that has been operating for more than 25 years. Their fully equipped salons and specially trained professional stylists cater to families with children and provide a fun, safe, and exciting hair cutting and styling experience for boys and girls ages 6 months to 12 years old.
*I worked on My Little Pony on this post. All opinions are my own and not swayed by outside sources.*