Last year Hayley performed in Willy Wonka & The Chocolate Factory for the school play. To prepare we ended up watching this movie quite a few times so we were thrilled to receive the Willy Wonka Ultra HD Blu-Ray Combo Pack and Digital from Warner Brothers Entertainment.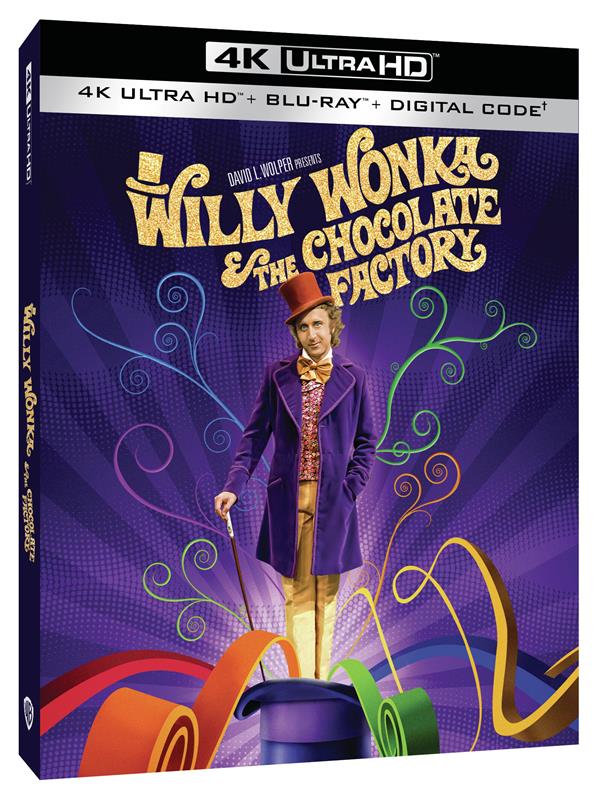 This fun family film is one that my family will watch over and over again! Singing along to all the catchy songs while rooting for Charlie Bucket in the chocolate factory brings such joy to my family watching. The story is an absolute must watch that is the true definition of a classic. This movie is good ole' fun mixed with great songs, fun acting, and of course chocolate. This is one movie you should add to your DVD collection in celebration of the 50th anniversary of this beloved film.
CAST:
Directed by Mel Stuart from a screenplay by Roald Dahl, Willy Wonka & The Chocolate Factory was produced by Stan Margulies and David L. Wolper. The film is an adaptation of Dahl's 1964 novel "Charlie and the Chocolate Factory."  Willy Wonka & The Chocolate Factory stars Gene Wilder as Wily Wonka, Jack Albertson as Grandpa Joe, Peter Ostrum as Charlie Bucket, Roy Kinnear as Mr. Salt, Julie Dawn Cole as Veruca Salt, Leonard Stone as Mr. Beauregarde, Denise Nickerson as Violet Beauregarde, Dodo Denney as Mrs. Teevee, and Paris Themmen as Mike Teevee.
Ultra HD* showcases 4K resolution with High Dynamic Range (HDR) and a wider color spectrum, offering consumers brighter, deeper, more lifelike colors for a home entertainment viewing experience like never before.
Willy Wonka & The Chocolate Factory is available now on Ultra HD Blu-ray Combo Pack for $24.99 ERP and includes an Ultra HD Blu-ray disc with the feature film in 4K with HDR and a Blu-ray disc with the feature film and special features.
 About the Film:
Directed by Mel Stuart and starring Gene Wilder as the legendary Candy Man Willy Wonka, this splendiferous movie brings to the screen the endlessly appetizing delights of Roald Dahl's cherished book. Coated with flavorful tunes and production designs that are a visual treat for the eyes, this effervescent musical never fails to enchant young and old. On a whirlwind tour of Willy's incredible, edible realm of chocolate waterfalls, elfish Oompa-Loompas and industrial-sized confections, a boy named Charlie (Peter Ostrum) will discover the sweetest secret of all: a generous, loving heart. And viewers will rediscover all the timeless magic as it was meant to be seen.
Ultra HD Blu-ray and Blu-ray Elements
Willy Wonka & The Chocolate Factory Ultra HD Blu-ray contains the following previously released special features:
Commentary with the Wonka Kids
Pure Imagination: The Story of Willy Wonka & The Chocolate Factory
The Moviemakers
Scrumptious Sing-Along: Pure Imagination
Scrumptious Sing-Along: I Want It Now!
Scrumptious Sing-Along: I've Got A Golden Ticket
Scrumptious Sing-Along: Oompa-Loompa-Doompa-De-Do
Theatrical Trailer
 DIGITAL DISTRIBUTION ELEMENTS
Willy Wonka & The Chocolate Factory 4K UHD is available to own for streaming and download to watch anywhere in high definition and standard definition on favorite devices from select digital retailers including GooglePlay, Vudu, Xbox and others, and will be made available digitally on Video On Demand services from cable and satellite providers, and on select gaming consoles.
Be sure to pick up Willy Wonka & The Chocolate Factory today!
*Thanks to Warner Bros for providing this DVD combo. All opinions are my own and not swayed by outside sources.*