I AM SO EXCITED! Marvel is back and available in a new series called The Falcon and The Winter Soldier. Seeing the first episode, I can tell you, you will not want to miss this but you will have to wait till this weekend to hear my full review. In the meantime, I wanted to present to you all the awesome press junket I did for this with Anthony Mackie ("Sam Wilson"), Sebastian Stan ("Bucky Barnes"), Kari Skogland (Director), Malcolm Spellman (Head Writer), and Kevin Feige (Producer).

PRESS JUNKET:
1. The Falcon and the Winter Soldier, it's the second series from Marvel Studios to come to Disney+ and I really wanna know how the streaming platform expands the storytelling bandwidth and why did it make sense for this particular project and to explore this particular relationship?
Kevin said it was the second Marvel show that is coming to Disney + but the first one that they started all together. With this, they delved into the TV world which was unknown for some of them.
He said it worked out very well because it was meant to prove that they can bring the franchise to TV and work just as hard on it as any big movie that they do. That is why from the start they started episode one with a big bang where they learn who the characters are.
2. The series, it's described as a cinematic, very MCU experience. What was your approach to deliver the same MCU experience to the fans?
Kari said they approached it as if they were making a six hour film. Once they had that in mind, they could figure out where to snip it at the hour marks. She said it was important that they respected that they were going be into peoples' perspective and so they really had to go in deep character and be able to sustain that. They had to figure out how to do that with the nature of this series.
3. It really does have this buddy-cop genre feel but, of course, with a Marvel twist. Can you explain this idea and why it made so much sense for these characters in particular and for this series?
Malcolm says it is a 12-second moment civil war where it feels like every single Marvel fan, Kevin Feige, and all his cabal partners knew that these two guys were going to be able to support a movie or a franchise. He says he feels like you can't really take credit for the tone because in that 12 seconds everybody knew what it was going to be.
"You can go from as gritty as gritty as 48 Hrs. to as comedic as Rush Hour, but in between there is sort of like that of first Lethal Weapon and that first Bad Boys. And what we liked about it was it allows Sebastian and Anthony to do what they do and create that magic, but also allows the broader creative to it." -Malcolm
4. Tell me a little bit about what surprised you when you started learning more about this character that you've been portraying in these films all of these years – asked to Anthony
He said he was really excited to see he was from Louisiana! He says he loves that the idea of Sam Wilson, is evolving  so much in MCU.
"When you remember when Sam Wilson first started out, he was a hustler from Harlem. And then as African Americans culture evolved, Stan Lee evolved him in the comic book into different incarnations of himself. So, I'm excited for everyone to see the new and improved, Sam Wilson."
5. Sebastian, let's talk a little bit about Bucky. We get to explore a new side of this character. Tell me about exploring this new side of this character. What surprised you about learning more about Sebastian in this series?
Sebastian says he is always learning something about himself from this character. He has spent 10 years with this character so it evolved with him and grew with him. In this show, he told us he will see just how much he grew and it will delve a lot into his character. He says he will see the ideals and principles that he is currently living in. It will be an interesting trajectory.
6. Tell me a little bit about how you guys make that dynamic work as well as you do in this great series, which is like one long movie?
Anthony says what is great is you can't find two people as opposite than Sebastian and him. However, there is so much mutual respect between them and they are good friends. They help each other out and they look out for each other a lot.
7. Is it possible there will be more seasons of this?
Kevin said he focused first on making this great so there could be an option for a second season. If this was not top notch, there would be no second season. If they do do another one, there is a lot of ideas floating around in their heads.
8.How does a production of almost six hours allow for more stories, etc?
Kari said it was a lot more work than was expected. She said you can get more into the characters in six hours. With a series you are able to meander a bit more into their lives.
9. What brought us to the point where the Falcon and the Winter Soldier kicks off, and what big picture would you say the series ultimately really is about?
"I think what worked out really nicely was that it is where End Game leaves off, Thanos has created this situation where dispatching Thanos has created a situation where the entire world is dealing with one single issue. The villains in this series are responding to that. And in fact, every villain in the series would tell you he or she is a hero. The heroes are responding to that in their personal lives. And that the story plot, it's all born from one single, organic thing."- Malcolm
10. How has Sam and Bucky's love-hate bromance changed since Steve's retirement?
Sebastian joked that he did not think he did. They are both in similar places at the start of the show and them being thrown into opposite corners. They both got different things that they are facing.
11.I am curious, how was the intensity of the stunt work in this compared to the films?
Sebastian said it as pretty on par with the films. It was actually more involved he thought and more intense. Nothing was watered down. The same guys who worked on the film did the show for them.
All eyes are on the shield, as Sam Wilson aka The Falcon, and Bucky Barnes aka The Winter Soldier decide to team up—or rather, work together—when a new global threat launches them into an unexpected mission that may hit too close to home.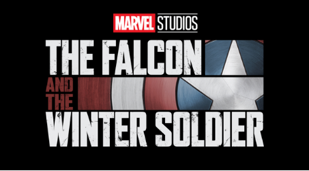 Directed by Kari Skogland with Malcolm Spellman as head writer, the six-episode series stars Anthony Mackie, Sebastian Stan, Wyatt Russell, Emily VanCamp and Daniel Brühl. The series also features Erin Kellyman, Georges St. Pierre, Amy Aquino, Adepero Oduye and Danny Ramirez. "The Falcon and The Winter Soldier" debuts on Disney+ March 19, 2021.
THE FALCON AND THE WINTER SOLDIER starts streaming exclusively on Disney+ March 19th.
*Thanks to Disney for inviting me to this press junket. All opinions are my own and not swayed by outside sources.*