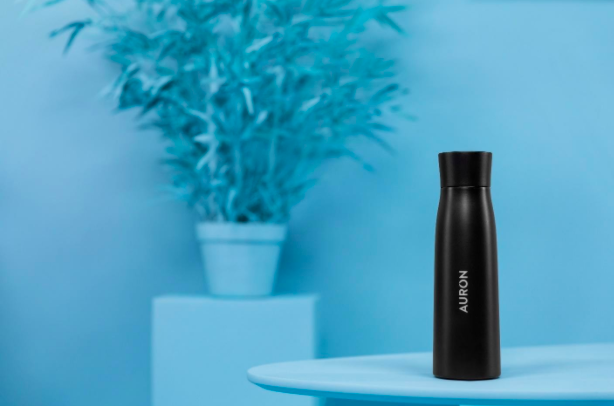 After 2020, it's become more important than ever to reevaluate how we keep our homes clean and germ-free. The old ways of sweeping, wiping, and mopping now and again don't seem to cut it anymore.
We've been looking for new ways to fight everyday germs that can make their way home. One of our favorites is Auron Bottle. Auron is the first smart water bottle. It has a UV-light water purifier located under the lid, so it can clean your water while it's in the bottle.
Because the bottle is vacuum-sealed, the water inside is guaranteed 100% sterile. It is purer than water from any tap, purifying pitcher, or bottle. Have you ever tasted truly pure water? It's delicious.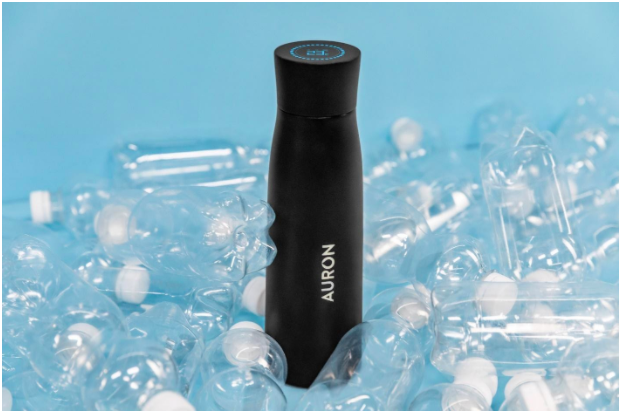 Auron has a number of other features too. It has a touchscreen display that lets you see your water purifying in real-time, set hydration reminders, and check the temperature of your drink. It can also hold any of your favorite drinks and keep them hot or cold for 24 hours.
Auron is the cleanest water bottle ever made, and you never need to change filters or parts. Auron provides pure water for life with just one purchase.
If you're worried about what's in your water (or are just tired of lugging in cases of bottled water every grocery trip), then check out the new Auron Bottle. If you order during their pre-order sale, you can get 60% off yours!
Here's a quick look at how Auron works and why it keeps your family safe from germs.
Auron's UV-Light Sterilizer 
Auron sterilizes your water with a UV light located in its lid. UV light is one of the most effective and safe ways to purify water. It's completely natural and chemical-free (it's the same light that comes from the sun), and you never have to refill or replace any parts for it to work.
UV light kills 99.99% of bacteria, viruses, mold, fungus, parasites, allergens, and anything else lingering in your water, leaving behind only pure, clean H20. 
To purify your water, just tap the display on Auron's lid two times. Then, a timer will pop up that shows you when your water is pure. It only takes 60 seconds to turn any water into pure water.
The timer is fun for kids too. They love tapping the lid and watching their water transform into something new. The display comes with colorful lights and sounds that make kids want to drink more water. We can't complain about that! 
If you're too busy to purify your own water, you can set Auron to auto-clean. It will run a purification cycle every 4 hours to make sure your water is clean every time you take a sip. This makes it easy to share your bottle with others. You never have to worry about catching their germs.
Bacteria-Free Bottle
Auron doesn't just clean your water. It also cleans itself. Every time Auron runs its purification cycle, it sterilizes its interior, preventing bacteria and mold growth on its inner walls. 
This is more important than you think. Studies have found that reusable bottles are practical germ farms. A thin biofilm of bacteria grows on the inside of bottles, and it's really difficult to remove it without scrubbing. This bacteria gives your bottle its funky smell, and over time, it can even make you sick. 
Auron stays bacteria and mold-free forever. It needs to be washed a lot less often than other bottles, too. When it is ready for a wash, you can stick it in the dishwasher. It's that easy. 
Clean Any Water, Anywhere
Auron goes anywhere and cleans any water. It's ideal for travelers because Auron can take tap water from countries with non-potable water and turn it into pure drinking water. 
But it can do a lot more than that. Auron can purify water from public restrooms, fountains, rivers, lakes, and more. You'll never need to haul a few bottles of water in your bag when you head to the park or for a walk in the woods. Any water you find can become pure drinking water in 60 seconds. 
Perfect for Families
Auron is so versatile that it makes the perfect bottle for families. It goes anywhere, so you can take it on trips and pack lighter. And its smart features make drinking water more fun for kids.
The touchscreen will remind them of the phone and tablets they love so much, and the hydration reminders turn into a fun game that gets kids to drink more water and fewer sugary drinks. 
Auron is also safe for all ages. Its electronic parts and UV light are sealed, and the whole bottle is waterproof and damage-proof. It's also impossible to be exposed to UV light because the purification system only works when the bottle is sealed shut. 
We keep Auron on the table whenever we're home. Its carafe shape and stylish design make it an attractive centerpiece for a table, and everyone knows where to go if they get thirsty. 
Keeps All Your Drinks Hot or Cold
Auron holds much more than just water. A vacuum-sealed and double-walled chamber make Auron one of the most effective insulating flasks you can buy. It can keep any drink hot or cold for up to 24 hours, including coffee, tea, beer, wine, juice, and smoothies. It can even hold carbonated drinks (most other reusable bottles can't). 
The insulation becomes even more effective thanks to Auron's temperature display. You'll never have to break the vacuum-sealed lid (or burn your tongue) to check the temperature of your coffee. Just tap Auron's lid to see how hot or cold your beverage is. 
Auron's double-walled design also prevents condensation. Even if you fill your bottle with iced tea, it won't sweat in your bag and get your things wet. 
Pure Water for Life
Our favorite thing about Auron is that you get pure water without the need to replace any filters or parts. Just one bottle gives you pure water for life. 
Auron's UV-light bulb is built to last for 300,000 purification cycles. And its rechargeable battery lasts for 2 months on just one charge. 
Auron may be a smart bottle, but it doesn't come with the annoying difficulties of modern electronics. You can use it just like any other bottle. The only difference is it's cleaner and healthier (plus, it looks great!).
With Auron, you get the purest water on the planet without the hassle of those pitchers or faucet filters. 
Ready to Try Auron? Get Yours for 60% Off
Auron is one of the easiest ways to eliminate germs at home and on the go. It provides the cleanest water from its vacuum-sealed flask, and you don't have to lift a finger to drink healthier. 
For families, Auron is a no-brainer. It makes travel lighter and sharing water with schoolmates and soccer buddies stress-free. Plus, it makes a great coffee thermos (or wine carafe!) for parents. 
If you're ready to switch to a smarter water bottle. You can get Auron now for 60% off the retail price. This sale is only available during the pre-order phase for the new Auron Bottle. So, don't wait to grab yours. 
See Auron Bottle in action and pre-order yours today at www.auronbottle.com.
*This is a partnered post.*