Tomorrow is the day. A Week Away debuts on Netflix. I can't say too much yet about this movie but definitely check back tomorrow to see my full review of this movie and be sure to mark it down in your calendar because you do not want to miss this movie!

Netflix invited me last week to attend a virtual press conference for A Week Away with Bailee Madison (Avery), Kevin Quinn (Will), Jahbril Cook (George) & Kat Conner Sterling (Presley)
I hope you enjoy learning about the movie via this Question and Answer!
A WEEK AWAY ACTOR INTERVIEWS :
1. How did you prepare for this movie Bailee?
Bailee she said was nervous about the vocal part of it but she always wanted to do music. All the songs she reimagined are songs that she grew up with as a young child. She was thrown into a vocal booth for the first time ever and it was a first for her to check it off her bucket list. Her acting was always out there but never the vocal part.
2. What would you say is your favorite number of the movie and why?
Kevin said it was the dive musical number at the dock. He said the energy of that scene was so great and the togetherness of it all. Bailee said A Place In This World was one of the first scenes she filmed and she loved doing this one, with breaking the walls down of these characters.
3. What was it like being in the film with Amy Grant, the original singer of A Place In This World and having Michael Smith on set?
Kevin said Amy and Michael were so supportive of the Baby, Baby remake they did. They did spend time with her on set. It was such an honor to have them on set and to help them grace their screens was amazing.  They had a lot of fun with them on set.
4.  What made you want to be a part of this film?
Kevin said it was the message of faith and doing good in this film. Kevin said Will had so many layers and it was great to bring it out to him. The character and message brought him on board and Bailee said she also fell in love with the script right from the beginning.
5. Are you a natural singer Kevin?
Kevin says he has sang forever and considers himself a natural singer. He started out doing stage productions in Chicago and used his experiences for this.
6. What was your chemistry like off set and what was it like working with Sherri on set?
The chemistry was so great. She loved working with kids her own age, which was knew to her. They spent four weeks together learning the dances. The laughs and smiles you see are all real since they had the best time. She said working with Sherri was such a joy! Kevin said the chemistry between Avery and Will was a natural progression and they are really good friends.  They leaned on each other and played off each other.
7. Are there any fun behind the scene facts you can share with us?
Kevin said that there worked really hard on this film. While it was effortless and real, it truly was weeks of collaboration to get to where this movie ended up. They put in a ton of work and preparation for this movie.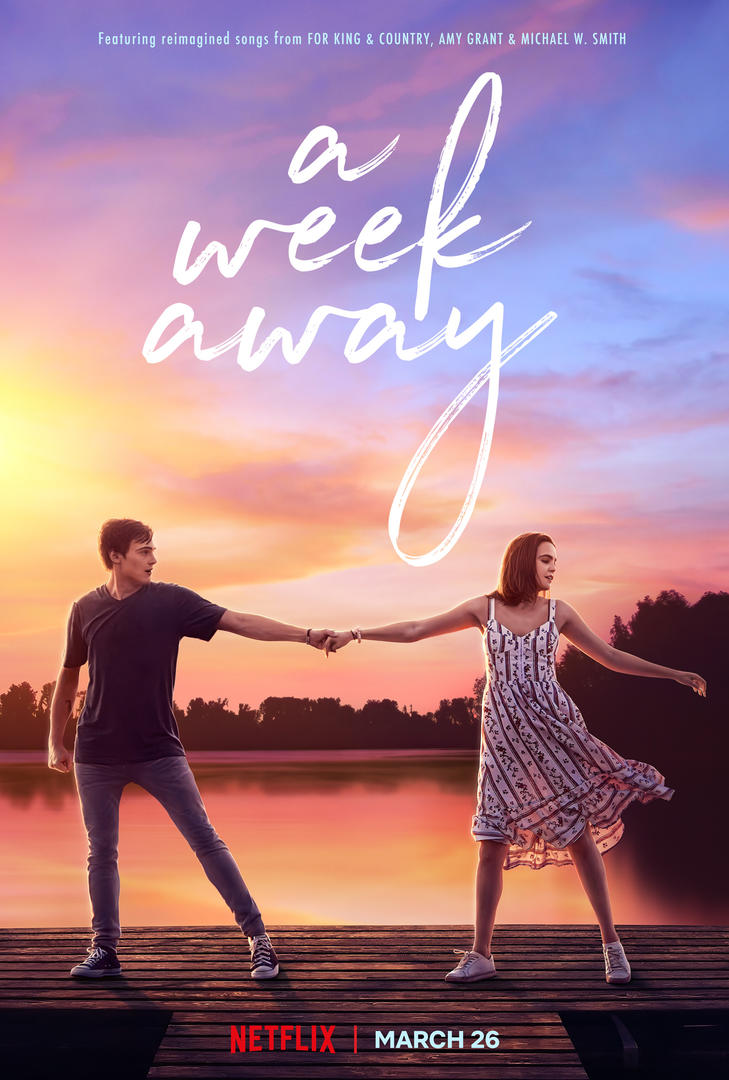 SYNOPSIS :
Will Hawkins (Kevin Quinn) is in trouble. Again. It's what he does best. A foster kid since he was ten, he's been in and out of more homes and schools than his case worker can count. After his final run-in with the law he has a choice to make – go to juvie or a Christian summer camp. Both sounding equally awful he chooses the one where he can at least bring his guitar, one of the last items given to him by his deceased father. A stark fish-out-of-water compared to the other camp residents, he lies about his background to try and fit in, especially with his newfound crush on camp regular Avery (Bailee Madison). But can he keep this up? Does he want to? Will he ever be able to replace the family he lost? With catchy musical numbers and songs by prominent Christian Contemporary Artists and the creative team from High School Musical and Camp Rock, A Week Away comes to life as the first faith-based film of its kind. A Week Away also stars Jahbril Cook, Kat Conner Sterling, Iain Tucker with David Koechner and Sherri Shepherd.
A Week Away debuts tomorrow on Netflix.
*Thanks to Netflix for inviting me to this press conference.*