A Week Away is officially available to stream on Netflix and I will tell you that my whole family absolutely loved this movie. Having a child heavily into musical theater, dancing, singing, and acting is part of our everyday lives and this movie allowed us to see these three triple threats wrapped into one very pretty bow.
This movie delves into the relationship of a lost teenager, Will, who escapes to a religious overnight summer camp to work out his problems and try to turn his life around. As the song duo he did with Avery is called, he is really Trying to Find His Place in This World. Along the way he meets many friends but has to tell his lies to try to fit in. But it will all come to a head when the truth comes to light and ultimately Will has to face his life now and do a restart. This is done with his crush in the film, Avery, who he has fabulous chemistry with.
While this movie does have some religious components to it, I can tell you this Jewish girl loved it from start to finish. I loved hearing the words of some of the Christian lyrics and how beautiful they really are. It was not a preachy movie in the slightest, just one that showcases how important having faith and love truly is.
While the story is predictable that did not take away from my family loving this movie. The catchy songs and amazing synchronous dances makes it so much fun from start to finish. When one musical number ended, my whole family was so excited to see another begin. Kevin Quinn, who plays Will, said they practiced for weeks to perfect these routines and I must say that they definitely nailed it.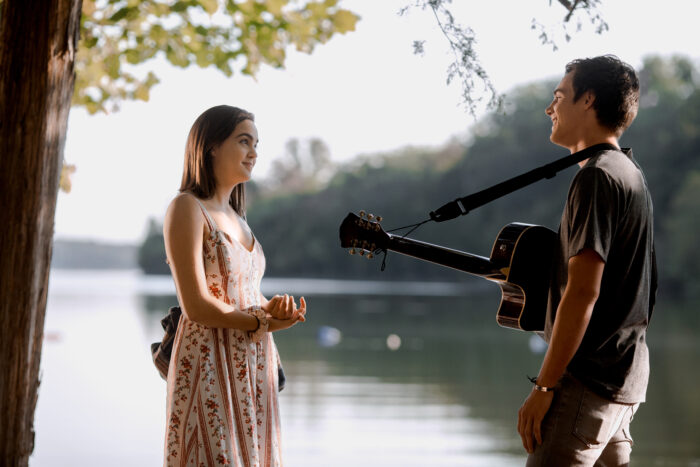 When you line up a cast of triple threats (dancing, singing, and acting) you know it will be a movie that will stand out for many years to come. A Week Away did that just with some amazing life lessons and fun.  It is important to realize to be yourself, not judge a book by its cover, and to have faith that things will turn around if you believe in yourself. Those life lessons I hope my family took away from this film because A Week Away definitely did a good job of showcasing that all.
Be sure to check out A Week Away streaming on Netflix. Clocking in at around 90 minutes, it is a really colorful and beautiful movie.  Now let's start dancing!
I give A Week Away 4/5 stars.
A
SYNOPSIS :
Will Hawkins (Kevin Quinn) is in trouble. Again. It's what he does best. A foster kid since he was ten, he's been in and out of more homes and schools than his case worker can count. After his final run-in with the law he has a choice to make – go to juvie or a Christian summer camp. Both sounding equally awful he chooses the one where he can at least bring his guitar, one of the last items given to him by his deceased father. A stark fish-out-of-water compared to the other camp residents, he lies about his background to try and fit in, especially with his newfound crush on camp regular Avery (Bailee Madison). But can he keep this up? Does he want to? Will he ever be able to replace the family he lost? With catchy musical numbers and songs by prominent Christian Contemporary Artists and the creative team from High School Musical and Camp Rock, A Week Away comes to life as the first faith-based film of its kind. A Week Away also stars Jahbril Cook, Kat Conner Sterling, Iain Tucker with David Koechner and Sherri Shepherd.