Yesterday for breakfast I had the most delicious combination of Matcha in the form of a donut and a drink! Now at Dunkin', you can get the new Blueberry Matcha Latte and the new Matcha Topped Donut! Tasting this first hand, I can tell you it is truly a winning combination all around!
Dunkin' Debuts Blueberry Matcha Latte and New Matcha Topped Donut:
 The Blueberry Matcha Latte offers a fresh taste experience by combining Dunkin's sweetened Matcha green tea powder blend with blueberry flavor and guests' choice of milk, including non-dairy alternatives like oatmilk and almondmilk. Available hot, iced, or frozen, the pairing of blueberry flavor and Matcha creates a delightfully delicious and reinvigorating handcrafted beverage.
The new Matcha Topped Donut features Dunkin's signature Glazed Donut topped with Matcha powder for an enticing green tea flavor balanced with craveable sweetness. The distinct flavor and eye-catching, vibrant green color are perfect for adventurous guests seeking a unique twist on a classic treat.
SPECIAL OFFER:
Now through 3/23, DD Perks® members can earn points toward a free beverage reward twice as fast with the extra perk of 2X points (10 points per dollar rather than five) on any Matcha Latte purchase.
As for me, I tasted the Blueberry Matcha Latte with Oatmilk and it was simply delicious! I tasted the delicious matcha taste with hints of blueberry. Topping it off with the Matcha Donut, it was a seriously winning combination. If you love Matcha, you can't beat the taste of the new Blueberry Matcha Latte and the Matcha Donut!
Be sure to download your DD Perks today as well! Just today I got a free drink for ordering ahead through the app. The app has been an invaluable resource for my family and I. Best part is the app is completely free so it is a win-win situation for all!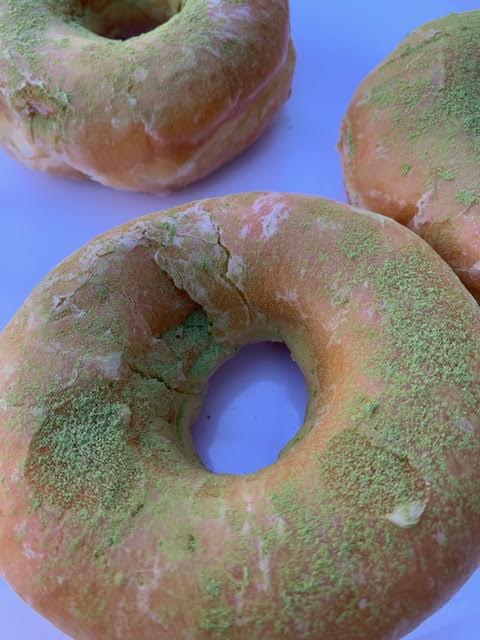 *I work with Dunkin'. All opinions are my own and not swayed by outside sources.*