Yesterday was International Women's Day and how appropriate to present my next review after such a powerful holiday. Disney's Raya and the Last Dragon exemplifies girl power in such a unique and engaging way through culture, action, and adventure. There are so many powerful themes of believing in oneself even if so many odds are against you. I see this everyday with women and careers, that seeing it in Raya and the Last Dragon was really a wonderful way to acknowledge the impact that women can do despite the odds.
I recently just had a talk with my cousin who was born in South East Asia and she instantly called me after viewing this movie with her kids.  She said that this movie hit the nail on the head with the Asian culture and was one of the first movies she has ever seen to be like this. In a lot of movies, they make it more "American-Asian" but this movie took her back to her roots, down to the food they devoured.
This movie has so much depth but more than anything the themes are so relevant in this day of age, especially with the horrible racism we are still seeing against many people, including the Asian population. Raya showcases that it takes people to come together to overcome the obstacles that are going against them and it takes a village, but things ultimately will get done. You have to learn to allow yourself to showcase trust and receive trust simultaneously.
As Raya travels all across Kumundra including the lands of Tail, Fang, Spine, Talon, and Heart, they meet new travelers who must bind together to stop the effects of the Drunn and restore peace, love, compassion, and life again to Kumundra. This does not come easy to Raya and many obstacles will be in her way. Will she ultimately allow trust inside her to end this Drunn war once and for all?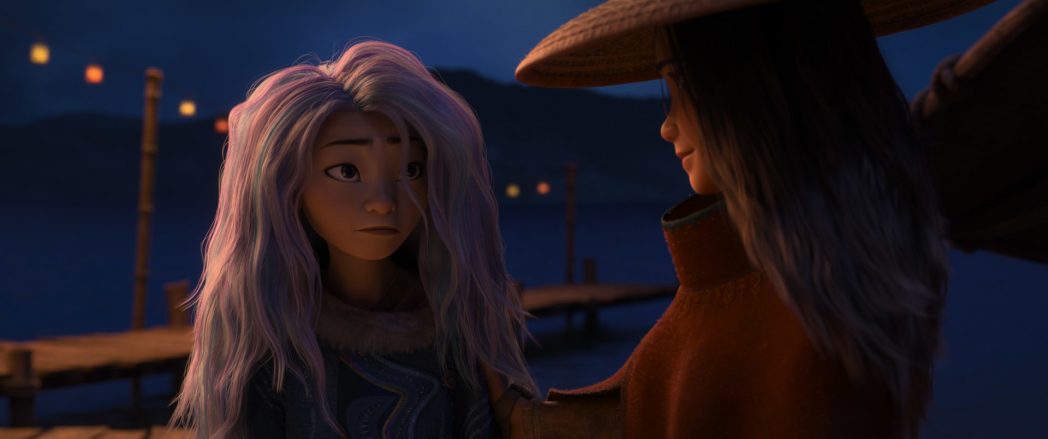 This is a truly visually stunning masterpiece of a movie. The cinematography was beyond gorgeous and the acting never fell flat. If you read my interview, you will also see that this entire movie was filmed from actors from the confines of their homes, which blows my mind. The end result was gorgeous. I will also add that the fight scenes were so real, that you felt like you were there watching a fight in person.
I will say despite the beauty and power, this movie felt a bit on the slower side for me. It wasn't that easy for me to get through it and found some parts of it a bit on the boring side. Maybe that is because I am used to traditional Disney but then I look back at Mulan which was a similar type of movie to this, which I loved. Maybe what was missing was some songs or some musical interludes. I can't pinpoint what I didn't like other to say that it felt long to me, even though the movie was under two hours. Breaking it up with music or maybe not going between all the lands would have made it flow a bit better for me. That being said, Raya and The Last Dragon is definitely worth a watch in this crazy world we live in.
I give Raya and the Last Dragon 3/5 stars.
SYNOPSIS:
"Raya and the Last Dragon" takes us on an exciting, epic journey to the fantasy world of Kumandra, where humans and dragons lived together long ago in harmony. But when an evil force threatened the land, the dragons sacrificed themselves to save humanity. Now, 500 years later, that same evil has returned and it's up to a lone warrior, Raya, to track down the legendary last dragon to restore the fractured land and its divided people. However, along her journey, she'll learn that it'll take more than a dragon to save the world—it's going to take trust and teamwork as well.  
 CAST:
"Raya and the Last Dragon" features an outstanding voice cast, including Kelly Marie Tran, Awkwafina, Gemma Chan, Daniel Dae Kim, Sandra Oh, Benedict Wong, Izaac Wang, Thalia Tran, Alan Tudyk, Lucille Soong, Patti Harrison and Ross Butler. Don Hall and Carlos López Estrada are directing, with Paul Briggs and John Ripa co-directing. Osnat Shurer and Peter Del Vecho are the producers, and Qui Nguyen and Adele Lim wrote the screenplay.
RAYA AND THE LAST DRAGON is now in theaters and on Disney+ with premier access.