Tom and Jerry has been a children's staple since way before I was a child, and I am in my 40s now. I remember sitting with my sister eating cereal on Saturday mornings while Tom and Jerry played on repeat. Those were the good ole' days and while the cartoon is no longer available to watch with my kids on Saturday mornings, there is now a brand new Tom and Jerry movie that is out now. This movie I watched with my kids and we all thought it was simply adorable. I got some nostalgia after watching this!
The film takes place in New York City and I noticed some city backdrops throughout. Man, it made me miss the city but I digress. The film focuses around Kayla, who is hired as a staffer for one of the biggest event's the Royal Gate Hotel has seen. Kayla (played by Chloe Grace Moretz) hires Tom to conquer the hotel's mouse problems while taking care of the wedding between Ben (Colin Jost) and Preeta (Pallavi Sharda). However, things don't go quiet as planned and the movie starts with a strong antagonist.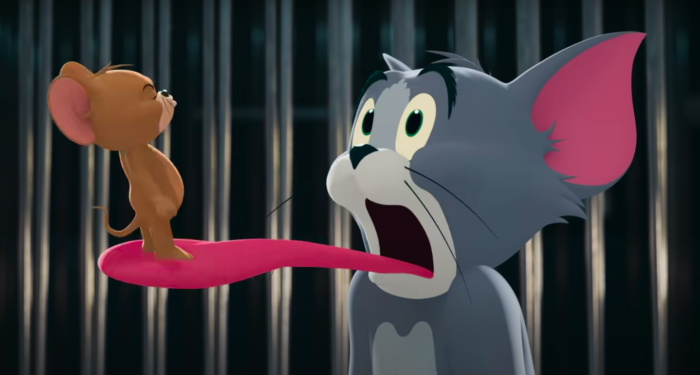 While the acting is strong, I felt like I was in the middle of two movies. The one with the adult actors and with the subplot of Tom and Jerry. I wish they made Tom and Jerry more of the central figures of this movie, rather than see all the additional storylines, but the interactions between the adults and the character scenes did flow quite readily. The transitional scenes were seamless and engaging.
My kids and I really enjoyed it. It brought up nostalgic memories of the cat-mouse fights that we all loved so much as a cartoon. For my kids, this movie introduced them to Tom and Jerry and now they are fans for life. They really enjoyed the funny moments and the action scenes. Perhaps their favorite scene was in the hotel when Kayla's boss (played by Michael Pena) attempts to finally end the mouse problem and the hotel was put in complete disarray. They laughed so much on this scene and I hope if they make another movie, there is more action and comedic moments from the classic Tom and Jerry that were seen in this movie.
Tom and Jerry is a really fun family friendly movie that clocks in at 1 hour, 45 minutes. Parts of the movie were slow for me but didn't seem to be a problem for my kids. It did keep the pace most of the movie. I enjoyed the dual live action/animation aspects and thought the movie flowed quite well. It was very enjoyable to watch and makes for a great family day!
I give Tom and Jerry 3/5 stars.
T
Film Synopsis:
One of the most beloved rivalries in history is reignited when Jerry moves into New York City's finest hotel on the eve of "the wedding of the century," forcing the event's desperate planner, Kayla, to hire Tom to get rid of him, in director Tim Story's "Tom and Jerry." The ensuing cat and mouse battle threatens to destroy her career, the wedding and possibly the hotel itself. But soon, an even bigger problem arises: a diabolically ambitious staffer conspiring against all three of them.
An eye-popping blend of classic animation and live action, Tom and Jerry's new adventure stakes new ground for the iconic characters and forces them to eventually do the unthinkable… work together to save the day.
CASTING:
"Tom and Jerry" stars Chloë Grace Moretz ("Neighbors 2: Sorority Rising," "The Addams Family"), Michael Peña ("Cesar Chavez," "American Hustle," "Ant-Man"), Colin Jost ("How to be Single," "Saturday Night Live"), Rob Delaney ("Deadpool 2," "Fast & Furious Presents: Hobbs & Shaw"), Pallavi Sharda ("Lion"), Jordan Bolger ("Peaky Blinders"), Patsy Ferran ("Darkest Hour"), Nicky Jam (TV's "Nicky Jam: El Ganador"), Bobby Cannavale ("The Irishman," "Ant-Man and the Wasp"), Lil Rel Howery ("Judas and the Black Messiah," "The Angry Birds Movie 2"), and Ken Jeong ("Crazy Rich Asians," "The Hangover," "Transformers: Dark of the Moon").The film was directed by Tim Story ("Fantastic Four," "Think Like a Man," "Barbershop") and produced by Chris DeFaria ("The LEGO Movie 2," "Ready Player One," "Gravity").
Thanks to the people at Warner Brothers and Boutique Publicity for sending an adorable pinata cake package for the new Tom and Jerry Movie. You can see my full unboxing at @mommychronicles.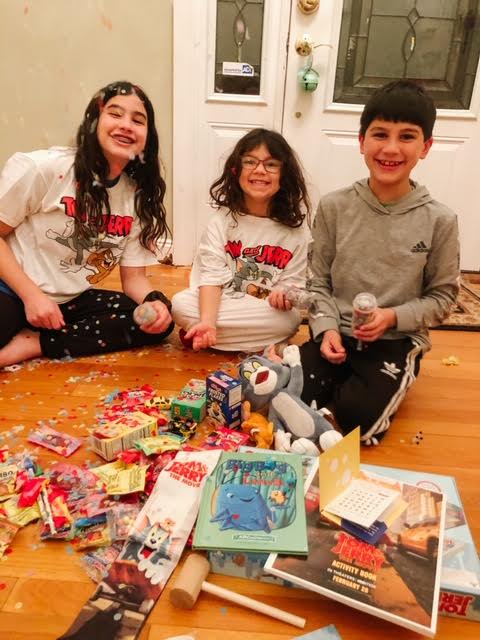 TOM & JERRY THE MOVIE is now 
 in-theaters and on HBO Max!
Check out these fun Tom and Jerry games to play at home:
Games 
The Duel: https://theduel.tomandjerrymovie.com/ 
Mousetrap Pinball: https://mousetrap.tomandjerrymovie.com/