I am so excited for you all to see We Can Be Heroes on Christmas Day. While I can't say much about this movie just yet, you all want to check back next week to see my thoughts on this movie. In the meantime, I had the pleasure to do a virtual Q+A with two of the stars of the upcoming movie, We Can Be Heroes, Vivien Lyra Blair (Guppy)  and YaYa Gosselin (Missy). These young stars were so gracious and excited to talk about their upcoming movie.

Interview with Vivien Lyra Blair and YaYa Gosselin: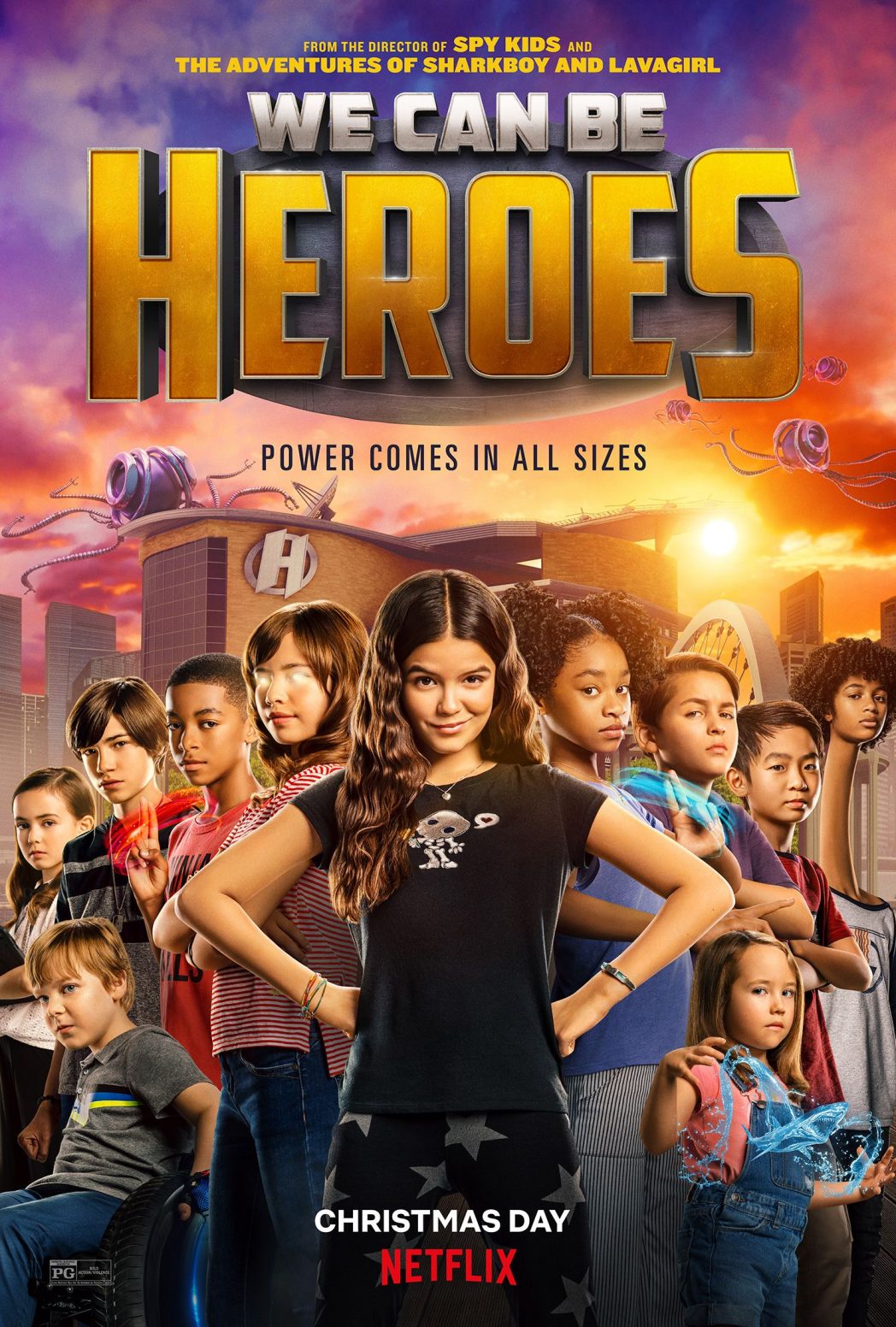 1.If you can have one superhero power what would it be?
YaYa Gosselin said it would be to heal people because the world needs that right now. Vivien Lyra Blair said it would be talk to animals because she loves them around.
2.  What would you like your audience to learn from watching this movie?
Yaya told us she would like the audience to learn that power comes in all sizes and no matter how small you are, you can still be a superhero. Also to find hope in our crazy world. Vivien agreed with Yaya.
3.  Did you do your own stunts?
Vivien said she did her own stunts and the first two weeks all they did was practice the stunts.  She loved practicing wit the harnesses and having a blast.  Yaya said she never been in a harness before so it was a learning experience.
4.  Who was your favorite adult superhero in the film?
Yaya said her favorite superhero after her dad was either Tech-No or Mrs. Vox. Vivien said after her parents Sharkboy and Lavagirl, it would be Mrs.Vox.  They both said all the adult actors were so nice.
5.  A lot of your previous roles are in darker material, so how is it different to prepare for a role like this that is much more fun and lighthearted?
Yaya was so thankful when she got this role because she would be able to actually watch it. A lot of her other roles were scary and she was afraid to watch. She likes that she can do a role her whole family can watch her in.
6.  Your characters are so confident. What advice do you have for other young girls?
Vivien said to her the key to being confident is imagination because to be confident, you have to be able to imagine the good things in life.  Yaya said for girls her age,  it is to know who they are. When Yaya first got the role she realized it would be hard because she didn't have any superpowers but then realized that she had one of the biggest superpowers which is leadership and teamwork.  She wants girls to know they can be their hero of their own story
7.  What is your favorite part of playing Guppy?
She said her  favorite part of playing Guppy was showing younger girls that no matter how tiny you are and no matter what race you are, no matter what kind of person you are, you can always be a hero! She said she thinks that is why the movie is called We Can Be Heroes because anyone can be a hero of their own story.
8. What was your favorite scene to film?
Yaya said some of her favorite scenes to to film were probably the ones with Pedro and then also the ones where she got to do a bunch of fun stunts in fighting and harness work.  Vivien said it would be the stuff at abuelita's house or the very end where she get to go to their parents.
9. Do you think there will ever be a sequel?
They both hope so! The cast already has been manifesting ideas!
10. What did the mothership in the engine room look like without the computer graphics and stuff?
Yaya said they were pretty cool but the special effects definitely added to it. There were walkways and an abyss. Vivien said pyramid was a giant green pyramid.
11. Who is your hero?
Yaya said her favorite hero is her mom because nothing would be possible without her. Vivien agreed! "I'm going to have to say that my hero is my mom absolutely because none of what I do now would be possible without her."
12. What are your similarities to your superhero?
Yaya said that Missy is an incredible leader but she doesn't know it right away. She finds her place throughout the movie and during filing it was tough because there was 11 kids. She tried to be the leader to the cast and set an example but it was definitely hard doing it. That was a similarity between herself and her character.  Vivien said it is taking tae kwon do and giving her strength, even though she is tiny.  Powers come in all sizes!
13. Can you talk about maybe an experience or activity you did together to build that teamwork?
Yaya said when Stranger Things season three came out, they had a watch party downstairs at the hotel that they were staying at. They all bonded over this and had so much fun!
14. What was the most challenging scene to film?
Yaya said it was her crying scenes which were the hardest. The one with her grandma was probably the hardest because there was a lot of stuff that was happening and she had to cry over and over. It was hard to make tears. Vivien said the hardest seem for her to film was also at abuelita's because it was so bright and so hot that day.
15. What was the hardest stunt to film?
Yaya said it was when she bumped into Granada. That was a very cool thing because the girl that kind of falls over isn't actually Priyanka. It was a different girl so it was really cool to see that in the film,  how she likes looks over and gives me the death stare.  She said her shoulder hurt from bumping into her so many times.  Vivien said it was swinging in harnesses and beating up the avatars.
16. Do you have a favorite part behind the scenes or off-camera moment from filming?
Yaya said a board game that Vivien loved to play with Robert was called Avocado Smash and it was their favorite game to play together.  When they had a hard time nailing one scene she told Guppy to do the Avocado Smash and it worked and it was really funny!
17. How was the the audition process. Did you audition for the role that you are playing? How did you hear that you were selected for the role?
Yaya said she was in  LA when she got the audition, and she did it at Betty Mae Casting. After the audition she did not hear anything for a month, and she thought, okay, I didn't get it. Then about a month later, her mom got an email to meet Robert, the director, and then it went from there. She was excited to land the role. Vivien said she also had the audition at Betty Mae and found out she got the role on the same night she passed her belt testing. She said was a great day and they all celebrated.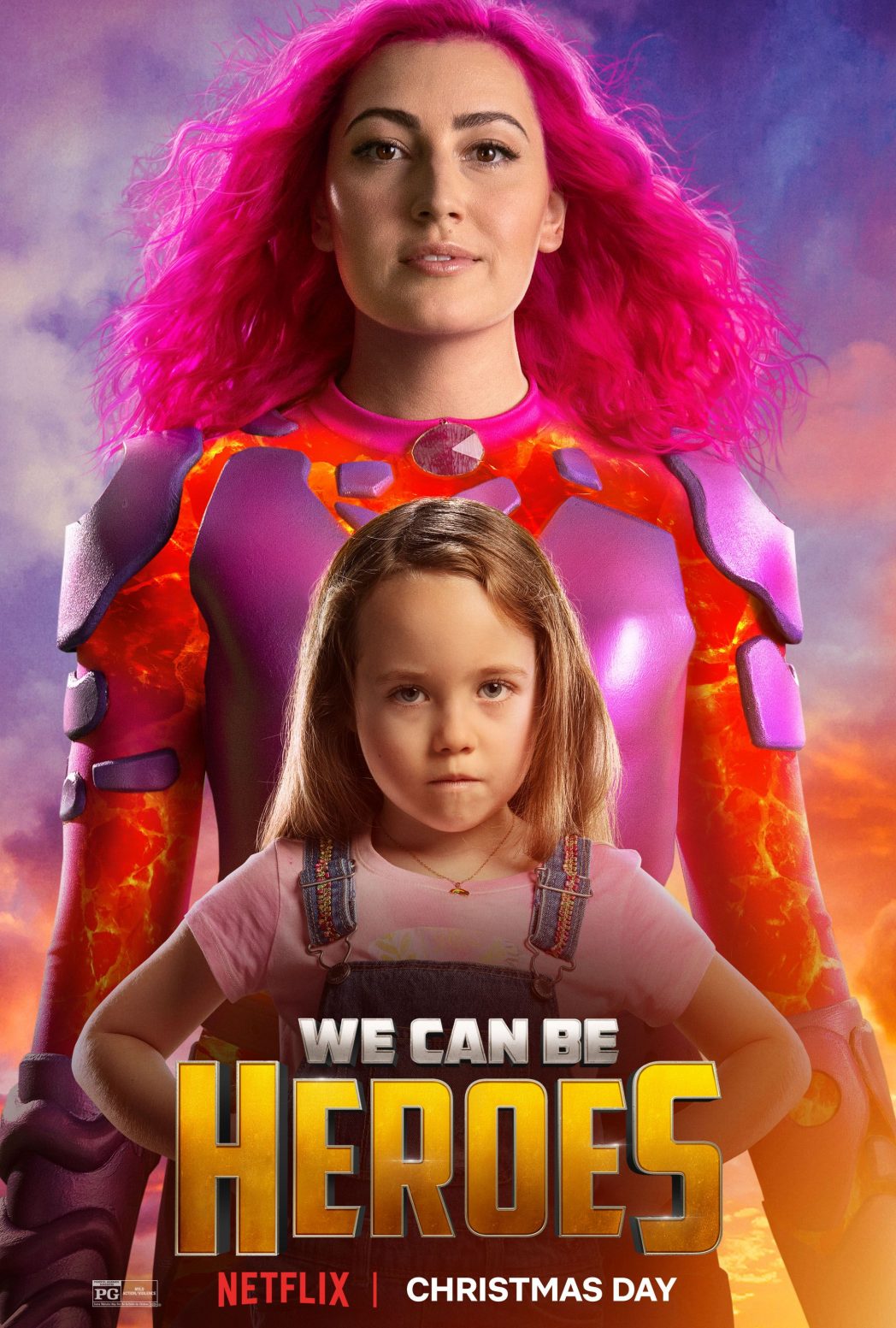 Written and Directed by: Robert Rodriguez
Cast: YaYa Gosselin, Pedro Pascal, Priyanka Chopra Jonas, Christian Slater, Boyd Holbrook, Christopher McDonald and Adriana Barraza.
Also starring: Vivien Lyra Blair, Isaiah Russell-Bailey, Akira Akbar, Lyon Daniels, Nathan Blair, Lotus Blossom, Hala Finley, Andy Walken, Dylan Henry Lau, Andrew Diaz, Taylor Dooley, Sung Kang, Haley Reinhart, J. Quinton Johnson, Brittany Perry-Russell, Brently Heilbron and JJ Dashnaw.
Synopsis:
When alien invaders kidnap Earth's superheroes, their children must team up and learn to work together if they want to save their parents and the world.
WE CAN BE HEROES – Premiering on Netflix December 25
*Thanks to Netflix for inviting me this press junket. All opinions are my own and not swayed by outside sources.*