Blade is back from the original 1998 film that was a worldwide hit and put Wesley Snipes really on the map. Wesley plays Blade, a killer of vampires who is on the hunt to find the one who killed his mother. While he obviously is an amazing superhero, it is his vulnerability that is seen throughout this movie.
While any comic book lover will relinquish in the delight of this movie, it is the general audience, who knows not much about the comics (like me),  who will see just the sheer amount of awesomeness in Blade. The action scenes are amazing and it will take you on a wild ride with lots of fun turns.
It has a good amount of action sequences that while flawed in some parts, brings light through the character acting of Wesley Snipes.  This was the start of the superhero era which is still upon us today,  so for that reason alone it should be watched.
B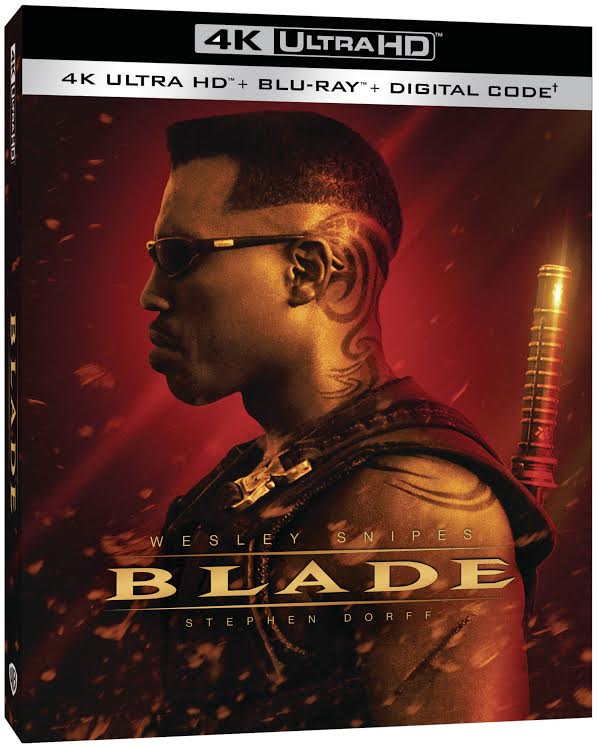 SYNOPSIS
Wesley Snipes stars as Marvel's iconic half-vampire, half-human vampire hunter, Blade. With all the strengths of a vampire, and none of their weaknesses, the Day Walker uses his incredible gifts to hunt his enemies in his search for the one that killed his mother and turned him into the monster he is. Blade's fight leads him to Deacon Frost (Stephen Dorff), a rising force in the vampire world, set on raising a vampire God bent on destroying mankind.  Blade was produced by Peter Frankfurt, Wesley Snipes, and Robert Engelman, and is based on the Marvel "Blade" created by Marv Wolfman and Gene Colan.
Ultra HD Blu-ray and Blu-ray Elements
Blade Ultra HD Blu-ray contains the following previously released special feature:
Commentary with Wesley Snipes, Stephen Dorff, David S. Goyer, Theo Van De Sande, Kirk M. Petruccelli & Peter Frankfurt
Isolated score with commentary by composer Mark Isham
I give Blade 3/5 stars.