STEM is all the rage in my household these days. With the kids learning at home, I am always finding ways to supplement their learning. One brand that I am constantly drawn in to is the ask EINSTEIN brand and especially their very handy electronic flash cards.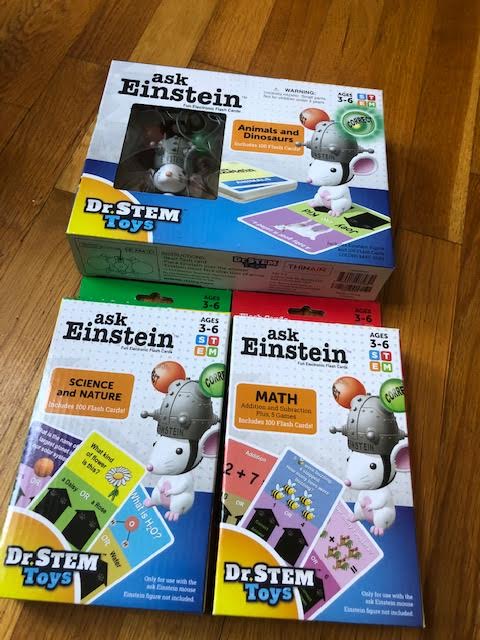 With a brainy mouse to guide you through a fun learning game (and educational tool) and flash cards, learning for Tay Tay is even better than before. The concept of flash cards continues to be smart tools for learning. Kids engage in active recall when choosing an answer. Active recall has been proven to create strong neuron connections as kids recall a fact they learned from a book or class or in conversation. Another benefit of choosing a right or wrong answer is self-reflection. Scientists call this metacognition and research shows that applying metacognition tends to ingrain memories deeper into your knowledge. That is all seen with the ask EINSTEIN brand.
RED WRONG, GREEN RIGHT: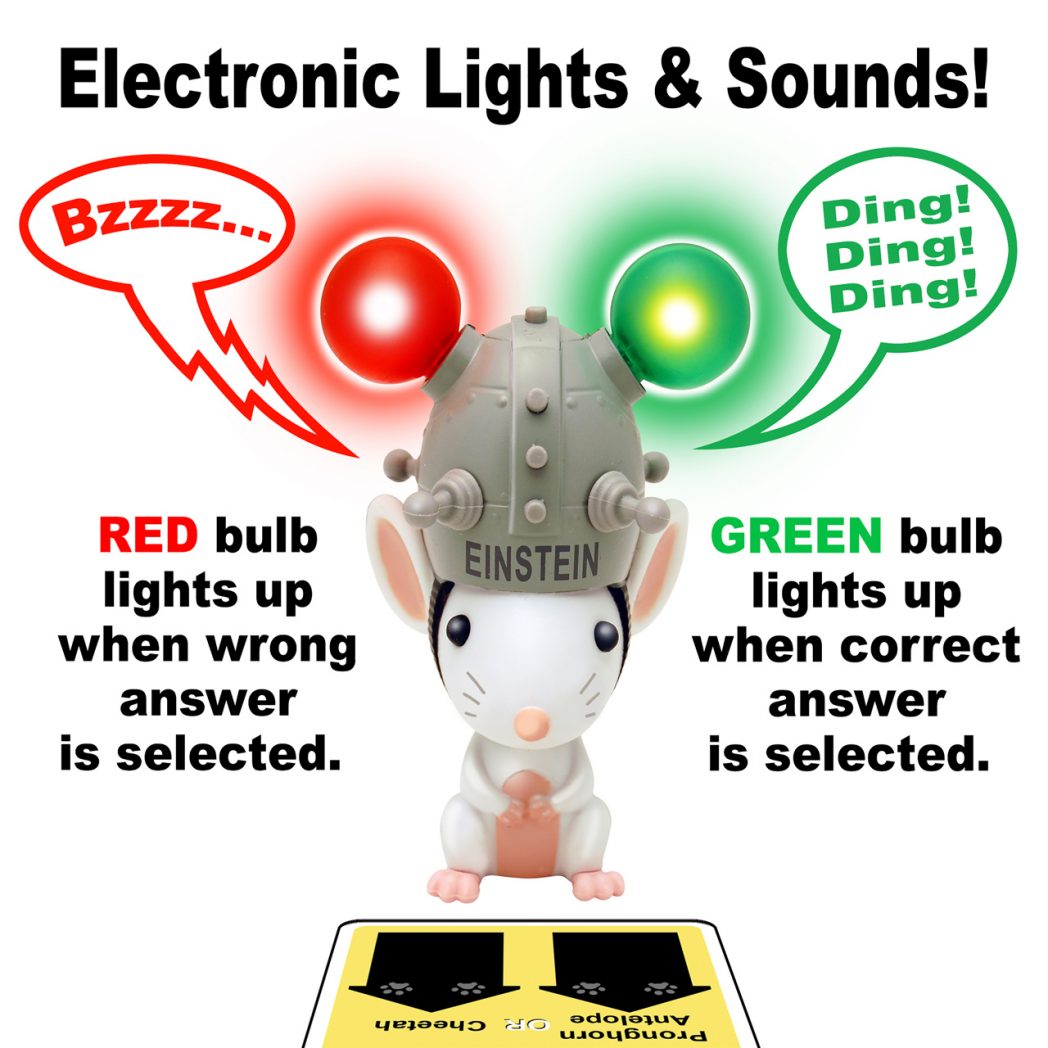 The old concept of lighting up green for the right answer and red for the wrong is seen with these electronic flash cards.  You simply place Einstein, the mouse, over the answer and see if his enormous brain-scanning helmet lights up green for correct. Bonus sounds emit in celebration of the correct response.  This makes the child excited to see that they got the right answer! If a child chooses unwisely, Einstein's helmet flashes a red incorrect and sounds a buzzer. Suddenly facts and figures become an entertaining game. Kids can quiz themselves or have mom or dad assist emerging readers. It is a fun game to play solo or with parents help!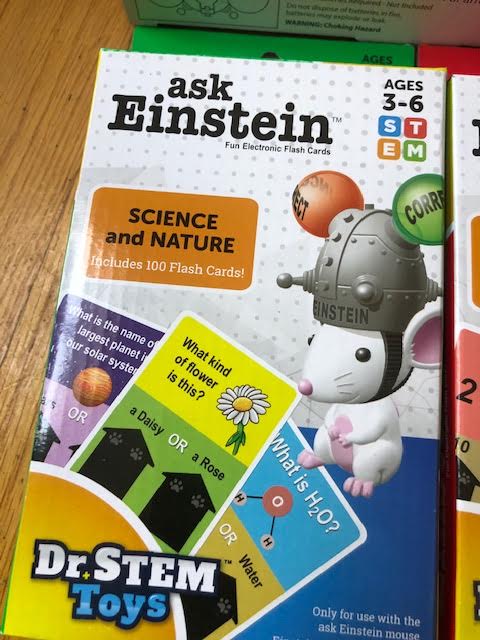 Ask Einstein offers five ways to make an impact with the various flash card themed decks.
1.Stack The Deck is a game of strategy and competition.
2. Hot Potato Einstein is a game of speed and fast action.
3. Run The Deck is a challenge for every kid (and older siblings).
4.Team Challenge for team building and bonding at home or in a bubble of close friends.
5. The Einstein Dual is the ultimate fast action trivia game. Rules for all five challenges are included in each Deluxe Set.
Each flash card measured 3.5″ wide x 4.25″ tall, ideal for small hands. One AAA battery is needed. The handsomely packaged ask Einstein box is perfect to gift wrap for Holiday 2020 giving.
Choose from two themes: Animals & Dinosaurs or Letters, Numbers, Colors & Shapes. Once kids outgrow the 100 initial flash cards, look for a Booster Pack with a focus on Math and Science & Nature.
SOME OTHER GREAT PRODUCTS:
ask Einstein Deluxe Set Animals & Dinosaurs • Ages 3+ • $19.99
ask Einstein is the newest technology in flash card learning. Kids will turn over an illustrated flash card and try to get the correct answer by placing Einstein on the card. A deck of 100 flash cards is included with illustrations and queries of current and extinct four-legged (or perhaps two legged) creatures.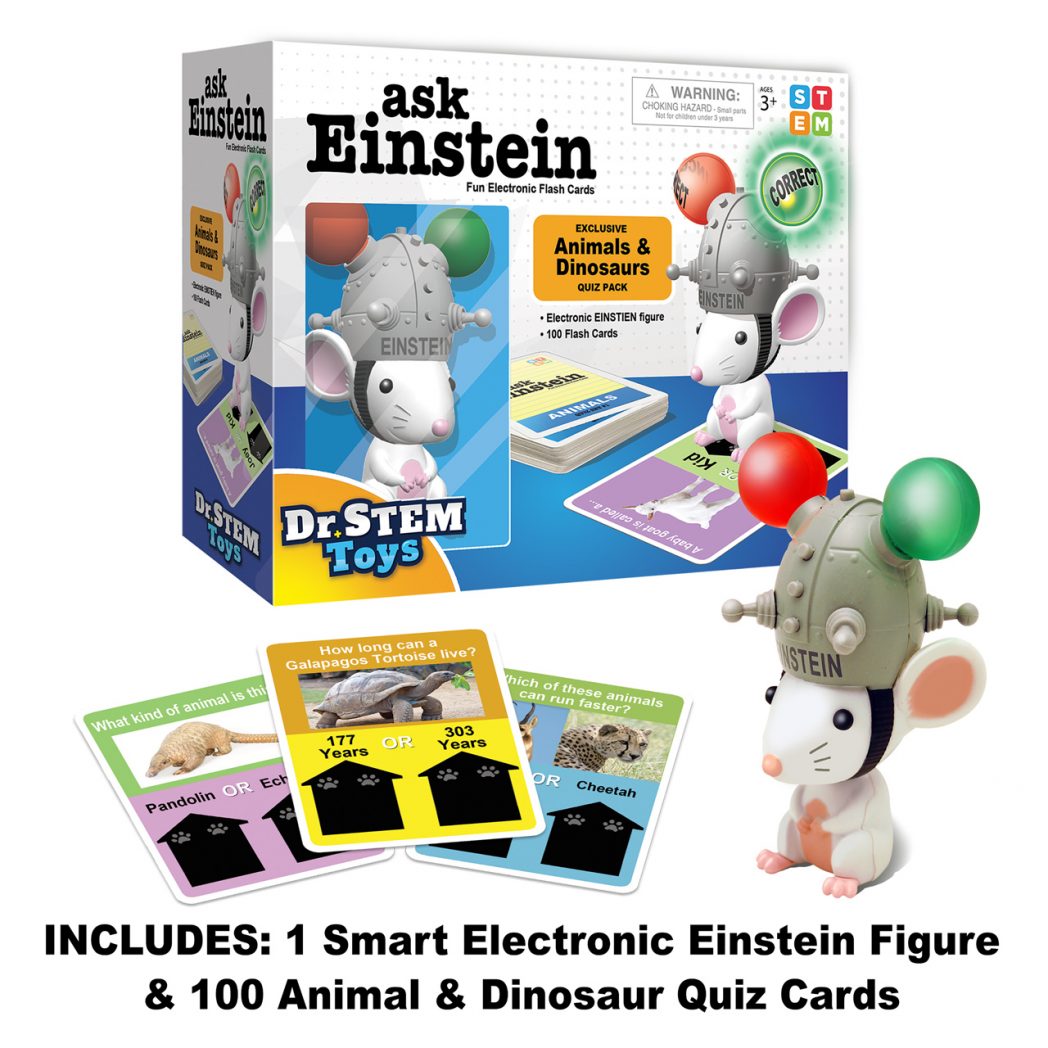 ask Einstein Math Set Booster Pack • Ages 3+ • $9.99
The basics of addition, subtraction, multiplication and division are tucked in throughout 100 flash cards and will keep kids busy pondering until bedtime.
ask Einstein Science & Nature Booster Pack • Ages 3+ • $9.99
What is H2O – Air or Water? Discovery STEM topics has never been more fun or easy – in a flash! 100 flash cards on the planets, flora, fauna and chemistry from a Pre-K level are included.
Discover all of the Dr. STEM Toys at specialty retail stores including Learning Express and online at thinairbrands.com. These would make great holiday gifts or birthday gifts so please be sure to check these STEM toys out today!
*I worked with ask Einstein on this. All opinions are my own and not swayed by outside sources*