My Dad's Christmas Date came out in theaters this weekend and is also available for streaming on Demand. When I originally watched the trailer, I thought it would be more of a coming of age love story but this was not the case at all. This movie showcases a family comedy filmed with love, sorrow, and everything in between.
16 year old Jules (Olivia Mai-Barrett) creates an online dating site for her dad David (Jeremy Piven) who lost his wife and Jules mom in a tragic car accident. This is all done without his consent but he realizes what she has done as time goes on. These make for some really funny scenes but some sad scenes as well.  Jules does it to help his dad out but it definitely causes problems despite her trying to do the right thing.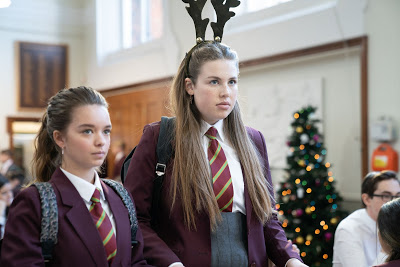 The film is set in London and is beautiful while being charming. Towards the end she has a talk with her mom (who is deceased) and it had me in tears. It showcases the value of family and being there for each other when losses occur.
There is a lot of love and heart in this film. I loved watching the relationship between David and Jules and how it played out on the screen.  The only thing I would have liked to see is perhaps more minutes added to the movie as it comes in short at 91 minutes.

SYNOPSIS:
It's Christmas and the charming city of York, home to Jules, 16 and her Dad, David is decked out ready for the festive season. In many ways, David and Jules' relationship is no different from that of most fathers and their sixteen-year-old daughters. He struggles to understand her, she refuses to communicate with him. He wants to be involved in her life, she wants her own space. In one important respect, however, David and Jules share a profound bond: the death of Jules' mum, and David's wife, in a car crash two years before. With both struggling to cope with everyday life in the shadow of their loss, Jules, inspired by happy memories of her mum, decides to take matters into her own hands.
In Theaters and On Demand NOW! 
Directed by: Mick Davis
Starring: Jeremy Piven, Olivia Mai Barrett, Hadar Cats, Megan Brown Martinez, Roger Aston-Griffiths, Nathalie Cox, and Joely Richardson