I am so excited to see movies coming back to the big screen. We have waited long enough to see talent come alive again on the big screen and I am so excited for the next big movie coming out!  The War with Grandpa opens next Friday, October 9th,  being distributed by 101 Studios and Brookdale Studios.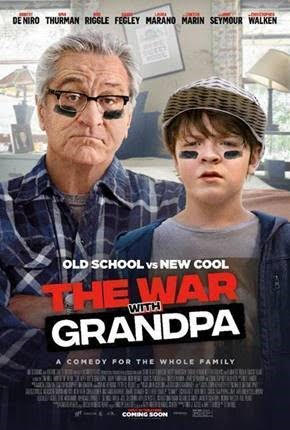 I will be back next Friday with my full review of this movie but in the meantime I wanted to share with you the awesome virtual press conference I had with the stars and producers of this laugh out loud film. I had the chance to talk to Oakes Fegley (Peter) + Laura Marano (Mia), The Peart Family (Tre/Marvin/Rosa), and Jane Seymour (Diane) + Cheech Marin (Danny).
MY INTERVIEW WITH OAKES FEGLEY AND LAURA  MARANO:
1.What was your reaction like Oakes when you found out you were going to be in a movie with Robert De Niro?
Oakes said it was a great time. At first, he was intimidated  but then got excited very quickly.  He had the passion from the get go to film this movie.
2. What were your favorite pranks to do?
Oakes said Peter just wants his bedroom back and will do whatever he has to do. Him and his grandfather are very similar and both don't want to back down. Oakes said all the pranks ultimately lead to more chaos.
He said it was so fun filming all the pranks.  Oakes said his all time favorite is when his grandfather takes all his screws out of his bedroom. It was a lot of moving parts.
3.  Did you fall in love in Atlanta when you filmed?
Oakes said he loved the aquarium and also the Coca Cola store.  Laura said she loved it all and being in a different place to film.  She joked that a lot of the streets had similar names.
4.  Did you play pranks on each other?
They said there was a lot of energy on set but not a lot of mischief. They had so much fun but were a prank-less set.
5. Was there a favorite prank in the movie? 
Laura said she loved the snake prank. Her favorite scene to do as an actress was the screaming match with Uma and the scene where her and Poppy were shushing each other on the bed.
6.  Did you guys read the book before you started filming?
Oakes said he didn't read it until after he read the script.  He thought it was interesting to see the difference and similarities between the script. He said Tre was younger than 11 when he introduced it to his father and then the producers made it into a reality. Laura also read it after she got the part.  Laura also loved that Tre knew he wanted Robert De Niro to play the father.
7.  Did the cast give you any advice during filming?
Laura said it was intimidating a bit because they did not. They expected them to act and do their part. To Laura, it felt more that they were peers than costars. Oakes agreed with this.
8. What advice would you give granddads if they have to move in?
Oakes said there needs to be a mutual respect that needs to be given.  Laura said real talk and honestly (no pride) is the most important.
9.  10 years from now, what do you want kids who watched the movie to remember about the movie?
Oakes said there is a positivity to the film and this is important. Trying to stay positive can be difficult but it is very important.  Laura said conversations in family need to happen. Families need to be open and talk to each other.
MY INTERVIEW WITH THE PEART FAMILY:
Tre Peart, the youngest producer ever, read Kimmel Smith's "The War With Grandpa" and wanted the movie made. His parents, Marvin and Rose were film producers and they got this movie made! It was wonderful speaking to them and you can see the full interview here:

MY INTERVIEW WITH JANE SEYMOUR AND CHEECH MARIN:
Cheech interactions with Robert De Niro and Christopher Walken were beyond hysterical. Cheech said it was easy to do as the conversations always flowed and they always made each other laugh. Jane jokingly she wanted to do this movie because to play Robert De Niro significant other is a definitely plus. She said this movie is so light-hearted and so fun!
1. The Dodgeball scene was so much fun. Were there stunt doubles?
There were stunt doubles but Jane said she participated a lot and had SO much fun doing it! Jane did all her own jumping and throwing. Cheech joked he was Jane's stunt double. Cheech said he had injuries so he couldn't do much of the scene but he loved it so much.
2. What drew you to your character and what did you take away/add to your character?
Jane said she was playing someone working in a store. She was concerned how to talk to Robert De Niro at first and then she said she was actually working at Best Buy. LOL.  She was so busy dealing with clients at Best Buy, she totally forgot she was filming for a movie. I laughed at that! She loved being one of the guys on the team and she said the whole thing was magic.
3. There is a lot of emotional moments in the movie. What was the most touching scene?
Cheech said it was Robert De Niro sitting in the rocking chair and looking at the window, missing his other. It was a powerful performance. Jane agreed and said sometimes less is more, in terms of acting.
4. We wanted to know if they were fans of each other before starting filming?
They both said very much so as they lived near each other in Malibu. They both think each other is brilliant and so kind. Cheech loved Jane in Dr. Quinn, Medicine Women.
5.  We heard there was supposed to be a sequel and if they would sign on for it?
They said as soon as they call, they are there to film it!
6. What do you want your audience to talk away?
It is such a dark time so this is the perfect movie to watch with families for light-hearted fun. It is interesting, moving, and poignant for all generations. Cheech wants all families to watch it together and to bring unity. They want to add something positive through this movie.
7. How were the dynamics between the older generations and the kids?
They said the kids were mostly in school during takes so they didn't have as much interaction outside takes.
8. Were you able to do improv?
They did do some improv a bit and that got added in.  They don't remember exactly what was added in but they had fun with this.
9. What was your favorite scene to film?
Cheech said it was the Sky Zone scene.  Jane said it was that as well!
10.  Any similarities between you (Jane) and Diane?
A great admiration of Mr. De Niro, she joked around. She is not afraid to get up and she is always game. That is what she and Diane had in common!
SYNOPSIS 

Sixth-grader Peter (Oakes Fegley) is pretty much your average kid-he likes gaming, hanging with his friends and his beloved pair of Air Jordans. But when his recently widowed grandfather Ed (Robert De Niro) moves in with Peter's family, the boy is forced to give up his most prized possession of all, his bedroom. Unwilling to let such an injustice stand, Peter devises a series of increasingly elaborate pranks to drive out the interloper, but Grandpa Ed won't go without a fight. Soon, the friendly combatants are engaged in an all-out war with side-splitting consequences. 
Based on the award-winning book by Robert Kimmel Smith, The War with Grandpa is a hilarious family comedy featuring an all-star supporting cast: Christopher Walken, Uma Thurman, Rob Riggle, Cheech Marin, Laura Marano and Jane Seymour.
Be sure to come back next Friday for The War With Grandpa movie review! This film releases on October 9th in theaters and is rated PG.
*Thanks to The War With Grandpa for the invite to this press conference. All opinions are my own and not swayed by outside sources.*