I am WANTED! Big reward for Mel: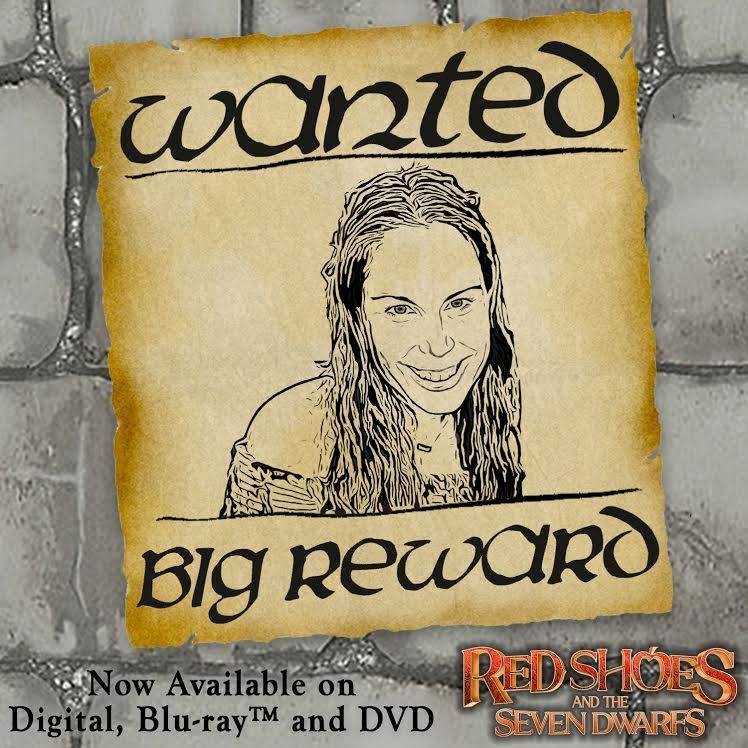 Thanks to Lionsgate for this adorable poster for the new movie Red Shoes and the Seven Dwarfs which is now available on Digital, Blu-Ray, and DVD!
This movie is a twist and turn movie from the Snow White fairytale that is so beloved. This movie follows Snow White's stepmother who is the evil villain in this film. It focuses on a pair of red shoes that when tried on allows one to remain youthful and beautiful.  While I was hesitant at first with showing my kids a movie about letting someone get "thinner" and "prettier" with wearing these red shoes, this part went right over the kids heads but what they did come out with was the overall themes that you are who you are and you are perfect no matter what size, shape, form you are.  Snow White did not want to wear these red shoes and only when forced did she. She immediately did not like the way it made her look.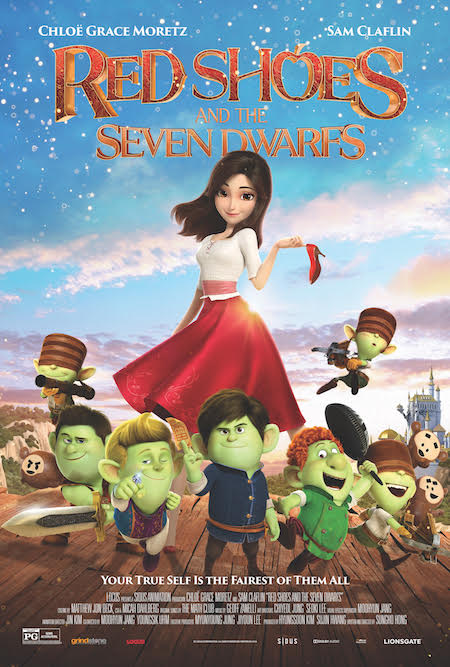 Snow White showcases the themes of loving yourself by showcasing these shoes are not who she is! She is beautiful just the way she is and by adding the shoes, she actually did not like herself.  What is most important is that she ends up seeing herself as beautiful, and more important, as beautiful and authentic on the INSIDE. It is important to be comfortable in your own body and to be happy with what that body is. Actually what is inside you, is what matters the most. Showcasing this to my kids is exactly what they loved about this movie, especially the tween who can say some mean stuff about herself at times. Girls all go through this and this movie tells that who you are as a person, is definitely the most important.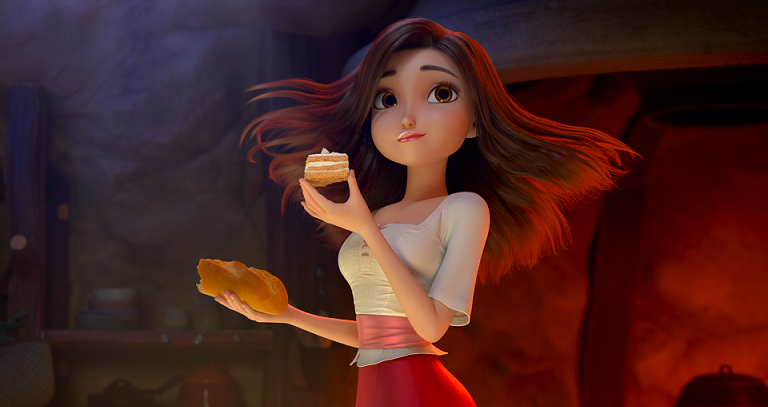 SYNOPSIS:
A classic fairy tale gets a modern twist in the action-packed animated adventure Red Shoes and the Seven Dwarfs. Chloë Grace Moretz (Bolt, Inside Out), Sam Claflin (The Hunger Games series), Gina Gershon (TV's "Riverdale"), Patrick Warburton (TV's "Family Guy," The Emperor's New Groove), and Jim Rash (TV's "Community") lend their vocal talents to this humorous and heartwarming retelling of the Snow White fable, only this time it's the princess who must save the prince(s) – all seven of them! This family-friendly film has "a strong body-positive theme that emphasizes the beauty of characters of all shapes and sizes" (Common Sense Media), and received the Dove Seal of Approval for All Ages.

This outrageous fairy tale spoof starts as Snow White steals a pair of red shoes that transform her into a princess. Meanwhile, a witch's curse turns seven brave princes into dwarfs, forcing them to seek out the princess, hoping for a kiss to break their spell. Together, they must face Snow White's wicked stepmother – who will stop at nothing to get her precious shoes back – and, along the way, learn that true beauty lies within!
BLU-RAY / DVD / DIGITAL SPECIAL FEATURES 
"The Making of Red Shoes and the Seven Dwarfs" Featurette
"From Storyboard to Animation: Creating Red Shoes and the Seven Dwarfs" Featurette
"Start of Something Right" Music Video
"Something So Beautiful" Music Video
Available now on Digital, Blu-Ray, and DVD and On Demand in Homes and Castles Far, Far Away!