As most of you know, I am a huge fan of Disney and have done countless press conferences and junkets with them in the past. With the pandemic hitting, everything is virtual now including the press conferences for the big movies that are being released. I had the pleasure last week to virtually stream in with the actors of the new Disney + movie, The One and Only Ivan, which begins streaming exclusively on Disney+ starting August 21st!
During this press conference, I had the chance to talk to
Bryan Cranston ("Mack")
Angelina Jolie ("Stella")
Sam Rockwell ("Ivan")
Danny DeVito ("Bob the dog")
Helen Mirren ("Snickers the poodle")
Chaka Khan ("Henrietta the chicken")
Phillipa Soo ("Thelma the parrot")
Brooklynn Prince ("Ruby")
Arianna Greenblatt ("Julia")
Ramon Rodriguez ("George")
Ron Funches ("Murphy the rabbit")
Mike White ("Frankie the seal" / screenwriter)
Director Thea Sharrock
As far as press conferences go, you can't get bigger than this cast. As an influencer I will tell you firsthand, that they are doing exactly what all of us are doing in terms of doing work. They are sitting home and answering all our questions from the confines of their house. I found this very interesting and I just love the way we were able to see everyone on the computer simultaneously.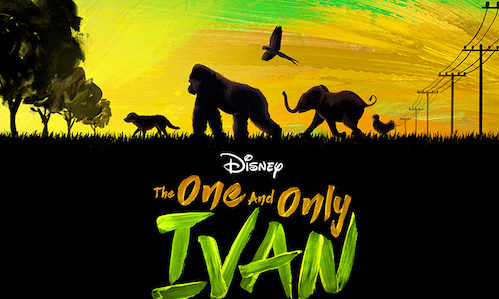 With The One and Only Ivan cast, you know that the press conference would be funny (hello Danny DeVito) and it was exactly that. I am pretty sure I teared up quite a few times from sheer laughter.  We started out the meeting with them all introducing themselves and their respective roles in the movie. Some stated this was actually the first time they have "met" as the movie is not all filmed with the entire cast in all the shots.  With it being a voice over movie for certain cast members, they never had the chance to see all the action scenes. Our moderator, Grae Drake, who is absolutely spectacular, started out Q+A session.
Bryan Cranston started us out by telling us what he did during Quarantine including his new passion of baking bread. I am still waiting for that recipe Bryan LOL! Angelina spent her time learning more about foreign policy and doing research. She also told us how much she loves being a mom and seeing young one's creativity play out.   Chaka Khan then went on to tell us that she was familiar with working with animals as she started being a circus performer.
Grae then asked about how the movie can tell such a great story with big heart while being technically challenging. She was interested in knowing about the balancing act of the two.
"One is in terms of shooting this movie was very much like simultaneously working on two movies at the same time because of the technical aspect of it. So, on the one hand we started the whole process with the voice actor because the animators needed their voices to begin to be laid down for the animation journey to begin. So, we started with that. Then we shot all of our live-action stuff. And then we went back in and we shot the virtual aspects of the film, which was whenever we had just animals in a scene together. And those scenes we often revisited. So, we went back in and we did them several times just to get tiny, tiny nuances. Changes in the actor's voices, changes in their performances made a huge change to the animators and what they were doing. So in that sense the technicality of it was certainly unlike anything I've ever done before.
There are also some very important, big issues captured within the book that Katherine Applegate, for me, just managed to catch a level that meant that when I first read the book with  my kids, who are were nine and 10 at the time, they just absolutely loved it. And they connected with it emotionally on a level that they really appreciated the journey that these characters go on. And I knew reading it as an adult and as a parent that I was appreciating something slightly different in certain aspects. And so, we wanted to monitor it throughout. We wanted to monitor the humor because we always wanted to balance it and keep that aspect going. Not to be afraid of connecting with the emotionality of what is a really very powerful story." – Director Thea Sharrock
Grae then went on to ask the kids of the film, Brooklynn Prince ("Ruby"), Arianna Greenblatt ("Julia") what they loved about the book and how they felt about the environment.
Arianna told us she read the book way before she got cast in the movie and she loved the book. She has always been an animal lover so she loved that this movie revolved around that theme so much. She was so excited when she met the author of the book, Katherine Applegate.  Brooklynn said she read the book  with her grandmother and loved the character of Ruby.  She loved that it taught such a good life lesson about keeping promises.  For instance in this movie, Ruby would have never gotten free if Ivan did not keep his promise. She also told a cute story about her love of elephants and a matching pajama onesie set her mom bought her and Angelina Jolie that they wore on set.
The next question Grae asked is what can the One And Only Ivan teach us about getting through this predicament?
"I don't really know the answer to that. But I think Ivan would definitely have something to teach us for sure about isolation. If you've seen the documentary, it's really moving and a very  heartbreaking story, the real story. So, I'm sure that Ivan would have something to say about it."- Sam Rockwell
  "I think it is about relying on your friends. That's big. Being in that circle of the closest circle that you have, especially that we're all in the pandemic together. You are always looking for your family or your friends that are the people that are your social distancing from but that are the safest"- Danny DeVito
Grae asked Bryan about playing the character of Mack, as there is a lot of pressure on that character.
Bryan said he really resonated with the script and the plight of not only the animals but the emotional journey as well.  He saw Mack as a man who has flaws but is also attempting to make things right. Ivan was like a child to him. At the end he embraces truly who is he is and does right by all.
Thea told us it was a challenging movie to make but one that really came together at the end. I LOVED this movie and will explain more in the next post. Be sure to come back tomorrow to see my review on The One and Only Ivan.
FOLLOW THE ONE AND ONLY IVAN ON SOCIAL:
Like THE ONE AND ONLY IVAN on Facebook: https://www.facebook.com/OneAndOnlyIvan
Follow THE ONE AND ONLY IVAN on Twitter: https://twitter.com/IvanMovie
Follow THE ONE AND ONLY IVAN on Instagram: https://www.instagram.com/oneandonlyivan/
THE ONE AND ONLY IVAN is streaming exclusively on Disney+ starting August 21st!
*Thanks to Disney for the invite. All opinions are my own and not swayed by outside sources.*