Last week I had the chance to talk to the beautiful Lara Everly about her new docuseries, Milk Money. I had the chance to screen a few of the 10 episodes of Milk Money and they really pull at the strings of your heart. They are so beautifully done, inspiring, and parent focused. They are small 10 minute episodes that tell the real life ways of parents struggling with money, as well as family issues. Each episode is different and has you very engaged.
Milk Money gets real with millennial families raising kids in today's economy. The stories center around parenthood intertwined with various financial problems they encounter. You get to meet military families, single parents, new parents, and more.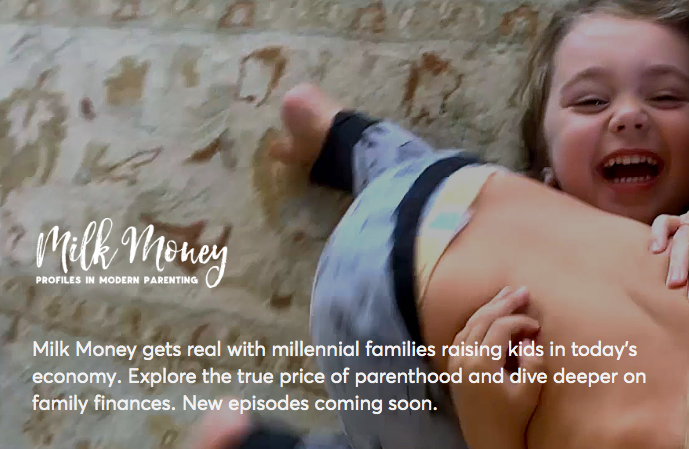 This new docuseries is completely free and is inspiring, engaging, and purely wonderful. It aims to provide families with financial skills and an entrepreneurial mindset to face finance challenges through free extensive, easy -to-use learning resources.
I had the chance to talk to Lara Everly, who is the director of Milk Money.  Lara's  affinity for comedy and improvisation (graduate of Upright Citizens Brigade) has led to working on sitcoms, half hour shows, features and many national commercials.
MY INTERVIEW WITH LARA EVERLY:
What made you come with the idea for Milk Money?
Early on, she said parenthood was a big milestone in her life . You come up with so many things for yourself and your life in terms of financial savings, and then you have children. With kids, money then comes up over and over again. Lara said she has a premie baby and the bills were exuberant. It changed her whole life and she wanted to have a conversation with parents about money in a real way.  Lara says with the Pandemic there might be a cultural shift with money. 
2. What do you want your viewers to learn from this?
She wanted them to walk away with a community and to know they are not alone. She didn't want to purpose this in a way of a mom influencer. She wanted them to see that these are parents that are in it and what their monetary situation is. They wanted real parent to parent dialogue, so people can relate to it in an intimate way.
3. How do you cast families?
She said they had two different casting directors and there was a call out for real families. They found families and then submitted them to the team to review. It was a variety of different topics they wanted to hit and explore.  In all of them there was a parent story but with the financial situation mixed in. It all intertwined in all the stories and they had to find a balance between the two. 
4. When you are filming and condensing it, how much did you film to make each episode a few minutes each?
She said each episode took about 2 full days and then they cut it down from there. There were a couple of situations were they had to grab footage early based on where they were in their lives.
5. Do you keep in contact with these families?
She said she definitely keeps in contact with the families.  They are part of her family now. She follows up with them on a regular basis.  They also are checking in about the Pandemic and how they are doing.  Lara said she was very worried about the teachers who she covered in the series. 
6. Are you planning any future episodes?
She said she would love to do more episodes of this and there is talk of more episodes in the future.
You can learn more about Milk Money and start streaming here, Milk Money. 
*I worked with the non-profit Singleton Foundation and Milk Money on this post. All opinions are my own and not swayed by outside sources.*