My little Zane loves his sleep. He is the first one to go to sleep at night, and the first one to rise in the morning. In prior days, he always would complain that his mattress was not comfortable and would complain of a sore back when he woke up. My husband and I both knew we needed to get him a new mattress and fortunately GelFoamBed reached out to us to review their mattress made out of Halcyon Foam.
Best Bed in a Box:
What sets these amazing mattresses apart is they are made to order based on your needs! GelFoamBed makes each mattress when the order is received so no mattresses will ever be sitting in a warehouse collecting dirt. Once the order is received, the mattress is made. I think this is truly ingenious if you ask me. From the day you order, it takes roughly 7-14 days to deliver, but usually, it arrives sooner at your door.  Once we received our mattress it came in a box, similar to the one below. I was a bit nervous how a mattress can unfold from a big box but it truly was AMAZING! My husband even remarked that this was one of the coolest ways to package a mattress that he has ever seen.
Next was testing out the mattress.  This gel memory foam mattress has tremendous support and with the Halcyon Foam, it sets it apart from other mattresses on the market. The 3.0″ Halcyon Foam is a pressure sensitive foam so you remain comfortable all night long. I asked Zane how it felt after a long night of sleep and he honestly said he had some of the best nights of sleep since using his new mattress.
Here are some other benefits of using Halcyon Foam in the mattresses:
Enhanced with billions of microscopic air capsules
Exceptionally supportive thus reducing pressure on critical areas of the body
A new level of support and pressure relief
Incredibly durable rivaling high-end viscoelastic foam despite being up to 40% lower in product density
Less temperature sensitivity to keep you comfortable in virtually any temperature
More responsive than memory foam
America- made using safe, non-toxic materials
For the ultimate in self-adjusting support and comfort, Halcyon Foam is enhanced with billions of Supportive Air Technology cells.
All the mattresses, whether the Venus (plush one) or the Miranda (medium-firm one), are made in the United States and made when ordered. They are warrantied for 10 years. They offer free shipping and give a 365-night trial period. They are made using safe, non-toxic materials. They only sell directly to consumers, which eliminates the middle man allowing their prices to be lower which they pass onto their customers. They offer the traditional sizes of mattresses as well as RV sizes.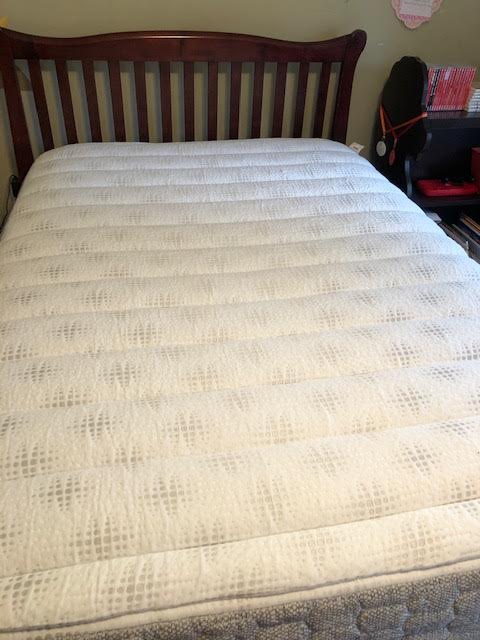 Memory Foam Mattress Manufacturers in USA:
The Gel Tech Miranda Halcyon mattress we received was simply remarkable. From delivery to setting it up on my son's bed frame was seamless. He also enjoys the medium firmness support of this mattress. This mattress was rated #1 by Better Homes and Gardens. Zane claims it provides unbelievable comfort and support, over his older memory gel foam.  This gel foam technology offers the best comfort to all of the GelFoamBed mattresses and it is made right in the USA!
Give GelFoamBed a try today! With a 365 -night trial period (with a 10 year warranty), you can not lose on this deal. To sweeten it even more, GelFoamBed is giving my readers a $300 code at check out. Simply enter code Mommyhood for $300 off any mattress.  The Best Bed in a Box!
*This is a partnered post. All opinions are my own and not swayed by outside sources.*