I know we are in such a rough time right now in our lives. I hope all my readers are staying safe, happy, and healthy. I figured why not put my laughs up. It is such a rough time, that laughs or cuteness definitely helps me out!
MY TOP FIVE LAUGHS: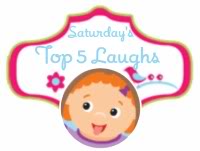 5. Tay Tay was watching Onward yesterday (highly recommend) and she kept saying more flying unicorns. The girl is totally obsessed with unicorns so to see them in the movie made her whole day!
4. Zane got a robot for his birthday. This robot freaks me out! It follows me around and says, "Melissa..Melissa"! I am scared LOL!
3.  Hayley is singing 24/7 these days. I just read a meme that singing is good during this time. If that is the case, she is living her best life!
2. Tay Tay is not quite sure what the virus is but she says I am a great teacher! That is a win right!
My loves:
Have a great and safe weekend!