As an adult with kids, I find myself thinking back on my childhood quite often. I make comparisons on leniency, expectations, entertainment options and so much more. Mostly I wish the world had remained unchanged from the days of my youth & that my family could experience a slower paced life, just as I did as a child. These days, instant gratification is valued over working hard for the things you desire and instead of utilizing the power of imagination, little ones are encouraged at an early age to rely on anything & everything to entertain themselves.
One of the biggest culprits of this, and one I'm even guilty of using, is technology. Smartphones, tablets, laptops, game consoles, handheld systems, etc. have long overtaken society and as such, have become our main focus; especially when it comes to playtime for our children. As a child I didn't have half as much opportunity to indulge in frivolous screen time. We played outside, weather permitting, and when we were unable to do so, we stayed indoors and created our own entertainment.
To say that I'm disappointed in how far society has strayed from traditional values is an understatement. While I do help reinforce the mainstreaming of technology and finding ways to keep my kids busy by jetting all over to do so, I do wish it was easier to recapture the way things used to be while I was a kid, before it became common place to bully other children who don't have the latest and greatest gadgets & who make it harder to simplify life. There is nothing worse than trying to instill a specific set of values in your children, and having it undermined at every term because society (schools, church, community events, etc.) believes so differently and causes your children to question their own way of living.
Fortunately enough, I was approached about a partnership with a company who has overseen the launch of some of my most favorite imaginative people, no technology involved. This character universe is one that is very dear to millions worldwide and whose author has inspired the use of pure imagination for over 20 years.
Harry Potter first caused a fantastical ripple in the lives of young readers in 1997, with the release of J.K Rowlings first book: Harry Potter and the Philosophers Stone. The book was a national sensation, and was joined by 6 other books that were released in the series from 1998 until 2007, when the series came to a tear-jerking end with the book: Harry Potter and the Deathly Hallows.
Even now to this very day, Harry Potter is renowned worldwide for it's quirky characters, riveting story line and magical wizarding world; it's a story that captured the hearts & minds of readers both young and old, and gave them no choice but to reach into the furthermost corners of their imaginations to live in the world alongside of Harry Potter, his friends and his greatest foes.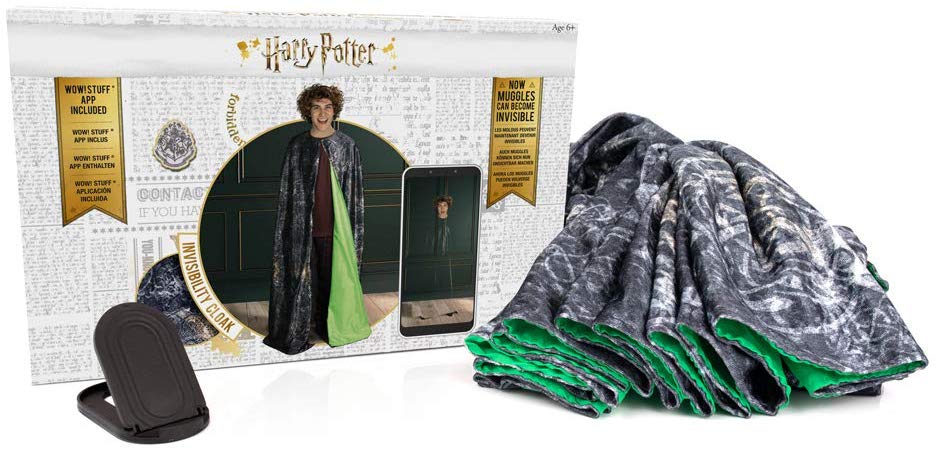 The product I'm writing about today is one that is referenced by children as well as adults. In schools, on social media, in online chat rooms, at conventions and much more: The Invisibility Cloak. In the books as well as in the movies, Harry is gifted the item from an unknown sender, a cloak that used to belong to his father (James Potter) before his death at the hands of Voldemort when Harry was an infant. Throughout the series, the Invisibility Cloak is used to get Harry and friends out of many near misses while holding sentimental value to Harry as something that once belonged to the father he never knew. The Harry Potter Invisibility Cloak is simply awesome!

If you're following along & happen to be a Harry Potter fan or even have a loved one/friend who is a fan, this is one gift that you'll want to snatch up for the coming holidays! This official Warner Bros replica will be the envy of your fellow HP fans as it is has the exact magical effects as the ones seen in the movie series. Perfect for dress up, Halloween or for cosplay, the Invisibility Cloak will make transform you from muggle to wizard as soon as you put it on.
To use The Harry Potter invisibility cloak, the process is simple and completely user friendly. Simply download the accompanying WOW! Stuff app from your Android or iOS store and be amazed at how quickly you'll disappear from view. Set up takes 60 seconds or less and allows you to create different backdrops, whether you're indoors or outside looking to cook up some magic.
Each Harry Potter Invincibility Cloak comes with:
Special Effect Lining
Phone Stand
Wow! Stuff App
Determined to have one of this movie replica cloaks for your own collection or to give as the best gift ever for your loved one? Head over to the link above and grab yours before they sell out this holiday season! Fancy yourself a true movie buff with a collection to make your fellow movie enthusiasts jealous? Wow! Stuff creates innovative, award-winning products based on pop culture toys and movie props that will make even your wildest Harry Potter collection dreams come true. Check out the Harry Potter Invisibility Cloak today!
*This is a partnered post with WOW!. All opinions are my own and not swayed by outside sources.*