The
tech battle
between parents and their kids has been ongoing for decades. The struggle for power has been shifting to our children slowly but surely, as we often throw our hands up rather than continue the fight to shut off technology and get our kids engaged in healthier activities. I know, I've been there. Sometimes it's easier to give in than to listen to our children rage against us. It's easy to erase the boundaries we set for just a few minutes more of peace without crying, tantrums, fighting with siblings, etc. Unfortunately once we start to give in it becomes easier and easier for our little ones to gain more ground, for lines to be completely erased and screen time to become unlimited. That is why TechDen is there to help!
I can't truthfully say that restricting screen time has completely saved my husband and I from the tears of our children, because it hasn't. Even though it's been a few years since we became strict about what we allow and how long we allow it for, there is still an occasional struggle when our little ones express how unfair it is that they can't have 10 more minutes or have access to an app we vetoed. Thankfully as parents we've gotten better at tightening up, saying no instead of giving in when the unrest begins to brew. We've learned to master the parental controls, dig below the surface of popular apps/games to vet them before saying "yes" and most importantly, how to redirect our kids to activities that are wholesome and engaging once their allotted screen time has run out for the day.
Despite having the knowledge we possess, we by no means have all of the answers. We slip up and make mistakes pertaining the screen time, just like every other parent. We're always learning something new, and recently were afforded the opportunity to test out some products from TechDen that have made it even easier to manage screen time for our children. Whether you're a new or old fan of my blog, I hope you'll follow along and that you too may benefit from the information I'm going to be sharing with you.

Created by parents just like you and I, TechDen was the result of trying to find a healthy balance in screen time and creating good digital habits. In a study done with over 1,000 families in the U.S it was found that with children in residence between the ages of 2 to 12, one of the biggest concerns of the involved parents was the emotional health of their kids. According to studies, children with unlimited screen time are reported as experiencing increased feelings of loneliness, anxiety and depression. This is due to less time spent with family, lack of face-to-face interactions and limited amounts of physical activity.
Kids and Technology:
In order to reduce the number of children with unhealthy mental issues related to self-induced isolation through technology, TechDen had made it their mission to reduce screen time in the average household by enabling parents to better establish screen time limits and when tech time is over, have a place to store your devices so it's inaccessible to little hands. The Den is where your tech devices can rest after maximum screen time has been used for the day, and creates an out-of-sight-out-of-mind effect. While stored in the Den, children think about technology less and are more apt to seek out social interactions with their friends as well as their loved ones. In the grand scheme of things, this ultimately creates a positive emotional well-being for our children.
Getting on board with TechDen was a no brainer in our family. It didn't take any time at all for me to make the connection between screen time and negative emotional issues in children. That is why I back TechDen 100%. We see so many children these days in despair, in crisis and hiding within themselves, due to the lack of human interaction, lack of monitoring screen time and what they view while having access to it.
In addition to the Den being a nifty place for storing your devices, the Den also works as a charging station for your devices while not in use so they are ready for use the next time they're needed! Even better, it comes with the featured app which allows parents to:
Create a schedule for screen time while teaching kids to control their relationship with tech
View notifications from children's screen time activities
Helps set limits for multiple devices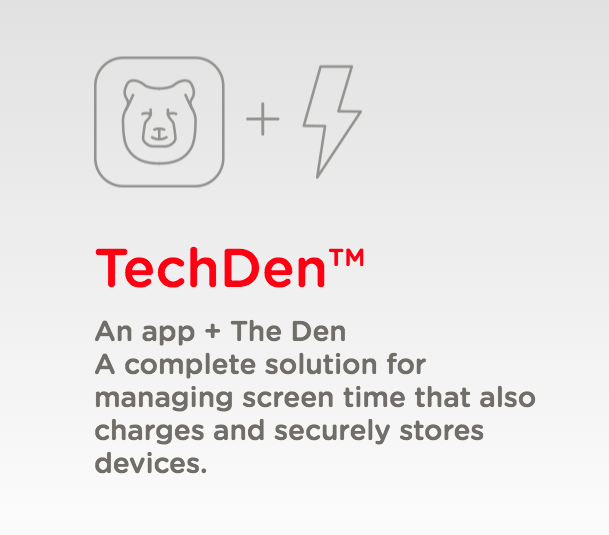 When used properly, technology can be an invaluable tool to aid in the development of little minds. It can help educate, teach skills, bolster the imagination and much more. As we all know, including the creators of TechDen, the trickiest part about technology is finding the healthy balance between life and technology. With TechDen, you and your children can find that balance together as a family while making sure no one falls prey to the dark pitfalls that come from overdosing oneself on screen time and the isolation that comes with it.
To find out more about TechDen, you can find them online or become a follower of their social media sites like Facebook|Twitter|Instagram.
*This is a partnered post. All opinions are my own and not swayed by outside sources.*