When Ann Mahoney contacted me about her new kids clothing line, I was very excited because I loved the Walking Dead. You might remember Ann from her starring role of Olivia on the Walking Dead. Now Ann has taken her skills and developed a new kids clothing line that is truly unique and simply adorable.
Ann has two kids, a 6 year old daughter and an 11 year old son.  When her son was born, she was dismayed at the profound lack of non-edgy boys clothing available to dress him in.  Everything was sports related and super heroes, and had boats all over them!  And as she says, " PASTEL…. lots and lots of PASTEL."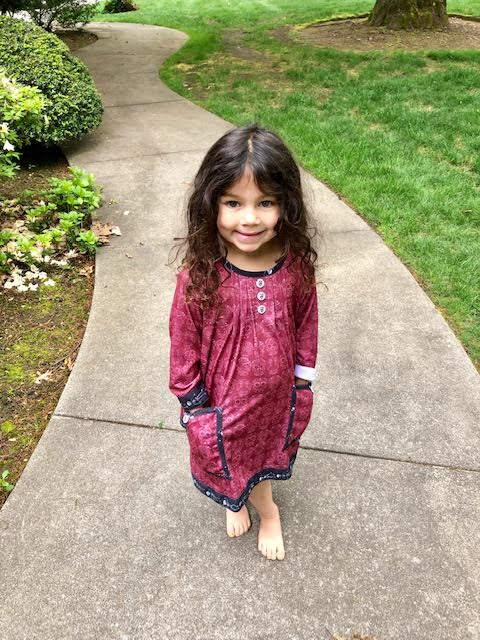 Since Ann knew how to sew, she began making clothing for her son using her own designs.
"He was born an old man-philoshopher-Buddha, and I dressed his accordingly.  I found that lots of Moms in my bracket (grew up in the late 80s/early 90s – loving The Cure, and Jane's Addiction, and Nirvana, and Soundgarden) were hungering for the same type of stuff for their kids."
When her daughter was born, she found the same thing, everything had ducks and was pink. She began sewing her own dresses with skull patterns and other edgy fabrics.  She then showed her friend what she designed for Bobby Moynihan's little daughter, and her friend instantly said that she should make them!  Hence Peeky Designs was founded!
Walking Dead Clothing:
As a mom, I absolutely love her edgy kids clothes! Taylor and Hayley were both sent the 
Sugar Skulls Dress and Tunic
. This dress was made with love from her time on the Walking Dead. It features Creepily-cute sugar skulls and skeletons. Both Hayley and Tay love wearing this dress and as a mom, I love how unique this dress is! We get stopped all the time asking where we got this dress from. Answer is Peeky Designs!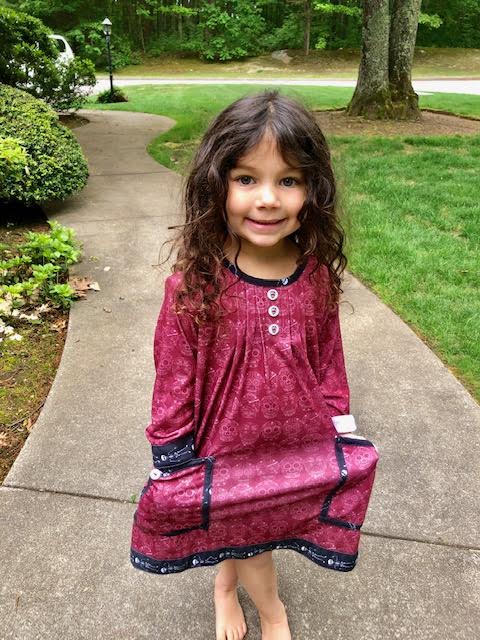 Tay Tay was also sent the
Cemetery Tank Dress
! YES! I love this dress so much! Again inspired by The Walking Dead,  this cemetery dress is inspired from historic cemeteries right from New Orleans. So unique and simply adorable!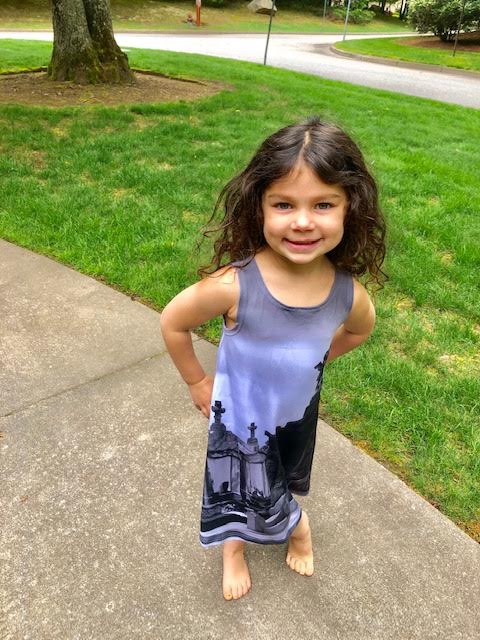 All of Peeky Designs from Ann are made with love and are originals. You can only get her designs online and once they sell out, they are done so be sure to check Peeky Designs out today!
Giveaway: One winner will receive an item from Peeky Designs. Designs are limited and you will be sent based on your kids age. Please note her styles go from newborn to 10, based on the item. This giveaway is run via rafflecopter so click read more to see the actual giveaway. The only mandatory entry is to visit Peeky Designs and tell me your favorite item in the comment section proceeding the post. While the other items are optional, I highly suggest filling them out to increase your chances of winning. Us only. Good luck!
a Rafflecopter giveaway
*This is a partnered post. All opinions are my own and not swayed by outside sources.*