The legendary Dumbo is now available on DVD. You know with Disney that they release these movies out of the vault and once they put it back in, they might not be available to own again! So be sure to pick up your copy of Dumbo or check it out On Digital, 4K Ultra HD, and Movies Anywhere!
DUMBO, the grand live-action adventure from Disney and visionary director Tim Burton, which expanded on the beloved animated classic and sent spirits soaring, is now available to purchase. Fall in love again with this heartfelt story when it swoops into homes on Digital in HD and 4K Ultra HD and Movies Anywhere, and physically on 4K Ultra HD, Blu-ray and DVD – with never-before-seen bonus features, deleted scenes, bloopers and more!
ABOUT DUMBO AND THE DVD:
Stunning extras will transport viewers to the set of "Dumbo," where cast members Danny DeVito (circus owner Max Medici), Michael Keaton (opportunistic businessman V.A. Vandevere), Colin Farrell (war-veteran-turned-elephant-keeper Holt Farrier), Eva Green (stunning aerialist Colette Marchant), Nico Parker (Farrier's daughter, Milly) and Finley Hobbins (Farrier's son, Joe) share their personal stories of courage and character. Features explore how Disney's timeless animated story was brought to life with an incredibly expressive, lovable, fully computer-generated baby elephant; the longtime collaboration of Burton, production designer Rick Heinrichs and costume designer Colleen Atwood, which resulted in jaw-dropping sets and costumes; and the creation of the visually colossal Dreamland parade sequence. Also included are nine deleted scenes, hidden and not-so-hidden Easter eggs, bloopers and a special performance of "Baby Mine" by Arcade Fire.
In "Dumbo," struggling circus owner Max Medici enlists former star Holt Farrier and his children to care for a newborn elephant whose oversized ears make him a laughingstock. But when they discover that Dumbo can fly, the circus makes an incredible comeback, attracting persuasive but sinister entrepreneur V.A. Vandevere, who recruits the peculiar pachyderm for his newest, spectacular, larger-than-life entertainment venture, Dreamland.
"Dumbo" is released in several different formats, giving families the flexibility to watch it on a variety of devices. Viewers can watch the film in Digital 4K UHD, HD and SD, and bring home a physical copy of the film as the 4K Ultra HD Edition (4K UHD, Blu-ray and Digital Code), Multi-Screen Edition (Blu-ray, DVD and Digital Code) and a single DVD.
Bonus features include*:
BLU-RAY & DIGITAL HD:
–CIRCUS SPECTACULARS: Dumbo's cast share their experience of making the film—and get to the heart of a story about family and believing in yourself.
–THE ELEPHANT IN THE ROOM: Explore how one of Disney's most lovable characters went from an animated classic to a stunning live-action retelling.
–BUILT TO AMAZE: Get a closer look at the film's production and costume design.
–DELETED SCENES: A compelling collection of scenes that almost made the final film.
Roustabout Rufus
Pachyderm Plans
The Other Medici Brother
Monkey Business
A Star Is Born
Where's Dumbo
Elephant Heist
A Seat at the Show
–EASTER EGGS ON PARADE: Discover the hidden and not-so-hidden nods to the animated Dumbo in this narrated tribute to the Disney classic.
–CLOWNING AROUND: Laugh along with the cast in a collection of big-top bloopers and goofs from the set.
–"BABY MINE": Visual video performed by Arcade Fire
DIGITAL EXCLUSIVE:
DREAMLAND – ANATOMY OF A SCENE: From Final Script to Final Scene: The filmmakers and cast talk a lot about the feeling of "grand intimacy" in the film. Step right up as they bring the Dreamland parade to life, accomplishing the rare marriage of a massive spectacle combined with an emotional tenderness.
My family is in LOVE with the original Dumbo so to see the live action of this movie was amazing. There was some overall sad parts but it was such a well done family film for the entire family. Since receiving it we have watched it at least 4 times and each time is better than the time before.
Disney sent us some goodies to go along with our DVD such as these awesome marshmallow peanuts. Zane was so excited because he can't eat peanuts in real life so at least he can get these. He was also sent some delicious circus cookies!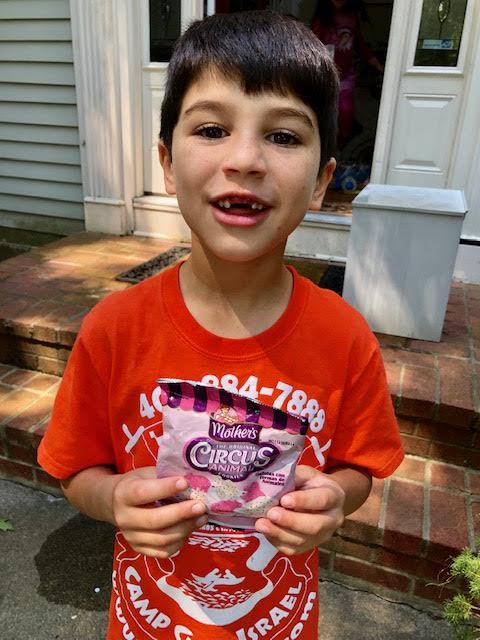 They also sent up a pop up tent and awesome carnival games that the kids absolutely LOVE!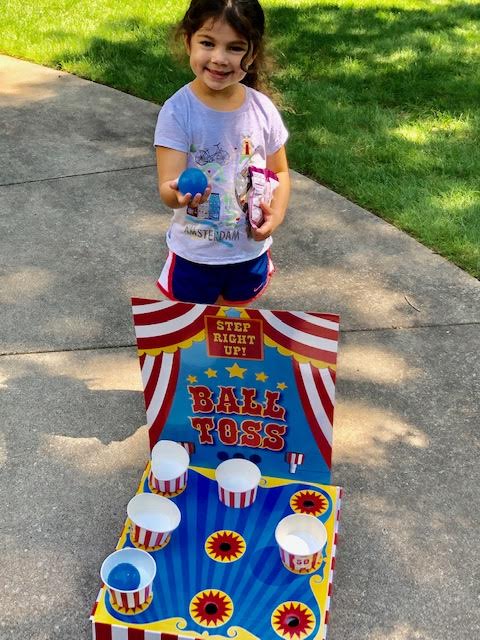 And who can forget that iconic character in this film, Dumbo that Taylor is hanging out with!
In addition we received an awesome Dumbo blanket that the kids love snuggling with and cups that they drink from, while watching the Dumbo movie.
Here is also a delicious recipe for Dumbo Inspired Cookies: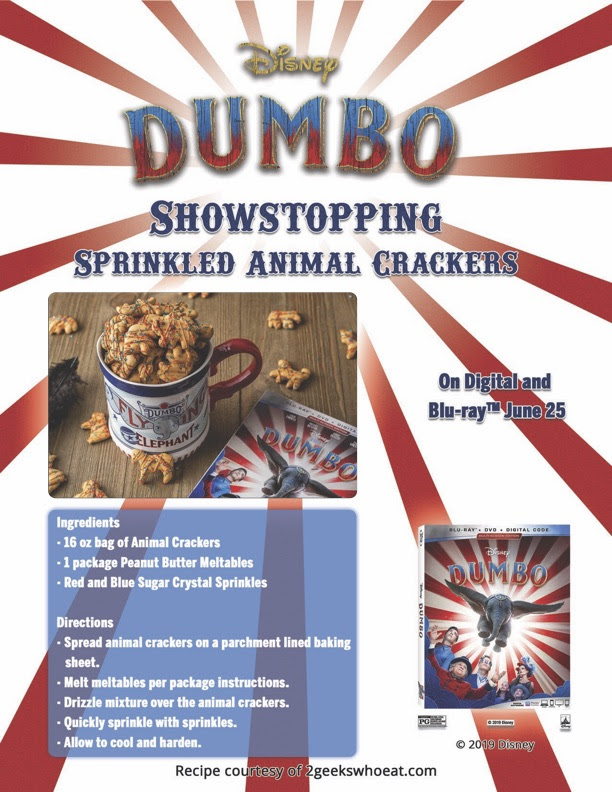 Be sure to pick up your copy of Dumbo today!
*I partnered with Disney on this. All opinions are my own and not swayed by outside sources.*