*I worked with Best Buy on this campaign. All opinions are my own and not swayed by outside sources.*
Captain Marvel is now available on DVD from Best Buy and I could not be more excited! Since visiting the set of Captain Marvel in 2018, I became obsessed with this movie. I saw it three times in theaters and now everyone can own it by buying the DVD at Best Buy. More than the actual DVD, only Best Buy has the super cool packaging for the Captain Marvel DVD.  You can now get your Captain Marvel DVD in Collectible SteelBook format which is exclusive to Best Buy! How cool is that?!
Captain Marvel features one of my new favorite superheroes because A. She is played by the brilliant and Academy Award Winner Brie Larson but B. She is a WOMAN superhero! Carol Danvers is the end all, be all Captain Marvel. I love that my daughters can emulate her and know they could be anything they want to be. Rounding out the superior cast is Samuel L. Jackson (Marvel Studios' "Avengers: Age of Ultron," "The Hateful Eight") as Nick Fury, Ben Mendelsohn ("Rogue One: A Star Wars Story," "Mississippi Grind") as Talos, with Annette Bening ("American Beauty," "20th Century Women") as Supreme Intelligence, with Clark Gregg ("Marvel's The Avengers," "Agents of S.H.I.E.L.D.") as Agent Coulson and Jude Law ("Sherlock Holmes," "Fantastic Beasts: The Crimes of Grindelwald") as Yon-Rogg.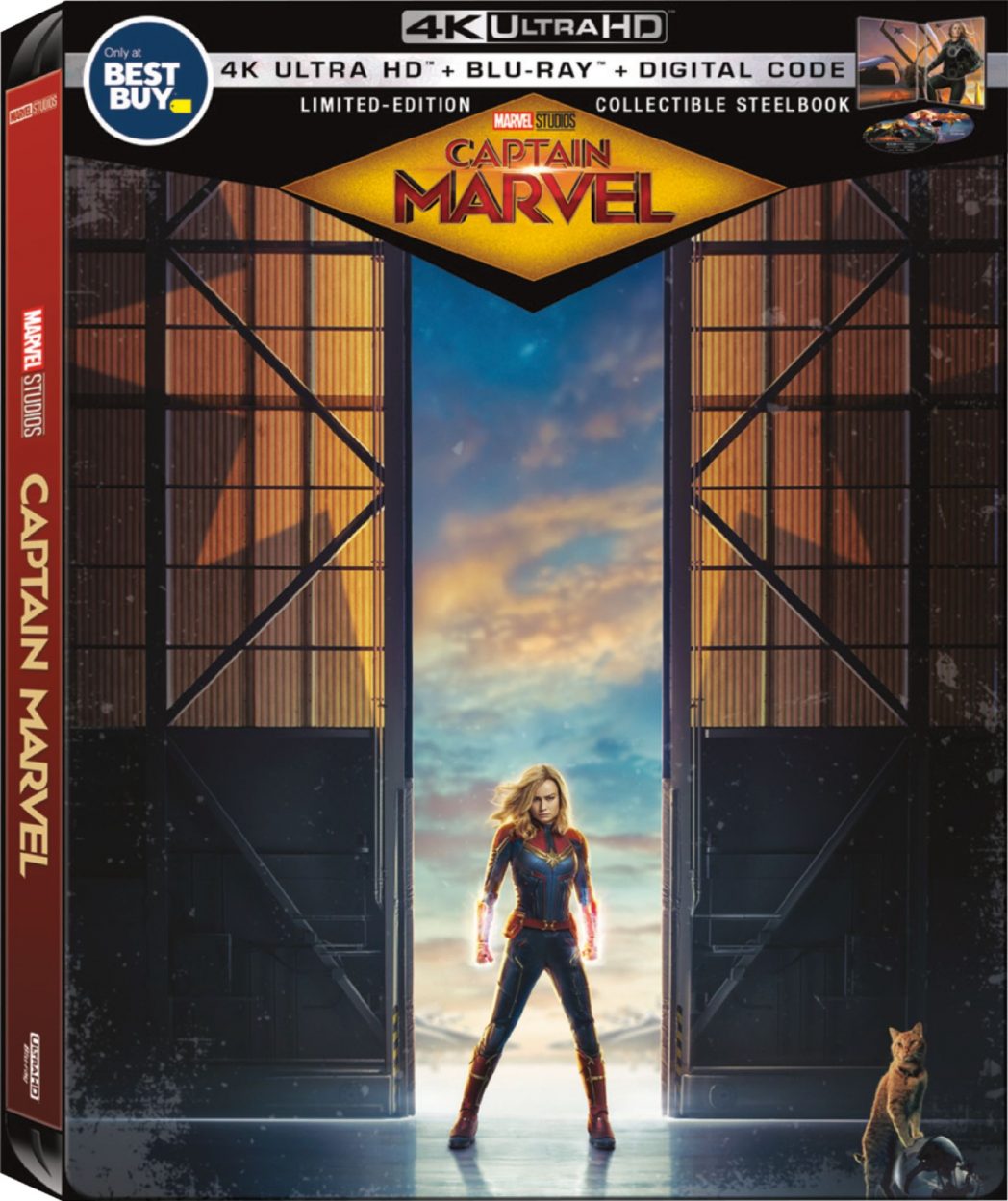 The film also includes a talented supporting cast that features Djimon Hounsou ("Blood Diamond," "Guardians of the Galaxy") as Korath, Lee Pace ("The Hobbit: An Unexpected Journey," "Guardians of the Galaxy") as Ronan, Lashana Lynch ("Bulletproof," "Brotherhood") as Maria Rambeau, Gemma Chan ("Crazy Rich Asians," "Humans") as Minn-Erva, Rune Temte ("Eddie the Eagle," "The Last Kingdom") as Bron-Char, Algenis Perez Soto ("Sugar," "Isolated Victim") as Att-Lass, Mckenna Grace ("Gifted," "I, Tonya") as Young Carol Danvers and Akira Akbar ("Grey's Anatomy") as Monica Rambeau.
About Captain Marvel:
Directed by Anna Boden and Ryan Fleck this sci-fi action film is the latest offering from the American comic books by Marvel Comics. The narrative follows Carol Danvers (Brie Larson), an Air Force pilot who experiences a freak accident that somehow bestows her with alien superpowers, making her Captain Marvel. With time running out, Captain Marvel joins forces with Nick Fury (Samuel.L Jackson), and together they work to save the planet from a looming war between alien races.~Clare Perez-Izaguirre Lopez.
You will want to buy Captain Marvel so you can see her sheer awesomeness and she is now going to be a fighting force in the Marvel Cinematic Universe. While you can buy the DVD at various retailers, you are going to want to only buy it at Best Buy because of the super cool packaging that you will only find at Best Buy retailers. This Collective SteelBook format is simply incredible! Now what are you waiting for?!