The holiday season is quickly drawing to a close, with only a handful of weeks left until Christmas. Less than a week later is the start of a new year and along with it a chance to live another 365 days doing the things you wished you accomplished the previous year. For now though, the next few weeks will be spent getting ready to receive company from out of town, get the house ready for gatherings featuring co-workers/friends, picking up last minute gifts for loved ones, etc. and if you're anything like me, you're feeling the stress of it all.
This is especially the case financially. Even though my husband and I have great jobs, it doesn't stop us from stressing about the outcome of having so much money flowing out of our bank accounts during this time of year. It's a natural stress that any family feels during this time of year, no matter how financially stable you might be. Which is why it's so important to know your options for every bill that is coming in and out of the home, whether it be paying off the credit card you used to buy those last minute gifts or decorations, the bill that arrives each month for the cell phones you use and even the grocery bill that comes with hosting a big gathering and feeding 20+ people.
Getting the best value for your hard earned money is something that T-mobile prides themselves on. As people with families of their own and of course the bills that comes along with said families, the people behind T-mobile have made it a point to bring their customers the best value possible for their money. With so many different phone companies available for potential customers, it can be hard to find the one that best suits the needs and budget of your family. When my husband and I were looking for the best value in a phone company we looked at every option that was available to us but most were simply just too outrageous & wanted a contract to lock us into a 2 year minimum commitment. Needless to say, we gave everyone a second look and still weren't thrilled.
That is, until we took a closer look at T-mobile. We used to think that T-mobile was the most expensive option and that might have been true in our earlier years as being join cell phone users but these days, T-mobile is all about making their services appealing AND affordable. Not only are all taxes and fees included (nothing hidden or getting hit with an extra fee when paying your bill) but T-mobile One also features extra's for users that include access to Netflix, T-mobile Tuesdays, Simple Global and much more.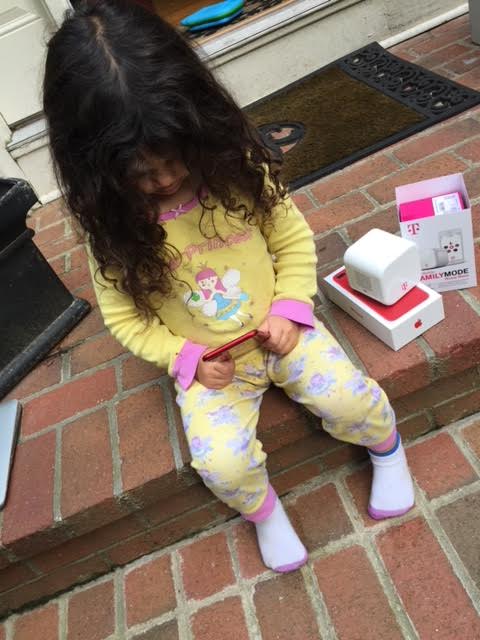 Some of my readers might be wondering what in the world T-mobile One is and why those perks are so awesome, so in case you haven't seen my earlier ravings about the company/plan, I'll go ahead and sum it up. As the base plan for T-mobile, One is an unlimited plan that starts out at $70 a month for the first line and then drops to $50 for the second line. After that, you can add a third line that will drop your bill to a tiny $20 a month for each additional line for up to eight lines. It also comes with unlimited data and texting, and who doesn't LOVE those features in a cell phone plan?
So, not only do you have plans like T-mobile One that definitely beats out all other companies phone plans but you also aren't locked into a tricky contract for 2 years, dreading your bill every month or facing issues that you can never get resolved, essentially being in cell phone plan limbo until your contract runs out.
I could go on and on about the many ways in which T-mobile has saved my family money or the features it has that can do the same for customers interested in getting the best value in the new year but as with most services, especially those like cable, cell and internet, you might just have to see it yourself to believe it. If you think the few features I listed are worth just looking into the company for, then you'll be amazed at what's in store for you when you actually head in-store to check it out for yourself! T-mobile doesn't boast having the best value in savings for nothing!
To find out more about T-mobile, their phone plans and pricing, or the benefits of switching carriers, you can visit them online or become a follower of their social media sites like Facebook|Twitter|Instagram.
This post is sponsored by T-Mobile. All opinions are my own and not swayed by outside sources.*