My daughter Tay Tay is OBSESSED with Vampirina! Seriously obsessed! It is on 24 hours a day at our house. That is what I was so excited to learn that they were releasing a DVD called Vampirina Ghoul Girls Rock!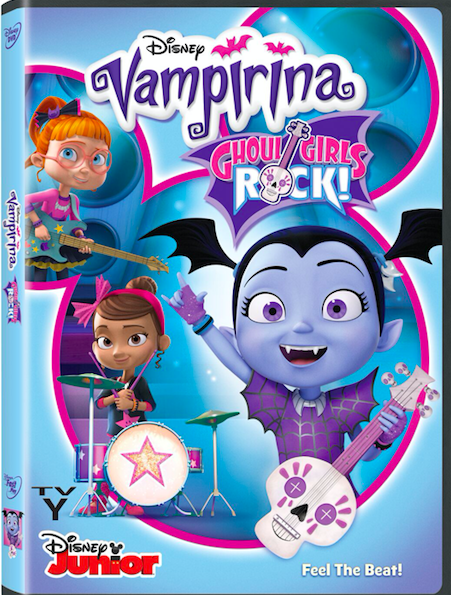 VAMPIRINA GHOUL GIRLS ROCK!
Includes Six 22-minute Episodes of Disney Junior's Hit Animated Series "Vampirina," Plus Seven Bonus shorts!
Synopsis:                      Follow Vampirina and her two best friends, Poppy and Bridget, as they take the stage and start their very own band: the Ghoul Girls! Cheer them on as they travel to Transylvania for their first-ever talent competition and go on many more awesome adventures! Amped with six music-filled episodes, plus seven bonus animated shorts, Vampirina: Ghoul Girls Rock! soars to fang-tastic new heights as Vee and her friends learn how to find their inner ghoul and rock out!
Voice Cast:                             Isabella Crovetti as Vampirina; Lauren Graham as Oxana Hauntley; James Van Der Beek as Boris Hauntley; Wanda Sykes as Gregoria; Mitchell Whitfield as Demi; Jordan Alexa Davis as Poppy; ViviAnn Yee as Bridget; and Dee Bradley Baker as Wolfie.
Executive Producer:        Chris Nee
Episodes:                                 Vampire Weekend / The Bird Who Knew Too Much
                                                      The Ghoul Girls / Game Night
Oldie But a Ghouldie / Beast in Show
Vampirina Ballerina / Treasure Haunters
Home Scream Home
Countess Vee / Frights, Camera, Action!
Bonus:                                       Vampirina Ghoul Girls Rock! Music Video Shorts:
Living the Scream
Inner Ghoul
Transylvania Girls
Ghoul Glam
Boogieman Boogie
Everybody Scream, Everybody Howl
The Mummy Rap
Ratings:                                    TV-Y (US); G (CE/CF)
Total Run Time:                                     Approximately 132 minutes
Aspect Ratio:                        1.78:1 Widescreen (Enhanced for 16×9 Televisions)
Audio:                                       2.0 Dolby Digital
Languages:                             English
We love all six episodes included in this wonderful DVD! It keeps us entertained for hours when we are in the car, and honestly mom and dad love it too!
Be sure to pick up Vampirina today available on DVD!
*Review copy sent. All opinions are my own and not swayed by outside sources.*