Happy weekend everyone! I am back with my Saturday kids laughs.  I hope you all have a wonderful weekend with whatever you do. Today I am watching the Royal Wedding and heading to work for a few hours.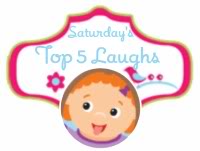 As always, come link up any cute or funny post, or any kids laughs. Definitely check out the blogs below who link up, as they all provide a great laugh. Feel free to take my button or share on social media, although this is not necessary.
MY TOP FIVE kids laughs:
5.  Hayley had a sleepover tonight. I went in and she told me that only girls under the age of 12 could play! Bahah! Mommy was kicked out!
4. Taylor is still thinking every letter she sees is T. But now she knows O so know it is O and T for all the letters!
3. Zane wears mismatching socks every single day of the week! He has fresh, clean socks all the time but chose to not match them.
2. Every single morning, Zane gives me the biggest hug and tells me he loves me. I hope that never ends!
Taylor is obsessed with these bows from Baby Wisp . Seriously how cute is she and the bows are wicked cute too!
YOUR  TOP FIVE kids laughs: