*This post is in partnership with Hasbro's Beyblades. All opinions are my own and not swayed by outside sources.*
Spending quality time with my kids is very important to me. As I work each day to make family time a priority, sometimes it's difficult. I know that spending time having fun with my kids is what childhood should be all about, making memories for years to come. No matter how busy my adult life gets, I try my best to make family time a priority. Hasbro recently asked me to check out their Beyblades Burst SwitchStrike line and today I am featuring this product line as a fun way to enjoy family time together.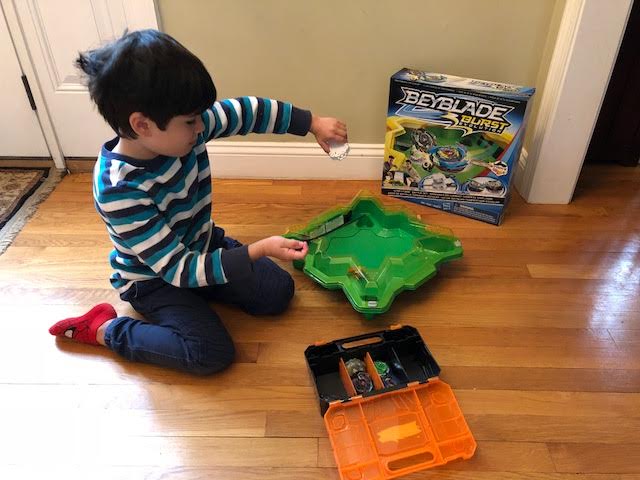 Why Family Time Matters
First off, let's talk a little bit about why family time is important. Children grow up way too fast, it's almost as if I blinked and my kids grew in just minutes. When you make time to enjoy laughter, fun, and silliness with your kids, you're letting them know that they're just as important as your work and spouse. The more chances you get to spend family time together with your kids, the deeper your bond will be as a parent and child. As your children enter the teen years, they'll look back upon these fond memories and be more apt to talk to you about their challenges in teenager life.
The basic reason why family time matters are to build an everlasting bond between you and your household so that as your children grow older they will trust you, love you and come back to visit you of course.
Why BeyBlades for Family Time?
Hasbro has really outdone themselves with the popular line of BeyBlades. There are multiple lines of products that children can enjoy with their parents. Stadiums for each BeyBlade line helps parents rest easy knowing that these spinning toys aren't going to be spinning everywhere underfoot. BeyBlades are a new version of the old school "spinning top" with colorful designs.
BeyBlades are great because they will allow the children to teach the parents a thing or two. With tools to build your own BeyBlade creations, you will quickly learn that some bottoms and tops work better than others. It really is so much fun to say "let it rip" when you all have your BeyBlade ready to release. The ability to work together in a friendly competition of a BeyBlade match during family time really helps to inspire your children as they learn that sometimes parents can be taught a thing or two by their own children.
About Hasbro's Beyblade Burst SwitchStrike Line
Inspired by the Japanese battling tops called "Bei-Goma" Hasbro has released its third generation of BeyBlades. The Beyblade Burst SwitchStrike line that is made up of three parts you can easily manipulate and switch around to create the perfect BeyBlade for a battle. This line of BeyBlades encourages your children to hone in on their battle skills as they learn which top and bottom work best to win the battle against their friends and family.
There are for types of BeyBlade Burst; Stamina, Defense, Balance, and Attack. As your children work with you to spend quality family time together battling BeyBlades, you'll both quickly learn how to use over 20 different tops in a way that works best to win over your opponent. The key to being the winner during a BeyBlade battle is to the last top spinning in the stadium.
Beyblade Burst SwitchStrike line can be purchased at any retail store or online. With multiple BeyBlade stadium options available too, you can surely enjoy some fun family time with a little friendly BeyBlade competition soon.