Happy weekend everyone! Whether you celebrate Passover or Easter or nothing at all, I hope you all have a great weekend.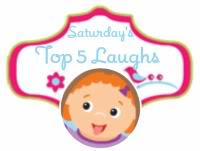 As always, come link up any cute or funny post. Definitely check out the other blogs who link up as they all provide a great laugh. Feel free to take my button or share on social media, although this is not necessary.
MY TOP FIVE LAUGHS:
5. My kids celebrate both Easter and Passover. When someone asks them what they celebrate they say they celebrate every single holiday! I think they like saying that so they get all the presents LOL!
4. Hayley is still sassy Hayley! Although every week we do a tradition  of watching American Idol. We grade who is the best. It is really cute and a good bonding experience.
3. Taylor is so funny these days! She thinks she is 12 going on 20! You would never think she is 3 based on her vocabulary.
2. The other day Taylor said to me, "Mommy.. Stop being so ridiculous!" Okay Tay..Okay!
So Zane auditioned for the school play because I told him he needed to do an activity. I told him just audition thinking he would get a small part. Well the play is next week and he is one of the leads. I was laughing so hard! He actually is good though!
YOUR LAUGHS: