*This post was sponsored by Ling Ling Asian Food, all opinions expressed in my post are my own.*
I am totally obsessed with the Asian traditions and food. A few years back, I visited China, Thailand, and Japan to get a taste of the culture. It was the experience of a lifetime but it also made me appreciate just how awesome the Asian culture, food, and society is! With the Chinese New Year shortly upon us, I was invited to visit Boston Kitchen to check out the Ling Ling Asian Food with Chef Katie Chin. I had an incredible time getting some cooking tips for celebrating the Chinese New Year and sampling delicious food.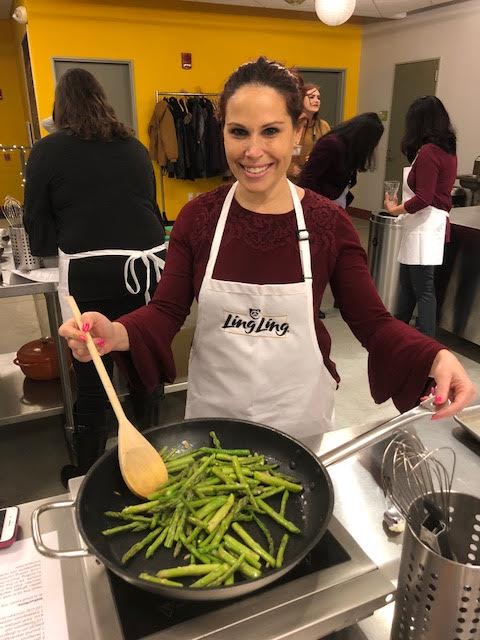 Once we arrived at the event, we met Chef Katie Chin who was spectacular and had such an interest in  teaching us about cooking for our families with Ling Ling Asian Food. We had two recipes we were given to make and as a team, we were able to readily accomplish this.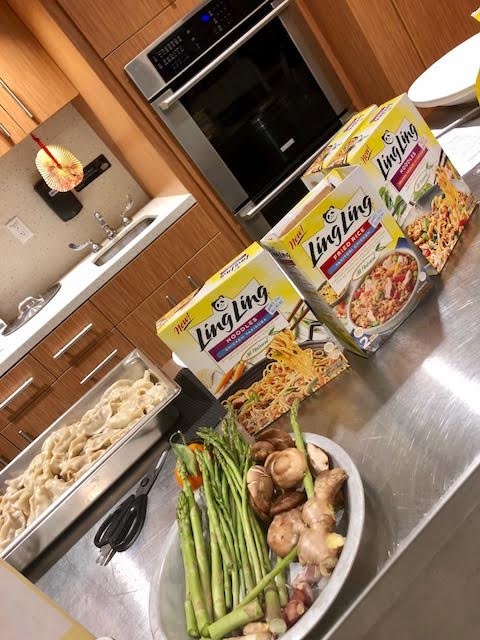 The first recipe was for Caramel Glazed Brandied Oranges. This recipe was so easy to do and best of all, it was something my whole family would enjoy! Being a mom of three, I need to find recipes that could be enjoyed by all and both this and our main dish, Asparagus Stir Fry with Shiitake Mushrooms, was plentiful, delicious, and EASY to make!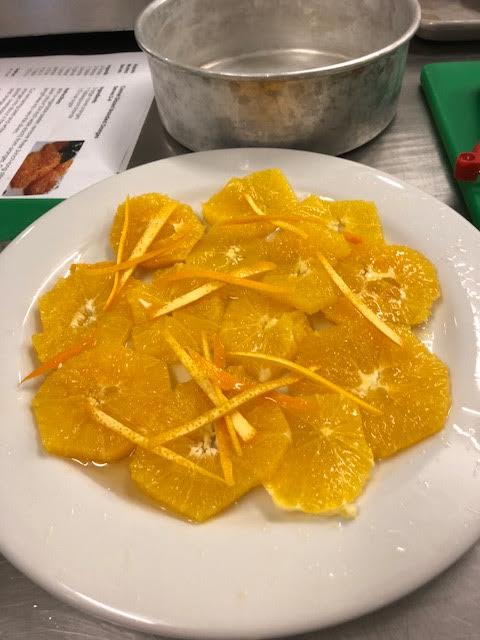 This was how our oranges turned out and trust me, it was DELICIOUS! The recipe given to us by Chef Katie Chin was very easy and took no time at all to whip up.
Ingredients:
3 large navel oranges
1 Tablespoon brandy
1/2 cup sugar
Instructions:
With a vegetable peeler, remove three 3-inch-long strips of peel (about 3/4 inch wide each) from oranges. Cut strips lengthwise into very thin slivers.
Cut remaining peel and white pith from oranges. Slice oranges into about 6 thin rounds and place in a deep platter, overlapping slices. Sprinkle orange slices with brandy and orange peel.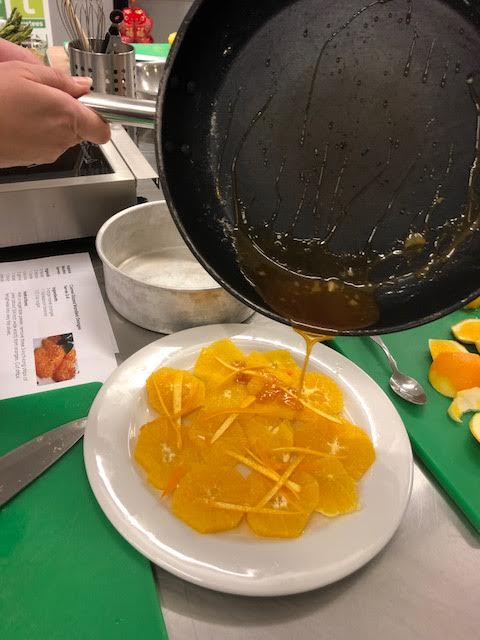 In a skillet, cook sugar over medium heat until it melts and becomes a deep amber color, stirring to dissolve any lumps. Drizzle caramelized sugar over oranges. Garnish with orange peel slivers. Serve warm or at room temperature or refrigerate and serve chilled.
The Asparagus Stir Fry with Shiitake Mushrooms was also extremely tasty! With having two jobs, it took about 20 minutes tops to make this recipe and it is something I can readily make after my busy day. I don't want to be in the kitchen all day after being on my feet all day! I am sure we can all relate!  All I need to do is gather my ingredients, cook it, and serve it to my family. I already purchased some of the Ling Ling Asian Food from the grocery store, and made this exact recipe again. It was a total WIN-WIN!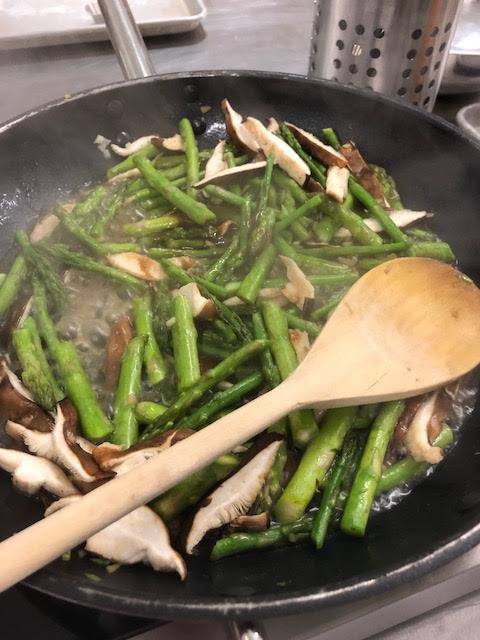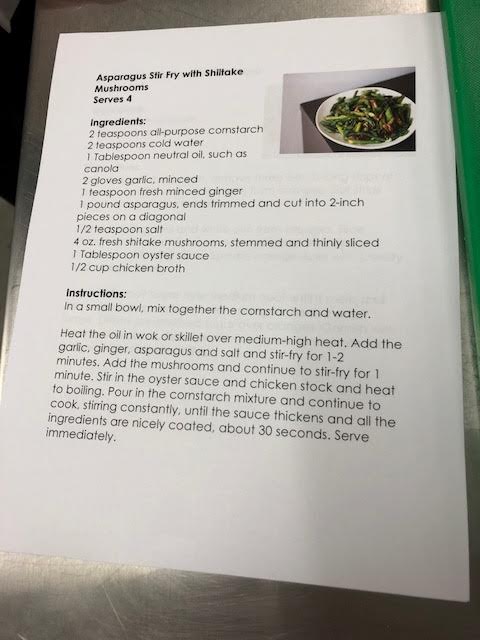 After we did our cooking, we had a huge feast with Ling Ling Asian Food. We tried the Fried Rice, Noodles, and Potstickers. I really have a hard time picking my favorite but I guess if I had to chose, it would be the Potstickers. I devoured these!  All in all, the Ling Ling Asian Food that you can purchase at your local grocery store, easily rivals some of the foods I had when I traveled throughout Asia.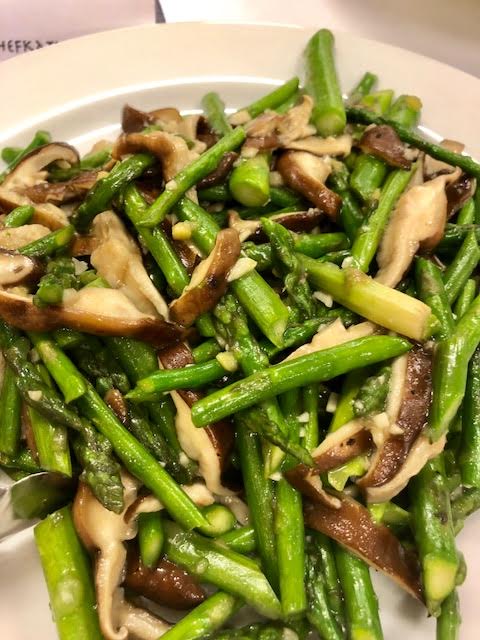 Here is some additional information about some of the standout Ling Ling Asian Food Products:
Fried Rice

Traditional deelicious Fried Rice dishes from Japan and China . With Ling Ling, these fried rice authentic recipes are expertly crafted and made with tender vegetables, delicious proteins and flavor infused rice that tastes great down to the last grain. The are available in Chinese Style Vegetable, and Yakitori Chicken.

Noodles

The Ling Ling noodles are authentic Asian style noodles infused with delicious sauces, succulent proteins, and vegetables. The two available styles include the Drunken Noodles and Yakisoba Noodles.
As a mom with a busy lifestyle, I find it so easy to turn to Ling Ling Asian Food. It is so convenient and takes no time to whip up a delicious dinner for my entire family. I tested out making some of the Ling Ling Asian Food and it was a smashing success for my family. I can't wait to have a feast this Chinese New Year!