As much as I loved being outside when I was a kid, as an adult I often joke about being allergic to the sun. The truth is that while I may not be allergic, I am very fair skinned and venturing outside is sure to turn me red within an hour. Not that I can complain too much, who doesn't love a tan, but those first few days of discomfort are torture for me. The same can be said for my kids although it doesn't seem to bother them half as much and almost every spare moment they get is spent outside.

While most of their generation is engrossed in what's going on within screens, my kids would much rather do outside activities such as swimming, hiking, biking, boating, etc. We do allow them to indulge in some screen time but encourage outside play more than anything else, which is why we focus on giving gifts that are primarily used outside.
This year, I was blessed to receive the opportunity to receive a Y Glider XL to review here at home which was fantastic considering the fact that my daughter had mentioned earlier on in the year that she wanted a scooter after seeing one on a shelf at one of our local retailers. As an evolution product of the earlier Standard Y Glider, the XL comes pre-loaded with fun features like adjustable handlebars (for the younger, smaller built ages) and "learn to steer" technology that allows kids to master more extreme cornering.
Best suited for kids ages 5-9 and weighing in at just 5.50lbs, the Y Glider XL is perfect for younger audiences who enjoy spending time outside and who are looking for more excitement than the average bike can offer. This design is also great for helping develop skills such as balance, coordination and fine motor skills. So, not only is it a fun outside toy but it also helps to fine tune essential skills to your children's development as well!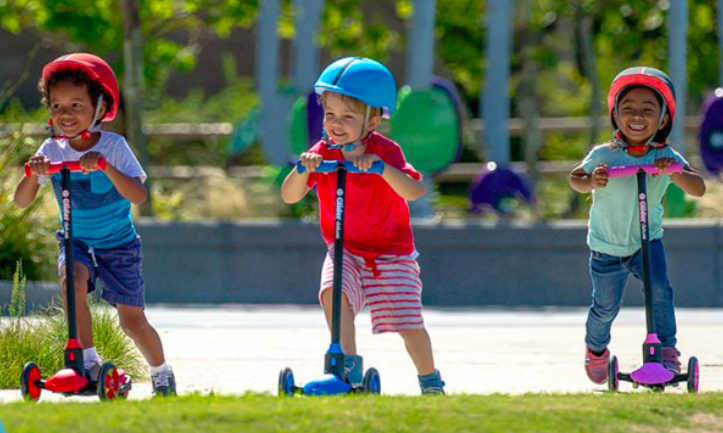 Additional features of the Y Glider XL includes but aren't limited to:
Three wheeled design for more stability.
Soft rubber hand grips to help avoid sore hands and/or blisters.
Wide deck to help keep your kids stable during their ride.
Easy touch rear break for quick and safe stopping.
With the holidays right around the corner, the Y Glider XL is the perfect holiday gift for little ones who love spending time outdoors. They'll beg for extra outside time once they unwrap this awesome scooter from underneath the tree!
To find out more about the Y Glider XL you can visit the Yvolution website as well as their social media pages like Facebook|Pinterest|Instagram|Youtube.
GIVEAWAY: One of my readers will win a Y Glider XL- $60 value. This giveaway is run via rafflecopter so click here to see the actual giveaway. The only mandatory entry is to visit Y Glider XL and tell me what you love best about it. Please put all comments in comment section proceeding the post. While the other entries are optional, I highly suggest filling it out to increase your chances of wining. US only. Good luck!
a Rafflecopter giveaway

*Sample received. All opinions are my own and not swayed by outside sources.*