*Disney provided me an all expense paid trip to LA for the Star Wars Event. All opinions are my own and not swayed by outside sources.*
Sunday December 3rd will go down as one of the most memorable days of my life. This is the day I attended Star Wars: The Last Jedi press conference.   We arrived early at the hotel and we were guided into a special press room that held around 130 news reporters and journalists. They had a huge Star Wars stage set up complete with the magical stars. The John Williams's music started, we took our seats, and it was ready to begin!
A few minutes later the entire cast walked into the press room right before my very own eyes. I am talking about the epic  Mark Hamill ("Luke Skywalker"), Daisy Ridley ("Rey"), John Boyega("Finn"), Oscar Isaac ("Poe Dameron"), Adam Driver ("Kylo Ren"), Domhnall Gleeson("General Hux"), Gwendoline Christie ("Captain Phasma"), Andy Serkis ("Supreme Leader Snoke"), Laura Dern ("Vice Admiral Amilyn Holdo"), Kelly Marie Tran ("Rose Tico") and Director Rian Johnson.   I might have been shaking seeing this take place because this is something every person can only dream about in their lifetime. To sit with the main talent and director of this film was a pinch me opportunity!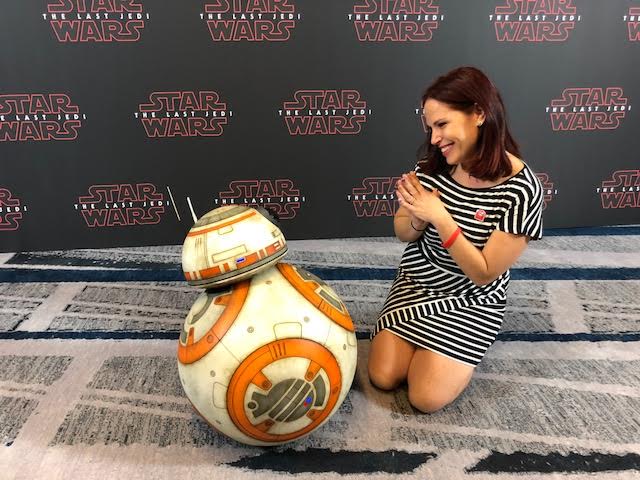 Then it was time for the Q+A with the cast. Over the next few weeks you can see more about this junket but let's just say it was every Star Wars dream to hear what they had to say. And if you want a sneak peak, check out my video here: The Last Jedi.
After the official press junket ended it was time to check out all the activities they had planned for us that day. Our first stop was at the character costumes that we saw displayed at the hotel. The costumes are what makes Star Wars, Star Wars so it was mighty cool to see this. We were able to see Kylo Ren and Rey costumes, as well as a few others. The Star Wars Costume Vignettes was something I loved to see.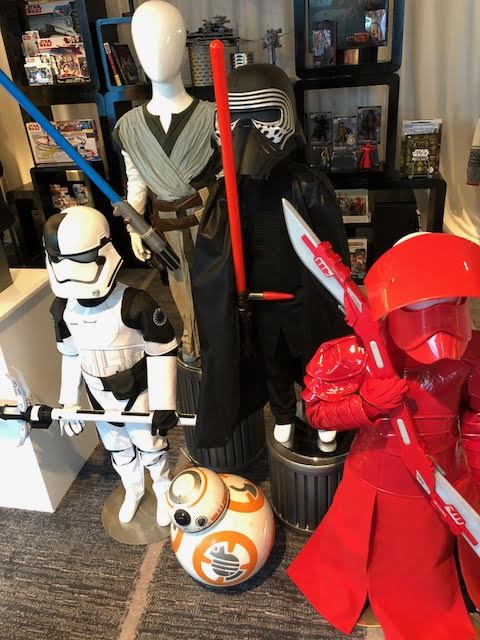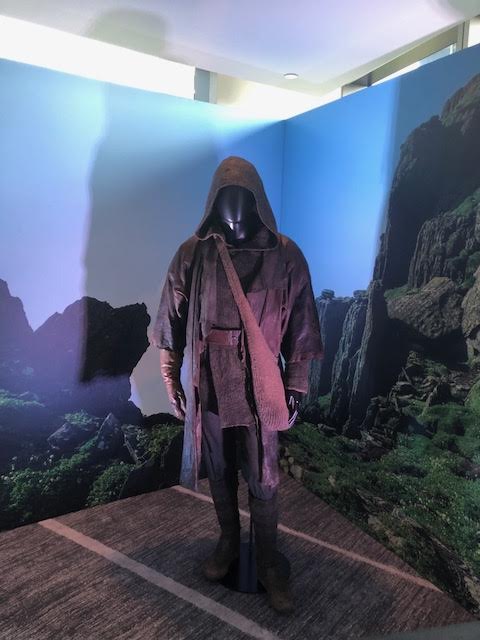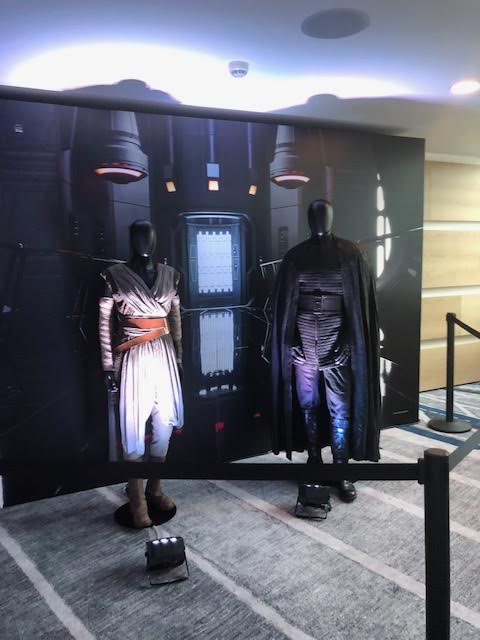 Star Wars is not complete without droids! While we all know and love BB8, there is a new droid in town names BB9-E that you will be able to see when you go watch the movie next weekend. Press were able to take pictures with both droids which was an awesome experience.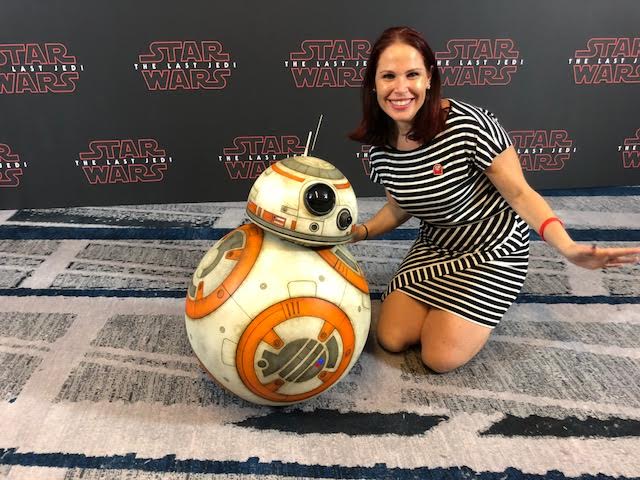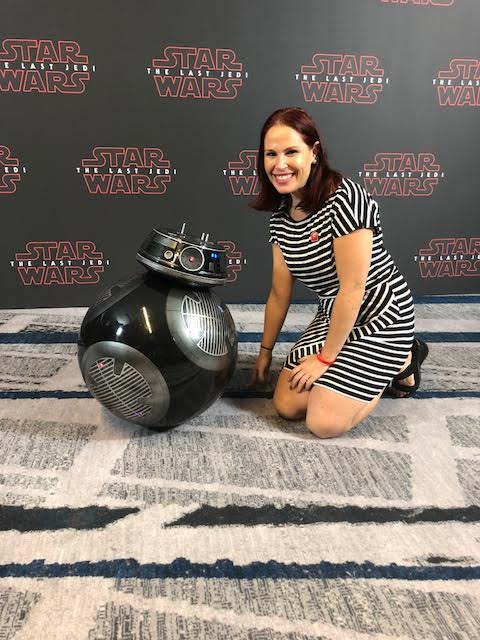 We also were able to have some tech experiences with the Movies Anywhere lounge where we had several virtual reality demos and learned more about Movies Anywhere. With Movies Anywhere, you have the ability to really watch your film collection anywhere. You can have one base account and then add profiles for your family, including rating restrictions for content access. This is some way to watch movies!
Then I got stopped by the Praetorian guards! They were so funny and stayed in character the entire time. If I moved, they moved! It made me laugh so much!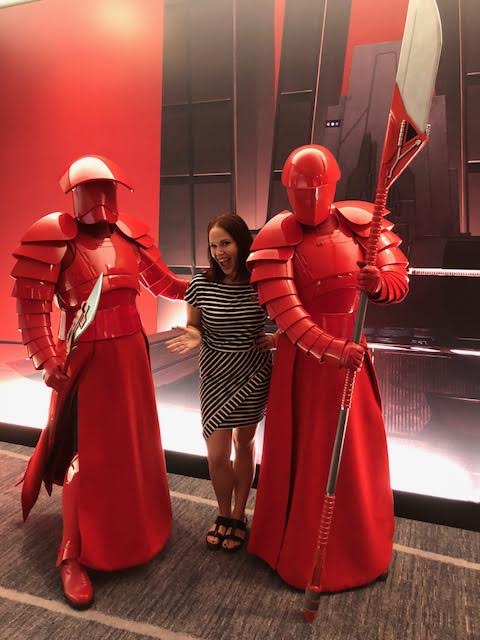 Of course with Star Wars being released next week, they had a display of some of the fun merchandise that will be on sale including clothes, shoes, dress up, figurines, and more. To our right of this, we were able to also check out the littleBits Display which introducing coding but in a Star Wars fashion. I know Hayley would love to build her own droid. Let's also not forget the cutest little creatures ever -PORGS! You can find your own PORGS mug here: PORGS FUN!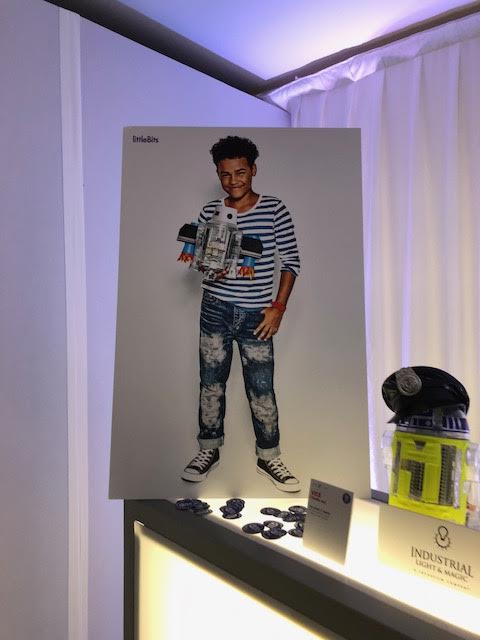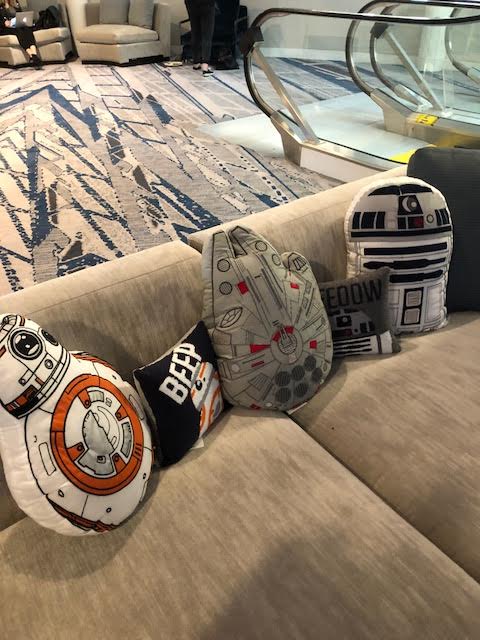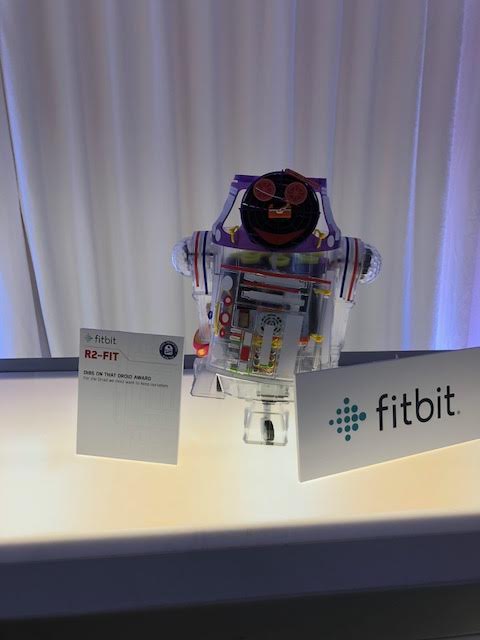 Then it was time to make our own T-Shirt. Each member of the press had a chance to select one shirt and chose their own decal. It was so cool to see them put it on and I could not believe how quickly the process went. When I came home to show my husband he thought it was for him but I told him, "Not so fast.! I am wearing this when we go see The Last Jedi!"
At this point we were hungry so we checked out the Ample Hills Ice Cream station where I was absolutely DROOLING! This ice cream is FANTASTIC! There are three flavors available at stores including The First Order (salted dark chocolate representing the dark side), The Resistance (vanilla ice cream with brown sugar and mix ins), and The Force (sweet ice cream with chocolate fudge). My favorite was The First Order!! I am still dreaming about this ice cream and now can't wait to buy it for my family.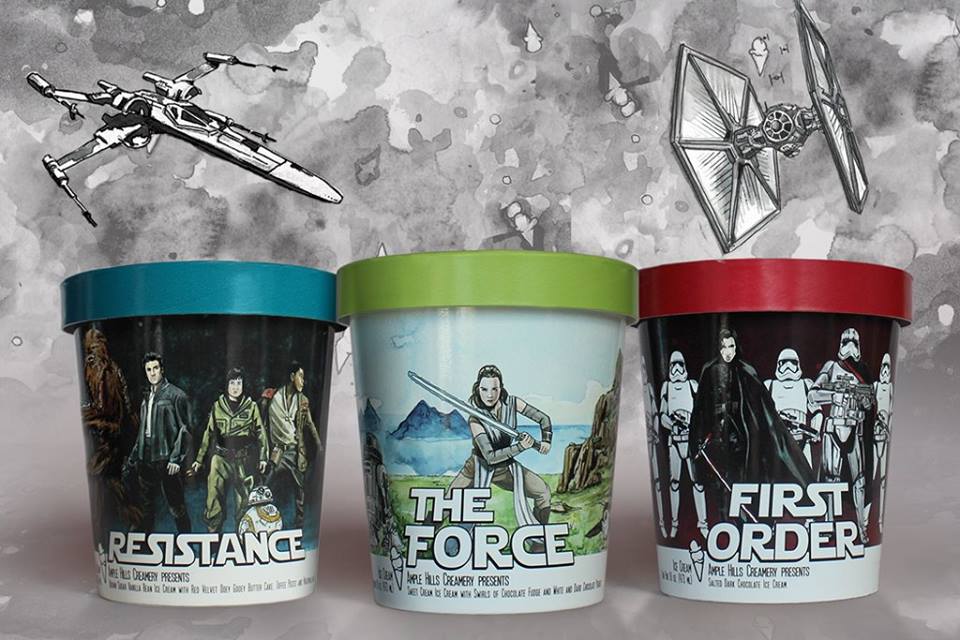 Throughout the press rooms, we were also able to see the Disney Parks and Star Wars Galaxy Edge Sketches and Director's Rian Johnson's On-Set Photography Display. We were also able to do very awesome tech experiences with virtual reality.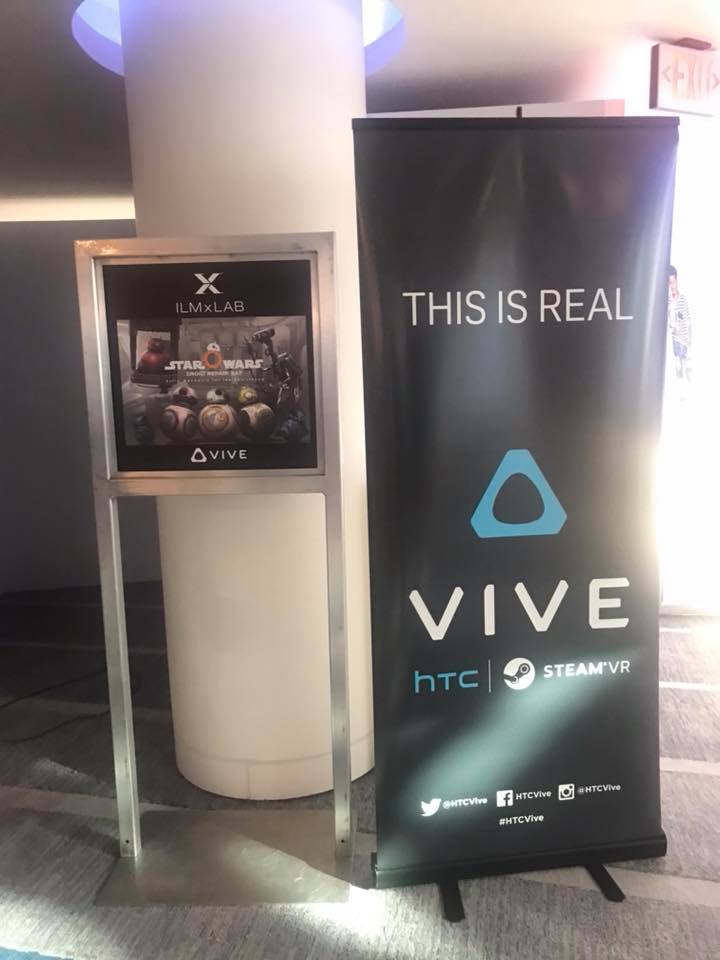 This was a day I will never forget! Much more to come on this junket and our interviews so stay tuned. Meanwhile be sure to buy your tickets for The Last Jedi and remember that Star Wars: The Last Jedi comes out December 15th!