*Disney provided me an all expense paid trip to LA for the Star Wars Event. All opinions are my own and not swayed by outside sources. Photo credit: Louise from MomStart.
After we attended the Star Wars: The Last Jedi press conference we had the chance to sit down with selected actors of the new Star Wars film. The first actress we interviewed was Laura Dern who plays Vice Admiral Amilyn Holdo in The Last Jedi! I always pictured her as a sweet and beautiful actress, and this was exactly her! I did get to sneak in a few words to her about Big Little Lies at the end and how I am a big fan. Also this morning I saw she was nominated for a Golden Globes for her performance in Big Little Lies!  Our interview that day was amazing and hope you enjoy it as much as I did two weeks back.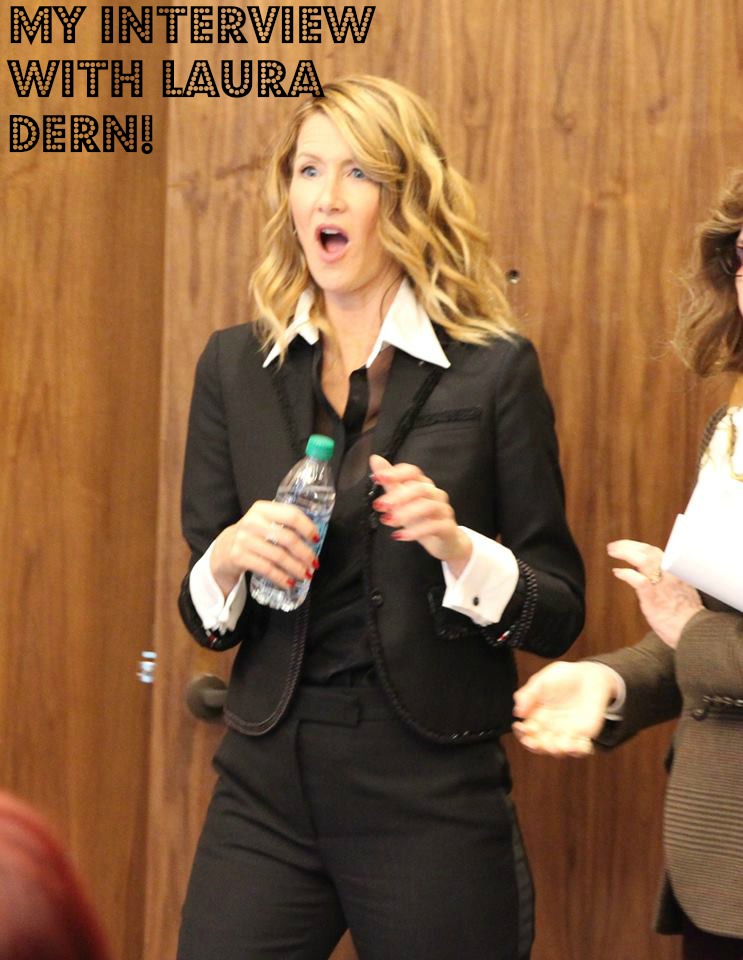 Question 1: Without giving anything away, can you tell us about your character and how you developed it?
She joked to us that she has purple hair in this movie. I see a lot of little girls are going to be dying their hair purple after seeing this LOL! She tells us there is a new boss in town and she arrived in the Resistance.
She told us she loved representing a powerful woman in this movie.
"I really appreciated Rian and Kathy Kennedy and all of our producers to allow a powerful female character, her physicality to be feminine, as opposed, to Oh, she's a strong female. Let's put her in the guys' clothes. And I thought that was wonderful and I feel excited to join this amazing legacy of strong females in space starting with our magnificent icon of Princess Leia. So that was a great pleasure."
Question 2: How did you become involved with the project?
She told us the producer called asking her to have lunch and talk about something amazing. Then Kathy Kennedy simultaneously called her asking her to lunch and began to describe a certain character and asked for ways to invent the character.
"And it all sounded great and it wasn't until sort of the end of the lunch, it was like it's in Star Wars! I responded with oh my G-d, it's amazing having been a huge fan as a child. I was sort of listening to this amazing story and that's what's incredible about Star Wars. Rian started describing a world that was about the complexity of being a human being and the battle between light and dark and not knowing which would win, and the struggle of family and the hero's journey.
And you feel it all and you realize that it is what film makers that I've worked with in Independent Film have longed to explore. And he described this complicated female character in such a beautiful way. And then to realize, that's what George Lucas invented. And that's why I think this stands the test of time in such a profound way. It's not a franchise, it's a legacy of the deepest story telling we have."
Question 3: If you had a light sabre in real life, what color would it be and why?
She said it is time to have a rainbow light sabre.
Question 4: You mentioned being a fan of Star Wars as a kid and Star Wars is about family. I think many people remember their parents taking them to see it. Do you remember having experiences where your family took you to movies and it profoundly changed you and made you want to be a part of this world doing this?
She told us she saw the first Star Wars in the movies with her family when she was around 6 years old. She told us it was the first time she stood in line for a movie and it was blocks long. She remembered that day so well. She also mentioned at this point that she was raised by actors.
"And I've been introduced into a world where movie is magical and my parents are such fans. My mother and my father are rebels and they love hard core Independent Films.
"I think a few years before, my father had done a Douglas Trumbull film called Silent Running. And I'm told it was a great influence on George Lucas in that it was my dad alone in space with 3 Droids named Huey, Dewey, and Louie. And I became obsessed with these droids and those droids I'm I was told they were a great influence toward R2D2. And then suddenly Star Wars opened up this kind of storytelling in this massive way so it felt personal, as Star Wars does to all of us."
Question 5: How is it for your parents, them being fans, and you appearing in the film?
She said her mother is very excited about her purple hair. Her mother loves the look of the costume and her hair.
Question 6: Do you think little girls are going to want to emulate the strong women in Star Wars and what is that going to bring to the whole franchise?
She said that is what is really exciting!
"I know what Leia was for me as I know she was for all of you. And it was again, not just her strength in some super heroic way but in the deeply human way that she so incredibly embodied this fearless irreverent sassy bold, vulnerable female. And all things to be true and powerful and kick butt and all of those things were in one character.
And we know how rarely we see that. So that meant the world to me and now my daughter and all her friends have this in Rey and soon other female characters in this movie and it's really exciting to see what the different females do.
We then asked about Jurassic Park and if we see her back. She said she thought that was a cool idea and we will need to wait and see! HMMM..
Question 7: You've been in so many films. You've played so many different amazing roles. How did you prepare for this role this big?
"Well I think speaking to all of the actors. It's incredible that we have this true shared experience of needing to have the moment, the fan freak out moment to let it all then disappear so you're just telling the story of these characters because it's insane to get there and you know, rehearse with Rian, and everything's deeply personal. I got my clothes on, having coffee with Oscar Isaac and I'm like hey I'm on another Independent Movie with my fellow actors. This doesn't feel like any other movie I've done, which is hilarious, with Rian who's this Independent Film Maker so I'm like are you sure this is Star Wars?!
What is happening? But then you walk onto set and in the morning, Rian was like Oh, a fan, wants to say Hi right before we were starting one day, standing making tea, and I turned around and Chewbacca was there and like embraced me and I cried. I really cried. It was so moving to me. And then you know, being on set and seeing R2D2 and these characters we all fell in love with. It's stunning so then you have to get over it and go to work but it's an incredible opportunity and experience. I'm so happy to get to be part of it.
It was an absolute please interviewing Laura Dern that day. Be sure to watch her play the role of Vice Admiral Amilyn Holdo which is out this coming Friday, December 15th!